"The joy and passion I get when I touch a piano from the instrument has never changed" Frank Martin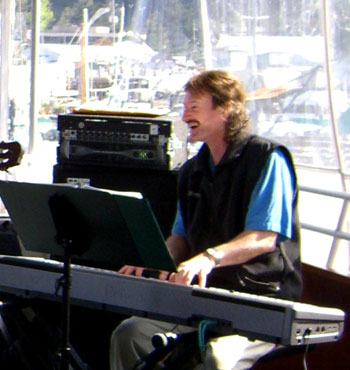 Frank Martin, a producer/arranger is a sought after piano and keyboards player who regularly performs with artists such as Sting, Stevie Wonder, Patti Austin, Narada Michael Walden, etc. Frank Martin made himself available for an interview for our UC Jazz Club Newsletter.
We asked him, what is the most wonderful thing about jazz for you? Frank Martin told us that it is a vehicle for communication with other people. It's a way to connect, it is a higher-level-than words, powerful connection. I love the listening and the playing off of each other. Music is a great vehicle to communicate.
What originally inspired you to become a jazz musician? Frank told us that the evolution started out of the joy of making music. "I can remember when my piano first arrived in my home as gift to my sisters by my grandmother. I remember putting my hands on it and feeling a strong connection. It was so profound! I still feel this way today when I touch a piano. The joy and passion I get from the instrument has never changed.
I started out as an improvising piano player. The joy I felt was in exploring the world of improvisation and that easily leads one to jazz. Jazz is all about improvisation. It was a natural progression into the jazz world.
I also had the good luck of finding pianist/organist Don Burke.
I grew up in Oakland and initially he was in Oakland and eventually he moved to San Leandro. He and Dave Brubeck studied with the same teacher. I often started my lessons with the music of Dave Brubeck. Don also had me play Miles Davis and Bill Evans. He would play this music and I started to learn and develop a love for that music. I have to give him the credit for planting the seeds.
My first public performance was at Disneyland when I was five years old. I was in Disneyland and by chance ran into another five year old friend of mine who was there as well. When they got the kids on stage, I jumped up with my friend Mike McGuire and felt very comfortable and admittedly enjoyed the attention.
We sang Davey Crocket. This led to another singing talent show, the King Norman Show, when I was in third grade. The King Norman Show put on talent shows at various schools and the regional winners would be invited to Los Angeles to go up against other kids. It was somewhat similar to American Idol, although very loosly. The kids that won the King Norman Show contest locally got to go to Los Angeles and compete against the other local winners. At my school I was lucky enough to win with my singing 3rd grade partner Mark Rice. Just before going on the air the show pianist worked with all the kids, and that as well got the bug going for playing the piano.
Performing with a band, that didn't start until high school. The first time we performed publicly was in San Leandro and the band played for a total of $15.00. The name of that first band was "The Trend". I played the electric organ.
My first organ was a VOX Continental Organ. It was a very cool thing to have. My second was a Farfisa and my third was a Fender Roads Electric Piano. We even wrote some of our own music. We mostly played the contemporary pop/rock songs of that time, which is what the kids in high school really wanted to hear.
I remember enjoying composing, it was a fun thing to do. I was not that good of a music reader and felt more comfortable making up what I wanted to play. I found myself as the years went on organizing jam sessions and get togethers with other players. My parents opened our home for these events and I organized the music. I still organize the music today.
I suppose I got my start when we had those sessions at my parents home.
What's next on the horizon? Well, on Thursday, May 8 at 7pm, I will perform with Sting at Carnegie Hall as part of the annual Save the Rainforest concert which Sting has produced for the last almost 15 years. Also performing will be my long time musical friend drummer/producer Narada Michael Walden.
For this upcoming performance at Carnegie Hall, my job is to transcribe what we will perform and have it ready for the rhythm section >> 3 keyboard players, two guitarists, a bassist, percussionist and drummer.
Legendary reedman Jim Horn is the one who does the horn parts and if there is a string section, either I do it, or I get help from the Trombone player, Tom Malone of the Letterman band. I have another friend that helps if need be, local conductor/arranger Barbara Christmann. Just prior to these shows some of the stars still are trying to decide what to do, so much of what I do is at the very last minute. For me, working with Sting's Rainforest band has been 10 years of total joy!!
Recently I just finished producing a record for a local Bay Area singer, Karen Blixt. "Mad Hope" is her second record that I've produced for her, the first being "Spin This.". We are going to play at Yoshi's on the 15th of April in Oakland. The show will be open to the public. On trumpet will be Randy Brecker from the Brecker Brothers. We also will have the great pianist Patrice Rushen, which for me is a great honor to be able to perform with her. On rhythm guitar we have Jose Neto of the Steve Winwood band. Also the great percussionist/drummer Alex Acuna from the Weather Report band will be with us. He is a simply a wonderful percussionist. Also will be bassist Abraham Laboriel, who is the most recorded bass player in history and former "Yellowjackets" member William Kennedy as the drummer. Vocalist Kenny Washington will make a guest appearance as well. He did one song as a duet, "Five and Five"(aka "Take Ten") For that record I co-composed 8 songs, and arranged and produced it. We recorded it at the Skywalker Studio in Marin County with the great engineer Leslie Ann Jones.
And I'm half way finished with my second production for Dutch singer Ellen Honert. The first one was "Breath of the Soul" and featured Tuck & Patti, the Turtle Island String Quartet, Brazilian vocalist/guitarist Dori Caymmi and many others.
My process of working with the musicians begins with making demos of the songs and sending it to them. That way they get a feel for what I'm looking for. We never rehearse so the more clarity I provide, the better. The process of recording the demos in my San Rafael studio is something I really love to do. It's an expansion of what I did at my parents home. I organize the people and bring them together to play.
What does an arranger do exactly? An arranger organizes what the musicians will play. Decides how best to utilize the available instruments and capitalize on the strengths of the players who will be recording. The producer gets the musicians to perform at their highest level and makes sure everything runs smoothly. In my opinion the key is to get the best musicians for the recording. Kind of like cooking … great ingredients allow for the best meal. One has to wear a lot of hats during productions. Needing to stay true to the artist and help realize their vision, as well as help guide them along their path. And to provide a comfortable arena for all of the performers to shine at their best.
I enjoy keeping busy. I teach at UC Jazz Ensembles, I have private students, I teach classes at the Jazzschool, and I participate in Summer Camps, i.e. Jazz Camp West and the Lafayette Summer Music Workshops. I find myself performing all the time as well …
Who are some of the favorite musicians that you have worked to work with and why? When asked who Frank Martin enjoys working with he mused. I enjoy working with Abraham Laboriel, Alex Acuna, William Kennedy he tells us. We have a strong connection with the four of us and the reason is that we all come from a place of joy. They all have perpetual smiles on their faces. Same for guitarist Jose Neto. They love so much what they do and they are masters. They are so joyful to be around. It makes for a wonderful experience.
Generally, those are my favorite people to perform with. Now there is Stevie Wonder, he is a true genius musically. Herbie Hancock – he is a joy and a great inspiration. And my ideal singer is Patti Austin. She is a consummate professional who expects you to be that as well. She is full of joy and life and I love how she communicates with people. I used to work a lot with vocalist Angela Bofill before she had her second stroke. She can get around a little bit now. She needs all our prayers. I go to visit her sometimes. She has a great attitude. After her first stroke she couldn't speak and with time she went back to speaking at about 85%. She is paralyzed on her left side and is fighting hard. She remains truly inspiring she was a great joy to work with.
What in your opinion makes a great performer? I think one that communicates sincerely. Not only verbally but in what they are playing and singing. Those that park their egos at the door … Many of my favorite musicians have a Jazz background, and many are based in Rhythm and Blues. I love performers that make rhythm of the utmost importance. There are many who just play the song. The great performers always share of themselves and bring something personal to the song.
Are there any suggestions you have for the young musicians in the UC Jazz Ensembles and other inspiring musicians? Yes, be true to yourself and follow your passion. Try to keep that in mind! You are going to hear from a lot of people that you should do something else. That it's too hard to make it in the arts.That is typically well-intentioned advice, but you can't take somebodies dream away. You have to have the belief. Follow your passion – attitude is everything!
I tell my students this example. There are a couple of bass players. One says that "there is no work, what am I gonna do?" The other one says "I am so busy!! I got my fifth gig today and I have five more tomorrow." I tell my students that they are both right. There is no work and in the same town they is too much work. It is not easy, but it is all about the work you put into it. Have a healthy attitude and follow the passion and don't give up.
How can a novice listener become more knowledgeable about jazz? It is about exposure. Exposure is always the thing. It is like a fine wine if you don't have the opportunity and if you don't try it you can't find out what resonates with you. Exposure to it makes you appreciate it more. Like a good painting, only if you see the painting can you appreciate it. You have to watch and listen. It is a process. My recommendation is that you go to jazz concerts and find out what resonates with you. One artist may resonate with you and may not resonate with another. Maybe just allowing yourself the time to go to Yoshi's or Anna's Island and experiencing live music will bring you closer to the music. If you can't do that use the Internet. The Internet is filled with music of one artist after another. Every style of performer is there! Go to Youtube.com and type in a jazz artists name and you will find him or her performing someplace. It is the same for internet sites like Rhapsody.com and DailyMotion.com. Listen to the music of a jazz artist. Exposure! There is no magical way to appreciate something one doesn't know.
What is coming up next for you? I am going to be in Bend, Oregon. A local promoter and jazz fan decided to bring together Brazilian guitarist Jose Neto and the great New York based jazz sax player Eric Anderson for a night of Brazilian jazz, along with Brazilian drummer Celso Alberti and myself. Then I am doing some concert work with an Irish Jazz singer Melanie O'Rielly at the Freight & Salvage in Berkeley. Then we are off to LA to perform at the Raven, a club for actors. She has an acting background and we will do a duo. Her style is Irish Jazz ~ traditional music that meets kind of McCoy Tyner!. Then I am starting a recording project with her, writing music inspired by the writings of James Joyce. That should be interesting. And the night after the Raven will perform in a jazz quartet with New York drummer Paul Peress and players I've yet to meet, at Spaghetini's, a Jazz Club in LA. Then comes performance at Carnegie Hall with Sting. I am blessed to be busy doing what I love ~ music music music!! Who knew that those jam sessions at my parents home would spark a career in music …