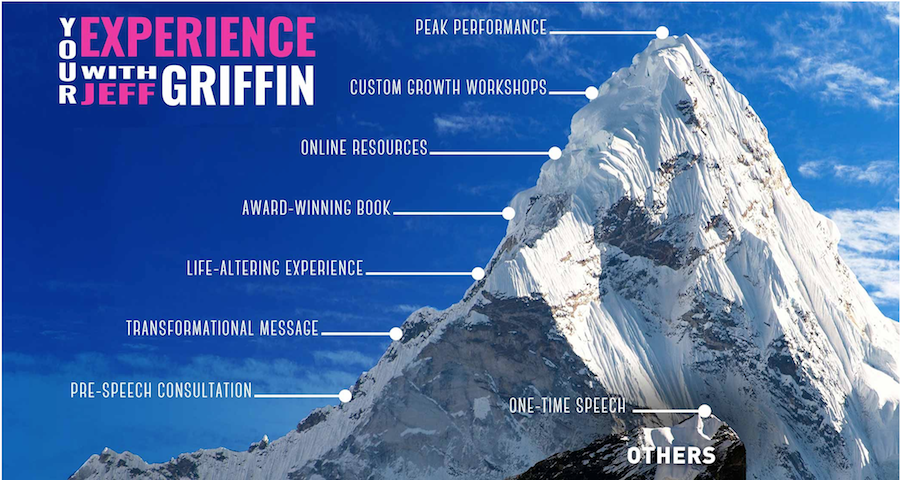 West Jordan, Utah, June 11, 2018  EagleONE Insights signs Griffin Motivation to expand Corporate Incentive and Empowerment Programs
Mike Hutzel, CEO is excited that Griffin Motivation has signed up EagleONE Insights: "Jeff Griffin and I fully agree that Griffin Motivation's offer matches up nicely with EagleONE Insights' and our core values. We  create programs to penetrate our clients' specific marketing venues. Our methodologies focus exclusively on a quantifiable ROI for our clients."
Griffin Motivation provides a pathway for fast growth companies  to embrace exponential growth with enthusiasm.  Jeff Griffin empowers companies to achieve success faster by teaching a practical and doable way to tap into their companies' own teams hidden strengths.
Mark Jenkins, the CEO of Petersen Inc., asked Jeff Griffin to come and present at their mid-year company meeting.  Petersen brought all the welders, their executive, and sales team together in one of their hangars.  Before Jeff presented his transformational message and life-altering experience Mark Jenkins reviewed the vital signs of the company and reminded the team of their year-end goals. One number stood out to Jeff Griffin because it was both big, bold, and exciting!  It was also the main reason for his invitation to speak.  Petersen committed to bring their sales up to 80 million dollars.  They were at 33 million mid-way through that year. A 47-million-dollar gap! Jeff Griffin delivered his transformational message and received a standing ovation from a group of blue-collar workers.  Petersen's VP of Sales told Jeff Griffin after his speech: "This is exactly what we needed."  By the end of that year they reached their goal AND exceeded it by 10 million dollars.
Jeff Griffin knows all about what it takes to build self-motivation, discover new strengths, even during moments of despair, and turn it into an action plan that works.  With his thrilling life story, which he shared in his popular book "I'm Possible" he shows how he overcame despair in his own life as a paraplegic and turned his handicaps into a system of motivating factors that work.   Unlike more "traditional" management workshops claiming that a team is only as strong as its weakest link Griffin Motivation teaches that each person can move from "it's impossible" to" I'm Possible" and tap into the amazing hidden strength each person already has inside. Corporate Managers are raving about the impact Jim Griffin's workshop had not only on their workers self-esteem and team spirit but also measurably on their bottom line:
 "Jeff's story is amazing, he shares his experience in a manner that has you laughing at one moment and tugging at your heartstrings the next. I highly recommend Jeff as a motivational speaker especially if you are looking for a powerful message of courage, positive attitude, faith, hope, dreaming big, hard work and never giving up. Listening to his story is amazing but "seeing" his story is even better!
–    Mark Jenkins – Chief Executive Officer, Petersen Inc. + 500 employees
EagleONE Insights provides access to more companies to Griffin Motivation's powerful messages.  Mike Hutzel's team meets clients where they are and goes on the journey with them to where they want to be. The teacher, Jeff Griffin, is now listening to his own advice and is stepping it up own enterprise.  EagleONE Insights is ready to show the world what happens when each of their team members act on the inner strength of: "I'm Possible!" and moves to the "We're Possible!"
###
About Griffin Motivation
Jeff's real-life results and professional training gave rise for speeches, customized workshops, and personalized training sessions.  Now Griffin Motivation brings these hard-won insights to corporations who want to tap into the inner hidden strength of their employees, foster a strong can-do team spirit. The Griffin Motivation workshops have been tried and tested in the sports world for many years and are now available to companies.  Jeff Griffin was given a life sentence to live life from a wheelchair. He has accomplished some extraordinary things. He played in the 2004 Paralympic games in Athens, Greece, and is a silver medalist in Wheelchair basketball. He's a (NWBA) National Champion, and a four-time All-Star MVP. He also won the St. George Marathon, has two Guinness Book of World Records, and wrote an award-winning book titled I'Mpossible: Desire. Dream. Do.  He recently ran 5 miles on the elliptical bike!  His company's message is compelling since he captivates his audience with authenticity and humor.  www.griffinmotivation.com
About EagleONE Insights
We help our clients build trust by respecting and truly understanding their customers.  EagleONE Insights' proprietary sales and sales support process of the 3-E Impact?, ENGAGE, EVOLVE & ELEVATE, gives our clients our 3-E ImpactSM in every mission.  Our strong professional team of subject matter experts collect data, analyze it and provide our clients with deep strategic insights. We deploy the latest technology to get the job done on time, on budget, with precision.  We take great pride in understanding our clients' needs and helping them to grow their revenue streams and the reputation of their brand. This allows our clients to focus on keeping up with market trends while we grow revenue and add revenue streams.  We believe that by working with our team, people of integrity, we have a strong foundation by which to facilitate our client's success. Our joint effort improves our clients' ROI on a consistent and long-term basis.  www.eagleoneinsights.com
Company Direct Contacts: 
Griffin Motivation, Jim Griffin, CEO
jeff@griffinmotivation.com or 385.288.1218
EagleONE Insights, Mike Hutzel, CEO
Mike.Hutzel@eagleoneinsights.com
O: 513.847.0410   C: 513.505.6693