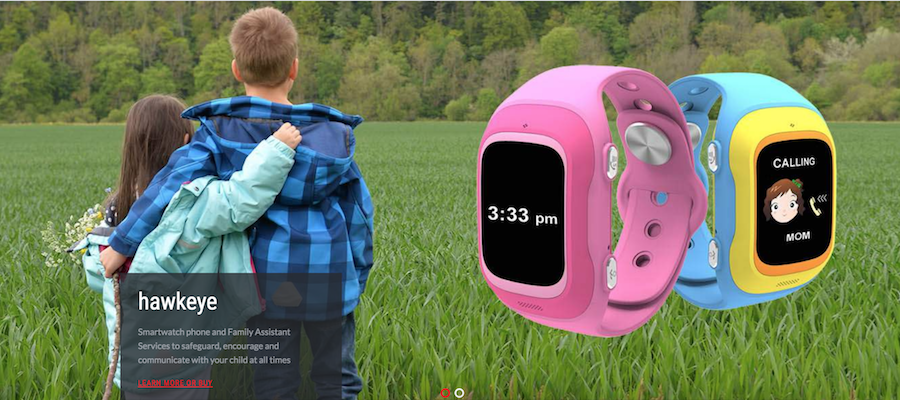 Artificial Intelligence & Wearables to Transform Parenting
"The child supplies the power but the parents have to do the steering."
-Benjamin Spock
Vigilint Biosensors launches School Programs across California
SAN JOSE, Calif., Apr. 23, 2018 – You drop your child off at school and relax. With an Hawkeye Smartwatch on your child's wrist, you can breathe a little easier again. Hawkeye will let you know where your child is all day and connects you to them at any time. Vigilint Biosensors, a leading supplier of Parental Assistant Service through smartwatches, has launched a joint program with the Coyote Creek Elementary School to help parents provide Hawkeye smartwatches to children through their school and donate to STEM programs. Nancy Phelps, President of Coyote Creek Learning Fund, stated, "Vigilint software and its Hawkeye smartwatches help protect our kids while providing parents peace of mind.
Hawkeye smartwatches inform, protect and reassure parents/caregivers. The watches allow parents to create custom SafeZones™. The moment the child moves out of the SafeZone™, parents are alerted. The watches also offer a step tracker which kids love, as they compare their physical activities with other kids during recess. Parents can check on their physical fitness via a convenient app.  Each watch holds up to 20 parent-selected numbers that children can call. Kids can also speak to their siblings and close friends through a direct kid-to-kid connection. You can even add two other trusted family members to be contacted in an emergency.  No more scrambling for phone numbers when it is least convenient—like when you are stuck in traffic somewhere or a meeting runs overtime. Simply call your child and activate your back-up plan. Problem solved. Relaxed parents enjoy happier and more confident kids.
Vigilint Biosensors Non-Profit Support Programs generously offers Hawkeye smartwatches for $99 plus a $10 monthly Parental Assistant Service subscription, and Vigilint Biosensors will donate 20 dollars to their child's school for each watch purchased. Win-Win. Vigilint is also providing Hawkeye smartwatches to schools for auction with proceeds going to support STEM and safety programs. Vigilint Biosensors is currently expanding this program throughout the United States. "I realize parents need a lot of support for the care of their kids during these hectic times," said Vigilint Biosensor Co-Founder, Kris Narayan. Vigilint Biosensors was founded specifically with that goal in mind, by Kris Narayan and his long-time colleague Jodie Hughes. They joined forces to help bring fun and communications to kids and feeling of safety parents via Hawkeye Smartwatches.
About Vigilint Biosensors
Hawkeyes Smart Watches from Vigilint Biosensors provide fun and safe solutions to families with younger children: communications and learning for children and peace of mind for parents. The combination of the best location technologies (GPS, GNSS, A-GPS and sensors) will easily locate your child, anytime and anywhere. Visit www.vigilintbiosensors.com
Vigilint Biosensors is dedicated to improving the quality of care that parents and senior caregivers provide through a complete 360o intelligent family care assistant, that connects family members together via wearable devices like hawkeye. Vigilint Biosensors provides the family/caregivers with a cloud infrastructure of devices and software services, which strives to improve time management and reduce stress by improved non-intrusive care for kids, seniors, and other loved ones in need. This is achieved through the most modern application of Artificial Intelligence and Machine Learning technologies to life data that provide alerts, if and when needed.  "When those we care about are well, we can relax and focus on our day." www.vigilintbiosensors.com
Learn more about us and our dedicated team: Vigilint Biosensors or contact as us at:
Vigilint Biosensors
20315 McKean Rd
San Jose, CA 95120
to get an introductions and appointments with the appropriate contact persons or press materials and white paper links.
Call Edie Okamoto at +1 510 693-0166 or contact the company directly at +1 408 497 1197
Learn about how your school can join our program.