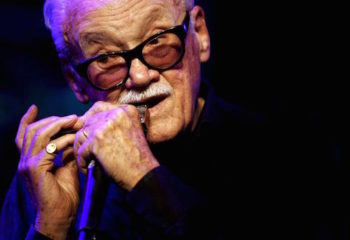 Hola, Mi Gente!
Today we lost yet another musical icon, this time in the world of jazz.  The diminutive Belgian Toots Thielemans, a jazz harmonica player, guitarist and whistler, was indeed a musical giant.  He lived to the age of 94 and played almost as long.  "Why would I retire?" he once said.  "I do what I love." 
His sweet, unique sound came from a  place he described as somewhere "between a smile and a tear."  What an amazing life lead by an amazing gentleman!  We're most fortunate that he shared his unique gift with the world for so many decades. I spoke with him and saw him perform several times over the years . He was kind, humble, honest and funny. He was Quincey Jones' favorite musician and one of the world's musical treasures. We'll continue to enjoy his passionate legacy. We love you, Toots.
I just completed six days in a row of private and public gigs all over La Bahia, from San Jose to Walnut Creek.  They included some beautiful locales, sensuous Russian girls who wouldn't stop dancing and even a good amount of tears from appreciative listeners.  It was a really good week that left me totally spent by the time late Sunday night rolled around.  
I'm wrapping up my active August with some more lovely private events and four public shows.  This Friday Aug 26 from 8-11pm, I do my very first solo performance at the Pairings Cellars, the brand new Pleasanton night spot.  I'm looking forward to unveiling my diverse repertoire to that new audience.  
I also have another fun duet show coming up this Saturday August 27 at The Vine at Bridges from 8-11pm with the charismatic Estaire Godinez, the Latin percussionist-vocalist who played with George Benson and Prince.  She lights it up!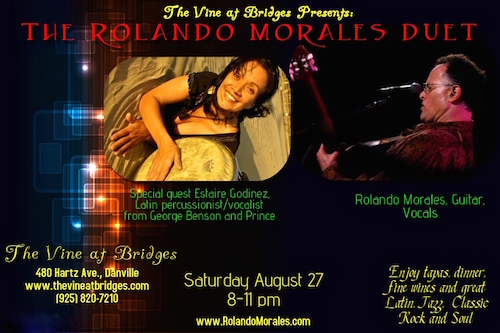 I'll also have Maria, Maria in Walnut Creek on Sunday Aug 28 from 2-5pm on the patio, and also next Tuesday Aug 30 at Maria, Maria, this time in Danville, 6-9pm.  A great way to wrap up the month.  See you at the show!
Ciao,
Rolando