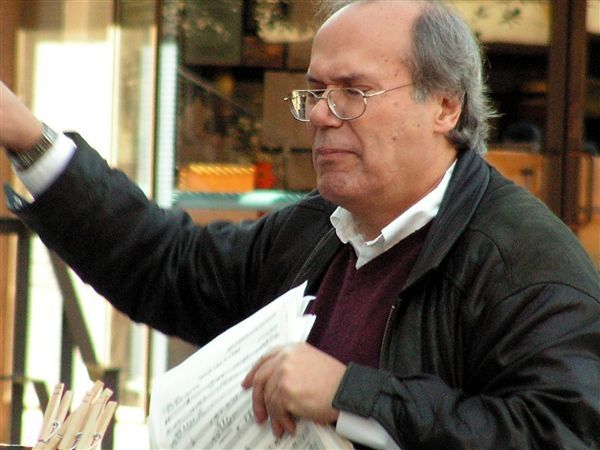 "Music is a fair and glorious gift of God. I am strongly persuaded that after theology there is no art that can be placed on the same level with music." Steve Campos favorite quote is by religious founder Martin Luther
Steve Campos, teaches Trumpet for Big Band
Mr. Campos has performed with Stan Kenton, Woody Herman, Dr. John, Big Brother and the Holding Co., Boz Scaggs, Rosemary Clooney, Ray Brown's Big Band, Dave Eshleman's Jazz Garden, Full Faith and Credit, Rudy Salvini, and various other acts and bands. 
As performer, Steve Campos has had the opportunity to play and record with some of L.A.'s best. He has worked professionally with jazz artists Alan Pasqua, Dave Carpenter, Joe Labarbara, Isaac Smith, Jason Goldman, Kristin Korb, Tim Davies, and others as well as with pop icons A.J. McClean and Colin Hay. He received the Friends of Jazz Scholarship for being an outstanding performer in the jazz field. He participates in the ASMAC composers' workshop where he worked with established composers Bob Florence and Kim Richmond. 
Steve Campos completed his studies in jazz, classical, and film composition and orchestration at the University of Southern California in May of 2004. He was the recipient of the prestigious Randy Newman Scholarship while attending USC and was commissioned to arrange and conduct a Newman original for symphony orchestra in honor of Randy Newman's appearance at the annual Charles Dickens Dinner. Steve Campos' works are performed by the Kim Richmond Jazz Orchestra, the Billy Frenzel Jazz Orchestra, the USC Thornton Symphony Orchestra, the USC Thornton Jazz Orchestra, as well as the Los Angeles County High School for the Arts Jazz Ensemble.
Steve Campos In the News
The trumpet section, (Mike Vax, Dennis Noday, John Harner, Steve Campos and Steve Huffsteter) to quote Doug Hughes, "could peel off that old wallpaper you need removed in your home." www.bigbandjazz.net
"Steve is a young man with a genius for music. He shows great knowledge, perception and ability to express musical ideas in a variety of styles. He is well equipped with the tools of composition, orchestration, and arranging in a variety of styles. His aptitude for film scoring is evident in his work, whether for full orchestra or smaller ensemble. He is well versed in pop, classical and jazz sounds and textures. Steve is someone to watch as a new and fresh voice on the music scene. Add to this his enormous prowess as a brilliant jazz trumpet soloist, and you have something very special." Kim Richmond saxophonist/grammy nominated composer 
"This is one special jazz vocal debut album from Los Angeles area-based Judy Wexler, based upon the musicians and recording studio. Thirteen well-chosen tunes reflect a wide spectrum of popular music, and nary a one can be accused of being overexposed over the decades. the 1960s tune "Down Here On The Ground," lifted from the film Cool Hand Luke and now a jazz standard, is also taken in a midtempo groove and features a Steven Campos trumpet solo. This album stands miles ahead in the proliferating femme jazz vocal field. I can only hope that it will find its way to the in-baskets of the various jazz radio programmers, and fast! Michael Gladstone, www.allaboutjazz.com 
Produced by Barbara Brighton, "Easy on the Heart" has one memorable performance after another. The repertoire is filled with superior obscurities and occasional standards, with highlights including Henry Mancini's "Moment to Moment," Oscar Brown's "Humdrum Blues," a touching "Tell Him I Said Hello," and "Down Here on the Ground." The arrangements expertly utilize pianist Alan Pasqua's trio (with bassist Darek Oles and drummer Tim Pleasant), Bob Sheppard's reeds (which include bass clarinet and soprano), and trumpeter Steven Campos. Jazziz Magazine
On The Long and the Short of It, the Bay Area-based Michael O'Neill Quintet has devised a unique role for featured singer Kenny Washington. Washington sings a number of standards in a fairly straightforward manner, but on the originals by O'Neill, he is essentially used as another horn, vocalizing the melody or harmony along with the horns of O'Neill and Steve Campos. Stephen Latessa www.allaboutjazz.com