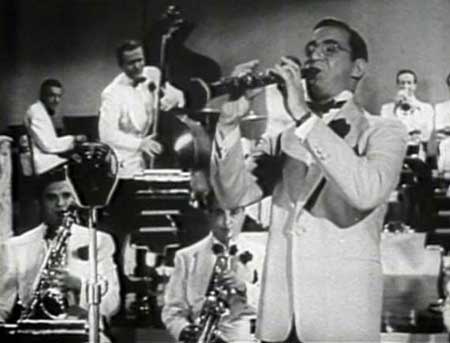 "Sometimes when you start losing detail, whether it's in music or in life, something as small as failing to be polite, you start to lose substance. " Benny Goodman
Benny Goodman, the King of Swing by Ranie Smith
Benjamin David Goodman was born on May 30, 1909 in Chicago, Illinois to immigrants David Goodman and Dora Grisinsky Goodman. Benny grew up with eleven siblings.
His father worked as a tailor. As a ten-year-old, Benny Goodman, learned how to play the clarinet at the local synagogue. He was fortunate that there he was taught by Chicago Symphony Member, Franz Schoepp. Two of his brothers learned the tuba and the trumpet. Benny Goodman was very talented and joined his first band when he was 11 years old – performing at the Hull-House. He joined the American Federation of Musicians when he was 14 and devoted himself full-time to his music career. His father passed away and therefore the 15-year-old Benny used the money he made to help support his family Benny was 16 he joined the Ben Pollack band and became a featured soloist. In 1929 Benny left the Ben Pollack band to participate in recording sessions and radio shows in New York City. In 1933 John Hammond, a jazz promoter, recorded Benny Goodman together with drummer Gene Krupa and trombonist Jack Teagarden. This recording gainedBenny Goodman national popularity. In 1942, Benny married John Hammond's sister, Alice Hammond Duckworth and had two daughters Rachel and Benji.
Benny led his first band in 1934 and their music had its roots in the Southern jazz forms of ragtime and Dixieland, while its structure adhered more to arranged music than its more improvisational jazz counterparts. This gave it an accessibility that appealed to American audiences on a wide scale. America began to hear Benny 's band when he secured a weekly engagement for his band on NBC's radio show "Let's Dance," which was taped with a live studio audience. The new swing music had the kids dancing when, on August 21, 1935, Benny's band played the Palomar Ballroom in Los Angeles. It was sensational and marked the beginning of the years during which Benny Goodman reigned as King of the Swing. Benny Goodman's band became hugely successful among listeners from all different backgrounds all around the world.
Benny Goodman was all about the music: " If a guy got it, let him give it. I'm selling music, not prejudice." During this period Benny also became famous for being colorblind when it came to racial segregation and prejudice. Pianist Teddy Wilson, an African-American, first appeared in the Benny Goodman Trio at the Congress Hotel in 1935. Benny added Lionel Hampton, who would later form his own band, to his Benny Goodman Quartet the next year. While these groups were not the first bands to feature both white and black musicians, Benny's national popularity helped to make racially mixed groups more accepted in the mainstream. Time magazine in 1937 to call him the "King of Swing." Benny Goodman and his band made history as the first jazz band ever to play in New York's prestigious Carnegie Hall along with musicians from the Count Basie and Duke Ellington bands. After this success there were many changes to the band and he was joined by Cootie Williams and Charlie Christian, as well as Jimmy Maxwell and Mel Powell, among others.
In the late 40s and 50s music tastes changed and Bop, Rock and Roll gained in popularity. Benny Goodman started playing solos with major orchestras. He enjoyed classical music and studied with internationally acclaimed classical clarinetist Reginald Kell. In 1955 a film chronicling his life, The Benny Goodman Story was released. Benny Goodman then started touring the world, bringing his music to Asia and Europe. When he traveled to the USSR, one writer observed that "the swing music that had once set the jitterbugs dancing in the Paramount aisles almost blew down the Iron Curtain."
During the late 1960s and 1970s, Benny appeared in reunions with the other
members of his quartet: Teddy Wilson, Gene Krupa and Lionel Hampton. In 1978, the Benny Goodman band also appeared at Carnegie Hall again to mark the 30th Anniversary of when they appeared in the venue's first jazz concert. In 1982, Benny was honored by the Kennedy Center for his lifetime achievements in swing music. In 1986, he received both an honorary doctorate degree in music from Columbia University and the Grammy Award for Lifetime Achievement.
He continued to play the music that defined his lifetime in occasional concert dates until his death in June 1986, of cardiac arrest. He was laid to rest at Long Ridge
Cemetery in Stamford, Connecticut.
Benny Goodman is credited for the original sound that defined the Swing Era
and made him the world-renowned King of Swing.