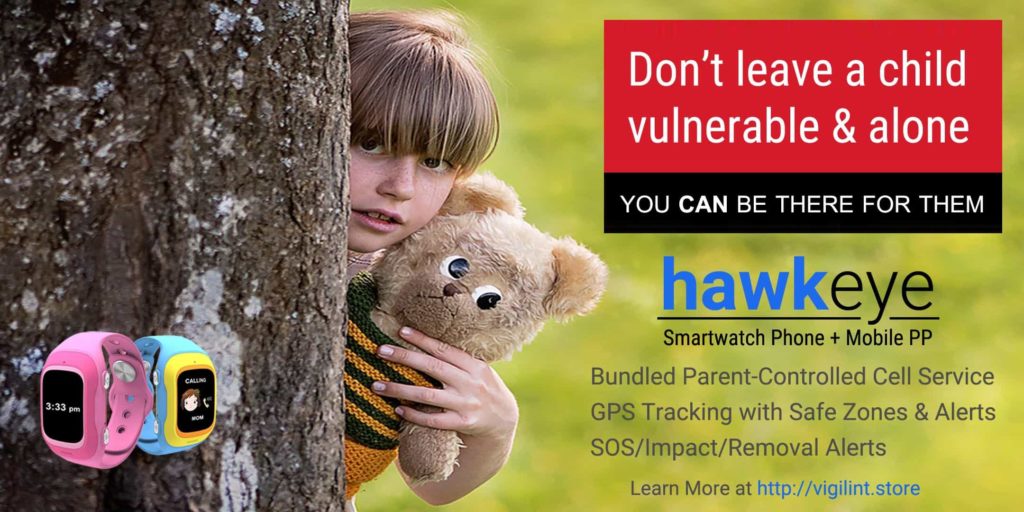 San Jose, California –  May 1, 2018 – Vigilint Biosensors, leading supplier of Family Assistant Parental Services through smartwatches, is extending its Educational Support Programs which increases school safety, helps child learning and raises money for Educational Foundations, Schools, PTAs, and Booster Clubs. After successful pilot programs in San Ramon and Sacramento California school districts, Viglint Biosensors is offering the program to qualified organizations in all fifty states.
"Vigilint Family Assistant Services provide parents with life-altering insights collected from the kid's smart watch that can inform parents of a child's location and allows them to speak when needed," said Kris Narayan, Chairman of Vigilint™ Biosensors. Mr. Narayan continued, "I am grateful Vigilint Biosensors can get our smart watches to the children, parents and schools that want the help kids with deal with stress and adversity to improve our children's emotional resilience."
Vigilint Biosensors Education Programs allow school districts to raise money while they provide kids smart watch phones and software to parents and their children which increase school safety. Modern tools like Vigilint Family Assistant help working parents stay in touch with their kids via calls, chat and the ability to guide the kids 24/7.  Kids have access to parents each time they need their parents' input and feedback.  Hawkeye kid's smart watches and the Vigilint Family Assistant app allow parents to create custom SafeZones™. School safety is increased when at the moment the child moves out of the SafeZone™, parents are alerted.
Knowing exactly where and how our children are is a major comfort for parents and kids.  Each kids smart watch holds up to 20 parent-selected numbers that children can call. Kids are able to speak to their siblings and close friends through a direct kid-to-kid "walkie-talkie" connection. The more parents and kids communicate the less stress they have due to wondering and worrying. Relaxed parents enjoy happier and more confident kids that have a better, healthier and smarter life thanks to increase emotional resilience as recent studies by the Harvard Child Development show. For more information regarding kids smart watches and child learning, please click here.
Tonja Jarrell, Principal of Paso Verde School, in California's capital city: "Partnering with Vigilint Biosensors provides a valuable resource to our school community. We work with families and the community to offer solutions that increase school safety, allows our staff and scholars to focus on teaching and make our students feel safe enough to learn thereby increasing their outcomes."
Th improved communications via kids smart watches help teachers deal with children's and faculties' anxieties about the fears regarding school safety related to the recent increase of shootings at schools:  "My experiences in the educational community, have shown that these tragedies affect all of us, not just the families involved," said Nancy Phelps, President Coyote Creek Learning Fund. "Vigilint Biosensors software and smartwatches help protect our kids while providing parents peace of mind."
Every school, school program, non-profit or educational program manager is invited to join the Vigilint Biosensors Education Program, thereby increasing funding for vital programs, raising awareness of how to help children learn better and increase school safety.
About Vigilint Biosensors
Hawkeye kids smart watches from Vigilint Biosensors provide fun and safe solutions to families and younger children: communications and learning for children and peace of mind for parents. The combination of the best location technologies (GPS, GNSS, A-GPS and sensors) will easily locate your child, anytime and anywhere. Visit http://www.vigilint.store/ for complete product details.
Vigilint Biosensors is dedicated to improving the quality of care that parents and senior caregivers provide through a complete 360o intelligent family care assistant, that connects family members together via wearable devices like Hawkeye. Vigilint Biosensors provides the family/caregivers with a cloud infrastructure of devices and software services, which strives to improve time management and reduce stress by improved non-intrusive care for kids, seniors, and other loved ones in need. This is achieved through the most modern application of Artificial Intelligence and Machine Learning technologies to life data that provide alerts, if and when needed.  "When those we care about are well, we can relax and focus on our day." www.vigilintbiosensors.com
Learn more about our dedicated team:  Vigilint Biosensors 
Learn more about our products and services:  Vigilint Store
Vigilint Biosensors
20315 McKean Rd
San Jose, CA 95120