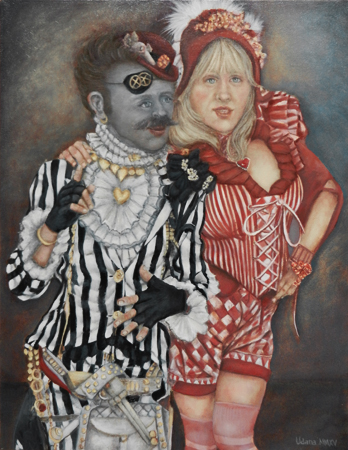 She is a member of the Portrait Painters of America and her current work is inspired by San Francisco's nouveau cirque culture.
---
The Chinese have a saying that we are a house with four rooms (Mental, Spiritual, Physical and Creative) but most people spend their time in only one. I spend time every day in each of those rooms. I learn something new every day, I meditate every day, I paint or write every day, and I exercise every day.
——————————————————————– Uriel Dana
---
She was married to the world renowned painter Gage Taylor under whom she initially studied. They collaborated for 17 years until Mr. Taylor's untimely passing. She is a painter, an art restorer, public speaker, and a USA Ambassador for the Arts.
Her oil paintings and drawings are part of dozens of private, corporate, and celebrity art collections. Her oils, gouache, and lost wax bronze work have been shown in 12 countries on 4 continents. On her journey she has visited 44 countries and even lived on 3 continents. She writes articles, edits books, and has been published as a poet. She also directed a film or two.
In October 2015, two of her paintings were selected for the Carousel de Louvre exhibition in Paris. Uriel Dana's artist profile was presented in the catalogue Modern Art Masters in Complex Musée du Louvre.
She is an avid supporter of amazing artists from all around the world. Follow her on LinkedIn and Facebook. Your life will be enriched. For more about Uriel Dana and how to buy her paintings or prints, visit: