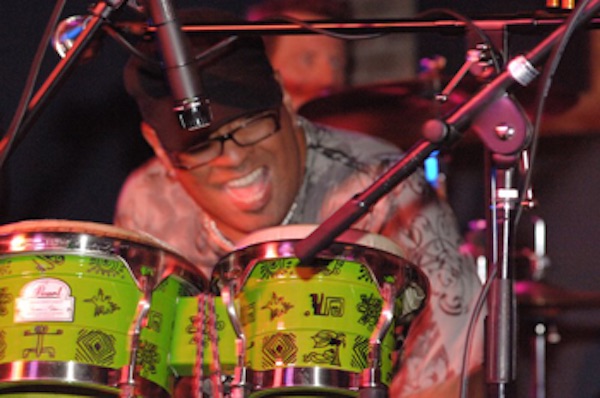 The band seems like a collection of the San Francisco Bay Areas best of the best. These amazing musicians came from all around the world and formed this amazing ensemble.
CHRISTIAN TUMALAN, PIANO Born in Celaya, Guanajuato, Mexico. In addition to his pianistic studies, he felt a powerful attraction to the art of composition. During a period of seven years, he studied classical piano at the "Escuela Superior de Musica" in Mexico City. Later, He turned his interests towards Jazz, a language field where he felt a deep compassion and freedom. He then further developed his skills in live performance, Jazz and Big Band arranging achieving 4 professional majors in Music. Currently, Tumalan performs actively in the United States, where he has shared the stage with numerous professional musicians including John Santos, Giovani Hidalgo, Pete Escobedo, Los adolecentes Orchestra, Eddie Santiago, Tony Vega, Johnny Rivera, Johnny Polanco, Rub Blades, Tony Perez, Eddie Marshall, Chucho Valdez jr, Bill Watrous, Danny Lozada & La charanga Habanera, Louie Romero, Orestes Vilato, Benny Velarde, Ray de la Paz, Chino Espinoza, Poncho Sanchez Band among many other local and international artists. His most recent participations as a Leader includes two very successful Latin Projects in the Bay area such as Montuno Swing and Pacific Mambo Orchestra.
STEFFEN KUEHN, TRUMPET was born and raised in Germany and began playing the trumpet at the age of eight. Twenty years later he received his Bachelor of Music from the prestigious University of North Texas in 1993, majoring in Jazz Trumpet and Jazz Studies. Being interested in Straight Ahead Jazz, Smooth Jazz as well as in Latin Jazz and Salsa, Steffen scored big in 2002 with the CD release 'Now or Later" of his Jazz Nonet, that featured 2001 Grammy Nominee Tim Hagans. That year also marked the inception of his own record label 'stefrecords'.?Fast forward to 2005: Having joined the Latin Jazz orchestra of legendary timbalero Louie Romero, the band recorded its first album 'Timbalero' and released it on 'stefrecords' in 2006 to rave reviews. His 2008 release 'trumpop' was in the running for a Grammy nomination for 'Best Contemporary Jazz Album' and has been receiving national & international airplay & recognition. He has shared music moments with Jazz greats such as: Tim Hagans, Brian Lynch, Claudio Roditi, The Temptations, Brian Culbertson, Jose Lugo Latin Orchestra, Issac Delgado, Marilyn McCoo, John Handy, Mark Levine, Chico Freeman, Tim Hagans, Ray Obiedo, Kenny Werner, Ray DeLa Paz, The 4 Tops, Ray Sepulveda, The Platters, Lydia Pense & Cold Blood, In Europe, he played as a sideman for: Dusko Gojkovich Big Band, Al Porcino Big Band, Conexion Latina and others.
KARL PERAZZO, TIMBALES 14 times Grammy Award Winner, Karl Perazzo has played with Cal Tjader, Malo, Ray Obiedo, Prince and Andy Narell by the time he was 12. His life-long dream was realized in 1991 when he joined Santana to play Timbales. Perazzo has also performed and recorded with Mariah Carey, Dizzy Gillespie, Herbie Hancock, Phish, The United Nations Orchestra and John Lee Hooker among many other international Celebrities.In addition to performing and recording, Perazzo teaches percussion. Along with Santana conguero and LP endorser Raul Rekow, Perazzo starred in LP's popular instructional video From Afro-Cuban to Rock, which breaks down the complex musical rhythms of Cuban percussion.
OMAR LEDEZMA JR., TIMBALES from Caracas, Venezuela, GRAMMY Award Winner Omar Ledezma Jr. has been playing professionally since the age of 13. At the age of 17, he found him performing in every corner of his native country. National musical acclaim rested light on the shoulders of Ledezma as 1995 found him a graduate of one of the most prestigious Law Schools in Caracas, Venezuela. In 1998 Omar packed one bag and one drum to begin his move to Boston, Massachusetts after making a passionate commitment to study at Berklee College of Music, Boston and then New York City held many challenges and provided many opportunities. Moving to the Bay Area in 2005, Omar has committed himself not to "bring the music back" or "take the music forward" but thrive upon embracing "the existing".
There are so many more amazing artists find out more on www.pacificmambo.com