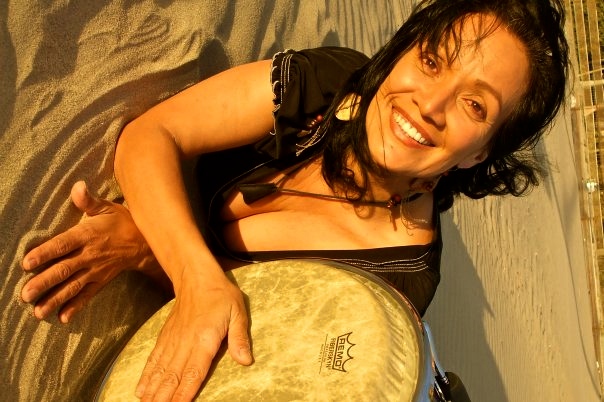 When I first met Estaire Godinez I was completely in awe of her grace. She is a genuinely graceful and stunningly beautiful women. It seemed that every time she spoke she reintroduced the concept of "Lady" to the world.
Estaire Godinez is also an international sensation. As a vocalist she seduces the audiences with her smokey voice that is clear and comes with a full range. A rare pleasure. She is reminiscent of each Blossom Dearie, Montserrat Caballé, and Billy Holiday. In short, her voice is unique and amazing. Her intonation and range of voice is perfect for ballads that make you sad, happy, or glad, for pop songs, for classical music, and especially for the bossa nova. This Maestra is clearly influenced by the many Boston's Berkelee School of Music classes she internalized. She also trained privately with the celebrated Congero Giovanni Hidalgo.
Estaire Godinez "Live at the Dakota"
Her debut release "Live at the Dakota" published by Under the Radar Music Group, established Estaire Godinez as a singer and bandleader. This productive woman worked on her first album while traveling on tour world wide with the legendary George Benson. Peter Schimke (piano/keyboards), Eric Leeds (sax) Mike Scott (guitar), Stokely Williams (drums) and Serge Akou (bass). Mutually appreciative of her talents, their instruments weave effortlessly in and around her conga beats, creating a hypnotic fusion of jazz, pop and Brazilian/Afro- Cuban. They all plan with seductive ease, exchanging musical flirtations with airtight execution.
Estaire Godinez, recording artists and live performer
She contributed her experiences as a performer in over sixty album recordings working with Prince, Coke Escovedo, Brothers Johnson, George Benson, Larry Graham and Norman Brown, the legendary composer Leon Ware, Rolando Morales, and many others. Estaire Godinez has a huge stage present. She is a sought to appear in live performances and performed with the Manakato Symphony as their featured vocalist, singing an aria and her original; the orchestral arrangements were done by her dear friend Pepper Williams. She appeared on stage alongside Peter Tosh, Actor/musician, Jeff Goldblum & The Mildred Snitzer Orchestra, Bow-Wow-wow, Duncan Du, Javier Ruibal, and pop star Joaquin Sabina. In Europe, as the lead in the popular Madrid-based all-original pop-rock mainstays, Estaire Godinez and the Face Band.
Estaire Godinez has appeared in, sang for many films and advertisements. She also is a published author of The Yelva which was turned into a feature film. She was chosen to adapt the book for the screen. Estaire Godinez is a standing member at the commercials and film, including a movie produced by and starring Benjamin Bratt. She starred in the film and sang on the movie score.
Early on in her entertainment career, Estaire Godinez was dancer and one of the Bay Area's co-founders of the unique dance troupe called Bachanal, an Afro Cuban/Haitian dance troupe comprised of some of the best dancers in the City, led by their fearless leader Gloria Toolsie from New York. Bachanal was one of the first of its kind in the Bay Area to perform with such a large ensemble and costumes.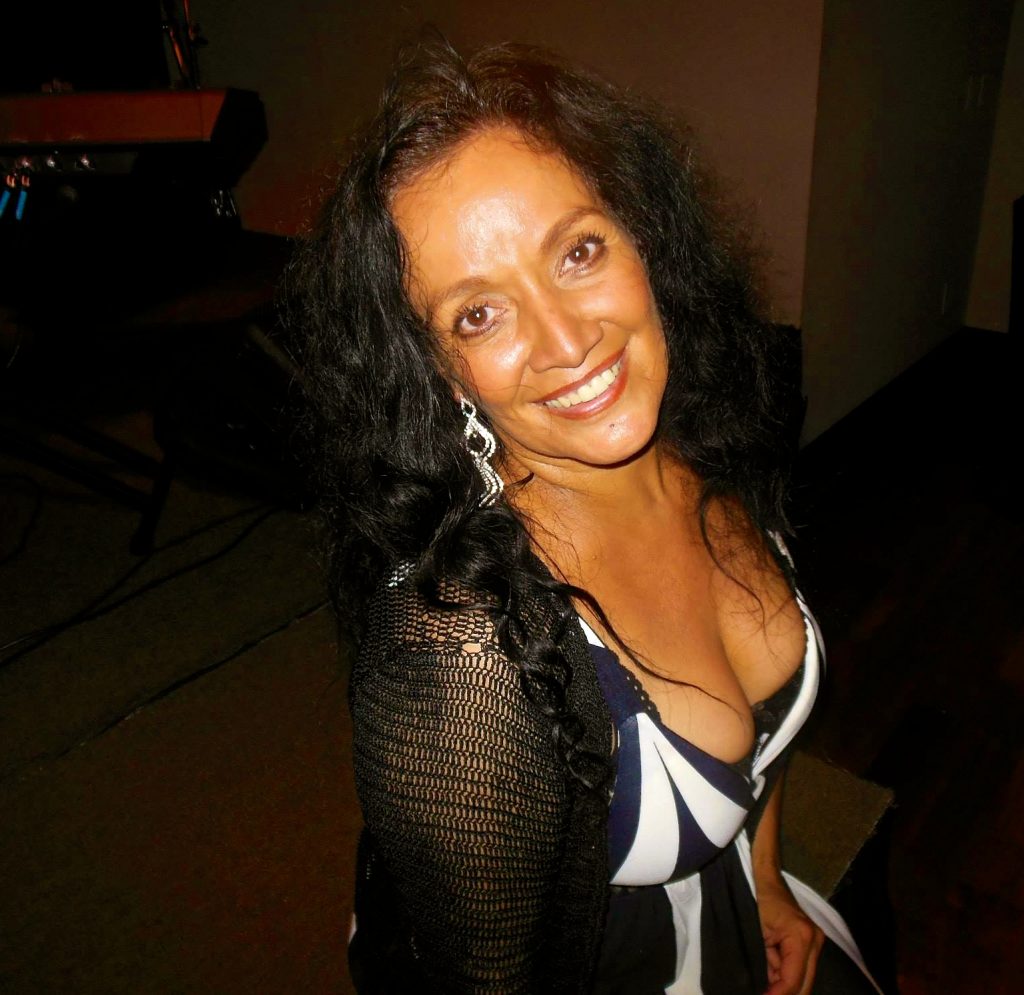 Estaire grew up around music with her 8 siblings. Her mother, a housewife, has a beautiful soprano voice and her father sang in a Baritone voice. Her parents immigrated to the US and settled in Oakland, where Estaire was born. Oakland is the most ethnically mixed city in the US and as a result Estaire grew up enjoying every type of musical style. Mexican Trios, Smooth Jazz, Pop, Rock, Big Band Jazz, Bossa Nova, Native American Music, Soul Music, Brazilian and African sounds. from Mexico well she grew up listening to Trios, and All styles of music coming from the influences of her older siblings. She plays frequently with brothers Salvador and Carlos both prominent musicians and song writers.
When asking Estaire Godinez for a quote about recent project she explains: "Estaire is also a published author, a book she published in 2015 titled THE YELVA (to which she has also wrote the screenplay adaptation for a feature film. Along with her published book she also has a short story and two books finished which she intends to publish. She stays true to her first love which is music. She is working on the music for her third album with Peter Schimke; this one will be released in 2019. This one will be dedicated to the musical stylings of Latin Jazz. "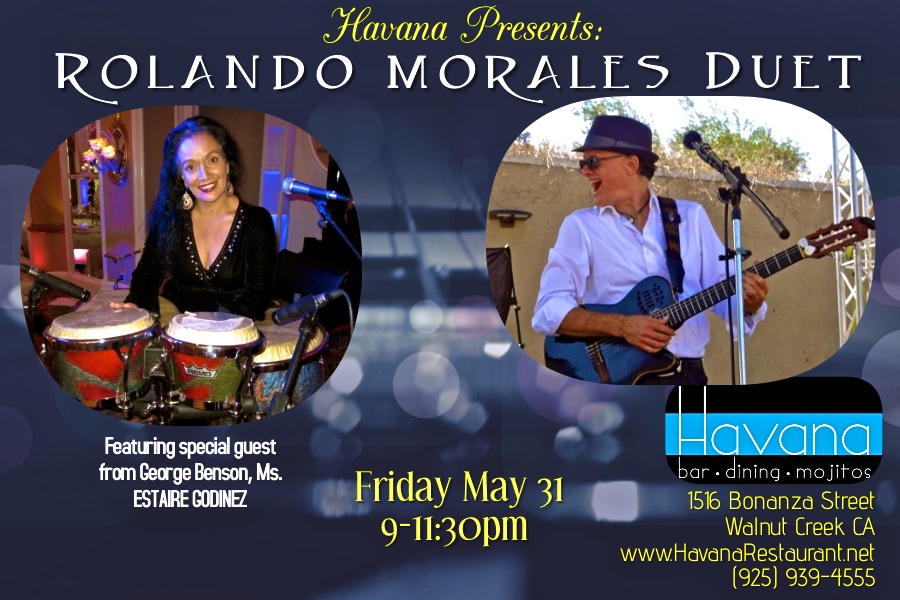 Estaire Godinez is currently working on a new film project. However, you can catch her on May 31, 2019 at Havana's in Walnut Creek where she joins her good friend, vocalist and Guitarist Rolando Morales.
Estaire Godinez, this accomplished all around artist, dancer, singer, congera, performer, recording artist, actress, author and film maker brings grace and overall quality to everything she creates. Her bio reads: "Whether swing or Samba, backbeats or Bossa Nova, Godinez has always been fascinated by the push and pull of different rhythmic styles, mirroring her musical diversity, she is multilingual (Spanish, Portuguese, English) and has lived and performed throughout the world.
Stay tuned. This year Estaire Godinez plans to finish her third collaboration together with Peter Schimke. She is publishing her book, and adapting it to a movie script. In Maui, Hawai, she owns a company with her sister, where they will sell their art work and Jewelry, and offer Estaire Godinez' music and books. Visit her own website to learn more.