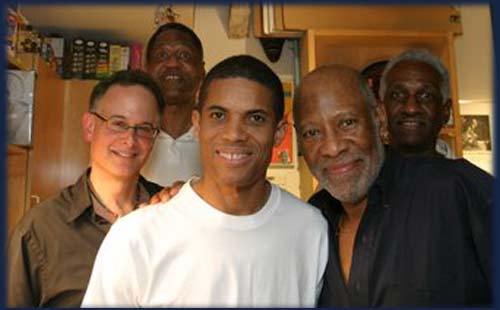 Celebrating grammy-award nominated
Stanley Jordan
Ranie Smith, Executive Director of the UC Jazz Club, honored Stanley Jordan at one of the first Ranie's Jazz Salon functions. He held the function at Jim Dennis Photography Studio. Everyone had a wonderful time and I encourage you to get in touch with us to be put on this special invitation list. The gatherings are for UC Jazz Club members and the press only. Lloyd Gregory and Rolando Morales were present at the function to honor Stanley Jordan.

Stanley Jordan, world renowned musician and now holistic philosopher, has released a new CD "State of Nature". It is a true gift.

"State of Nature" promises to become a hit. It combines Jordan's magical ability to compose music that inspires and refreshes with his amazing musical skill. When listening to the album you are taken on a magical journey that is both uplifting and enlightening. Stanley brings nature to life and urges us to embrace it while at the same time enjoying our humanity as part of nature. The CD starts with "A Place in Space" which is fun to listen to. It evokes a feeling of bouncing harmoniously in space among many other stars and planets. This composition is melodic and modern. It immediately demonstrates Jordan's ability to play guitar in a way that hardly anyone else can match. The notes are bouncing, echoing, flowing, and they create a feeling of richness and fullness that reminds us that we are part of a very big mysterious world. Jordan asks us with his commentary in the liner notes to become conscious and aware of this vast and mysterious Universe. He suggests that as we become aware of the infinite vastness of space we will naturally grow to love and care for our precious planet, our home called Earth.

He continues on with "All Blues". This composition brings us right back down to earth with its bluesy and smoky sound. It reminds us that we are part of everyone and everything. We are part of the All. Stanley Jordan invites us along this musical journey and into his musical mind with the accompanying poem in the liner notes: "Universal and cool, blowing indigo riffs to syncopate the primordial swing. Hip changes reverberate for Miles and stretch modal and blue across the landscape of now." Like his music, Stanley Jordan is so very, very cool!

With "Forest Garden" Jordan increases the sophistication in this haunting and beautiful sonata by bringing in natural sounds of birds, the sound of a breeze in the leaves and wolves howling in the background. His guitar sounds classic and pure. Meta Weiss on cello perfectly compliments Stanley's harmonies, and percussionist Hartt Steams is breezy, transporting you to this peaceful outdoor garden setting. Here Stanley succeeds in creating a feeling of refreshing peace. In his poem he describes the feeling: "In a perfect state of original oneness all things and beings in the garden simply are. The arrival of humankind brings a new awareness and a new capacity for compassion."

Jordan then brings us the moving and mournful popular love song "Insensatez" by Jobim, who not only mourns his lost love but also his own behavior that brought about the loss. Stanley Jordan's rendition of the song is beautiful. In his liner notes he reminds us that often our callous behavior is unintended. He muses that perhaps we shut down our empathy precisely because we are so sensitive, too sensitive to allow ourselves to feel the pain we cause others because it might become too overwhelming.

We are healed by the next piece which is the wonderful "Mozart's Piano Concierto #21- Andante in F" played flawlessly by Jordan as a celebration of our own potential for greatness. We can bask in the perfection of Mozart's composition while realizing how complex and wonderful we are. Within each of us slumbers this great potential.

"Song for my Father" is included as a tribute to David Jordan, Stanley's own father. This Horace Silver classic is a perfect fit on this wonderful journey. Peaceful, energetic and playful, it lets us all wander down memory lane. Stanley Jordan, Song for my Father – live in Paris "Mindgames 1, 2, & 3" are Stanley Jordan's own brief compositions which bring nice transitions between songs. Stanley urges us to take mental breaks and to exercise our minds regularly. Read the full poem in the liner notes. Stanley is not just an amazing musician but also a wonderful poet and philosopher.

"Ocean Breeze," composed by Jordan and sitarist Jay Kishor, is a perfect meeting of East and West. It is harmonious and serene. Stanley brings cool Western poise to this song and Jay's sitar brings Eastern serenity. Together they refresh our spirit.

Jordan's composition "Healing Waves" is beautiful, and promises to be an instant classic. In true Stanley Jordan style it combines abstract music with rich melodies and harmonies. It is at once demanding and soothing. It evokes many feelings, assisting with the release of emotions and eventually bringing one back to a harmonious, peaceful and centered place. If you like classical music you will definitely love this piece.

"Shadow Dance" displays the richness of the full Stanley Jordan sound. It may be a little reminiscent of Kitaro or of Santana. This piece is melodic, beautiful and rich, yet easy to listen to. I needed to sit back and listen to it over and over again. Jordan bares his soul with this song and allows us to delve deeply into our own. In his liner notes poem he ends: "Time Passes. Somewhere in the distance I hear bells. A ray of golden light has pierced the gray clouds and awakened me." This song is like a cosmic and mystical journey home.

After another "Mind Games" break we come to "Prayer for the Sea," another original on this CD. It is modern, and Stanley succeeds in bringing out his abstract musical style in a deeply harmonious way. This song is relaxing like a day at the beach on a sunny Spring afternoon. It is also reminiscent of the first song "A Place in Space" on the album, yet this time is feels close and cozy. Prayer for the Sea reminds us that we need to care for ourselves, our home "Earth" and especially our oceans which cover 70% of the earth. Let's become aware and conscious of the need to preserve water before it becomes another "oil crisis. "

"State of Nature" ends with the old-school hit "Steppin' Out" and brings the CD to a joyous ending. After this musical journey I am ready to embrace my humanity and Stanley Jordan's CD and I are ready for "Steppin' Out". I am energized yet relaxed. What a great musical experience!

Stanley Jordan came to prominence with the release of his 1985 debut album Magic Touch, which sold over 500,000 copies. Magic Touch placed him at the forefront of re-launching the legendary Blue Note Records into a contemporary entity of jazz and beyond, as well as establishing Stanley Jordan as among the most distinctive and refreshing new voices of the electric guitar. He has enchanted millions of listeners around the world ever since.
I recommend that you go out and buy Jordan's new CD. It is totally worth it and available at all major music retail outlets. If you can catch his show try to see him. Stanley is once again proofs to be amazing!
From the moment he made his debut in 1985 with the gold-selling Grammy© nominated album MagicTouch, guitar virtuoso Stanley Jordan has proven himself as a forward thinking innovator. With his nimbly executed "touch" or "tap" technique, he ushered a dazzling and spellbinding new sound into the world of progressive instrumental music.
Over the course of five major recordings and several smaller independent releases, Stanley has explored earthly and astral musical trailways. Because of the extraordinary originality of his approach to guitar, Stanley has been looked upon first and foremost as a musical original, orbiting in an artistic universe without predecessor or immediate successor.
With his groundbreaking 2007 album, "State Of Nature" his debut for the Mack Avenue label, Stanley Jordan makes another bold step by using his music to musically illustrate profound and unifying truths about man's relationship to nature and humankind.