A Week's Worth by Thyme Lewis is a gripping and thought-provoking novel that skillfully blends elements of suspense, drama, and family dynamics. The book tells the story of Mac, a FEMA worker who takes a week off to care for his ailing mother. However, when two bodies are found in the condo building where he and his mother are staying, Mac's seemingly simple vacation turns into a complex and dangerous affair.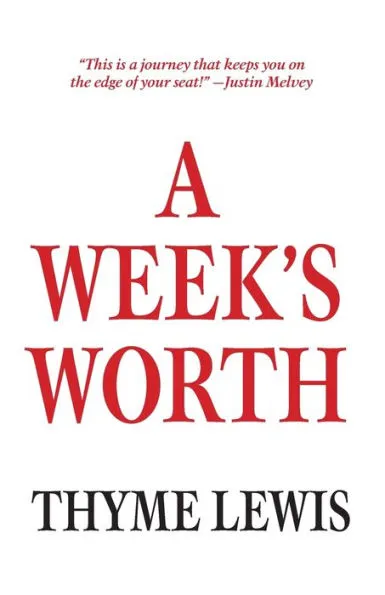 "With a skill set rivaling special operatives in the world's most elite gangs, Mac navigates the country working for FEMA. Helping those less fortunate resurrect their lives after the USA's most horrific natural disasters. In A Week's Worth, Mac receives a call that sends him home to California, where he will face a more personal disaster: his mother. Her health is failing. His good intentions to help are met with resistance. And people keep dying around them. With a burning desire to right the wrongs of the past, Mac hopes this last road trip to Los Angeles will make their time together unforgettable."
https://www.barnesandnoble.com/w/a-weeks-worth-thyme-lewis/1142951825
The plot is intricate and multi-layered, with plenty of twists and turns to keep readers engaged. The author expertly weaves past and present events, gradually revealing the motivations and backstories of the various characters. The pacing is excellent, with just the right tension and suspense to keep the story moving.
One of the standout features of A Week's Worth is the complex and nuanced portrayal of the main character, Mac. He is a flawed and conflicted protagonist with a troubled past and a deep loyalty to his family. The interactions between Mac and his mother are particularly poignant, highlighting the complexities of the mother-son relationship.
Thyme Lewis has a talent for descriptive prose, vividly bringing the various settings and characters to life. The dialogue is sharp and natural, adding to the story's authenticity. The author's background in acting and stunt work also shines through in the action scenes, which are well-choreographed and exciting.
Overall, A Week's Worth is a captivating and well-crafted novel that will appeal to suspense and family drama fans. Thyme Lewis has created a memorable cast of characters and a gripping storyline that keeps readers guessing until the end. Enjoy this book.
Thyme Lewis is an accomplished American actor, author, humanitarian, and former Hollywood stuntman with a diverse cultural background. He grew up in Big Sur, California, with his mother and siblings, where he developed a passion for acting and later pursued a career in the entertainment industry. Thyme is best known for his memorable role on NBC's Days of Our Lives as Jonah Carver, as well as his work on Sunset Beach and Young and the Restless.
In addition to his work in acting, Thyme also discovered a love for writing while working with FEMA. This led him to create the MacGuffin series, a thrilling set of novels that blend suspense, drama, and family dynamics. Thyme is now a full-time writer and resides in Carmel by the Sea, where he continues to create captivating stories.
Thyme's cultural heritage is diverse, including Norwegian, Scottish, Irish, Haitian, and Choctaw Indian descent. He is also a humanitarian, using his platform to raise awareness and support various charitable causes.
Thyme's latest venture includes a co-starring role on Bosch Legacy, a gritty crime drama on Amazon Original, set to air in the spring. To learn more about Thyme and his work, visit his website at https://thymelewisbooks.com.
The book is available on Amazon, Barnes & Noble, and a bookstore near you. You can also listen to you on https://www.audible.com/pd/A-Weeks-Worth-Audiobook/B0BXQL6TT5