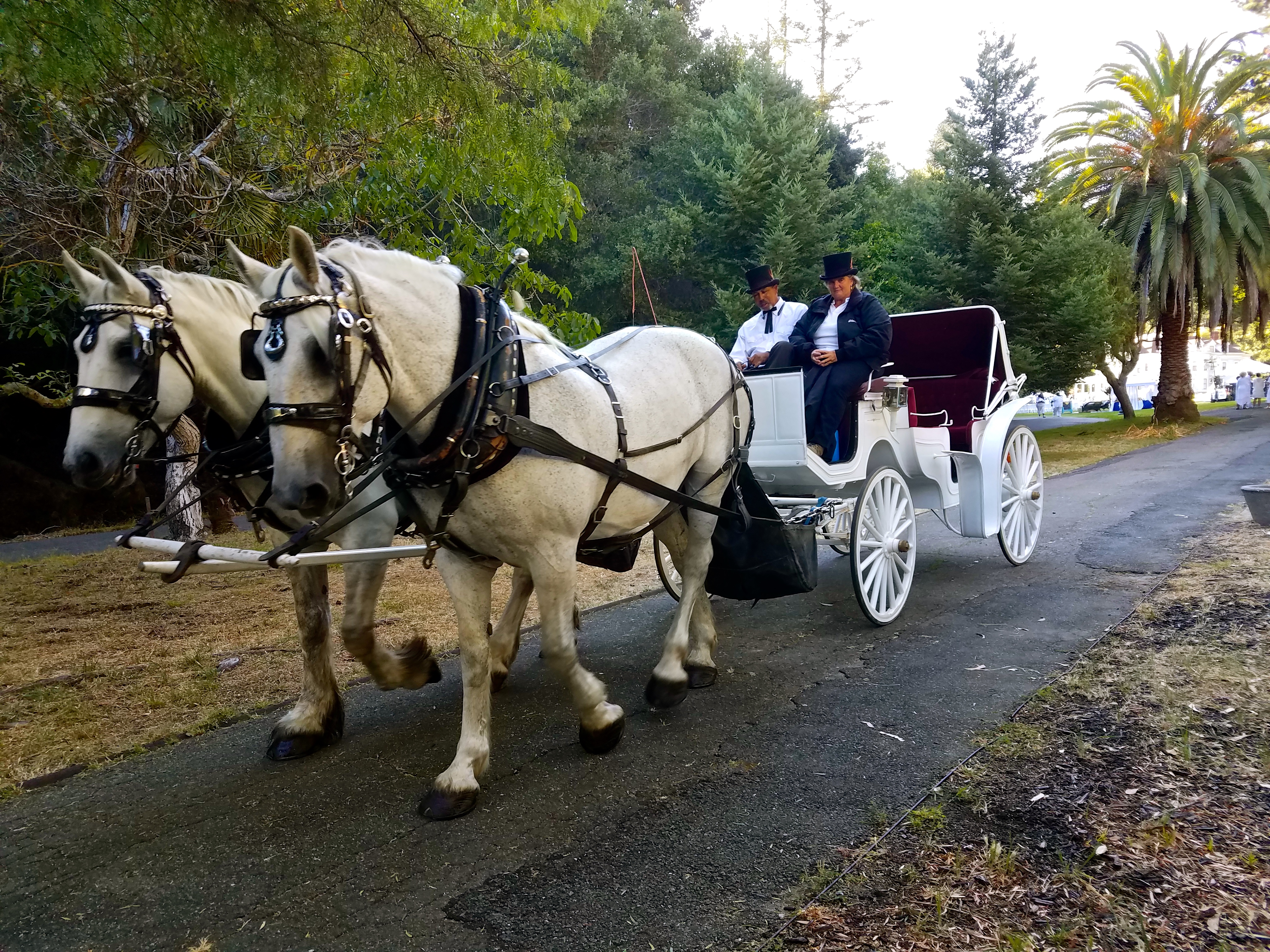 Aug 6, 2019
¡Hola, mi Gente!
Thanks to those of you who came out last Saturday to our show, "An Intimate Evening 2019" at the Dunsmuir Hellman Historic Estate in Oakland. Estaire Godinez lead our great band, Bob Crawford, David Belove, Celso Alberti, Beatrice Godinez and Yours Truly in 2 blazing sets of Latin and Brazilian jazz. We all wished we could do more of this…
For those of you who missed it, I have a public show coming up this Saturday Aug 10 at Havana in Walnut Creek from 9-11:30pm. I'll be leading Estaire Godinez on Latin percussion and vocals and myself on guitar and vocals through a huge variety of music. Plus, I just learned today that we may have a very special guest sitting in: none other than the great Carlos Reyes on violin. Anyone who has seen him knows he always gives the night a huge lift! Details below. Don't miss it!
Remember, too, that we have a cool version of my Trio which hasn't played together publicly in many years making it's debut at Havana in Walnut Creek on August 17. David Belove on bass and the great David Flores on drums. I'm really looking forward to playing with these two again! Details below.
See you at the show!
Ciao,
Rolando
PUBLIC PERFORMANCES AUGUST 2019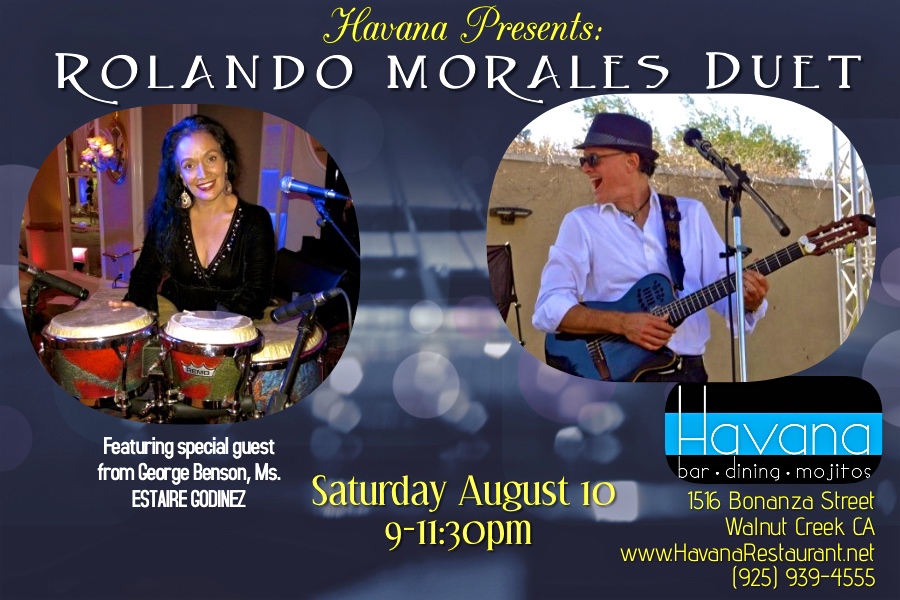 Violinist Carlos Reyes may be dropping in on this Havana gig to kick up the excitement level even more
Saturday Aug 10, Havana Cuban Cuisine, 1516 Bonanza St., Walnut Creek, approx 9-11:30pm. Rolando returns for this special series of duet engagements at this fine Cuban restaurant and live music venue. Tonight will feature the Latin percussionist-vocalist from George Benson, Ms. Estaire Godinez; and on guitar, vocals and his pedal board of magic, Rolando Morales. Together they create a unique alchemy of excitement and fun. And just added to the mix, the great Paraguayan violinist Carlos Reyes may be sitting in to add his magic to the night. Don't miss it! www.havanarestaurant.net, (925) 939-4555.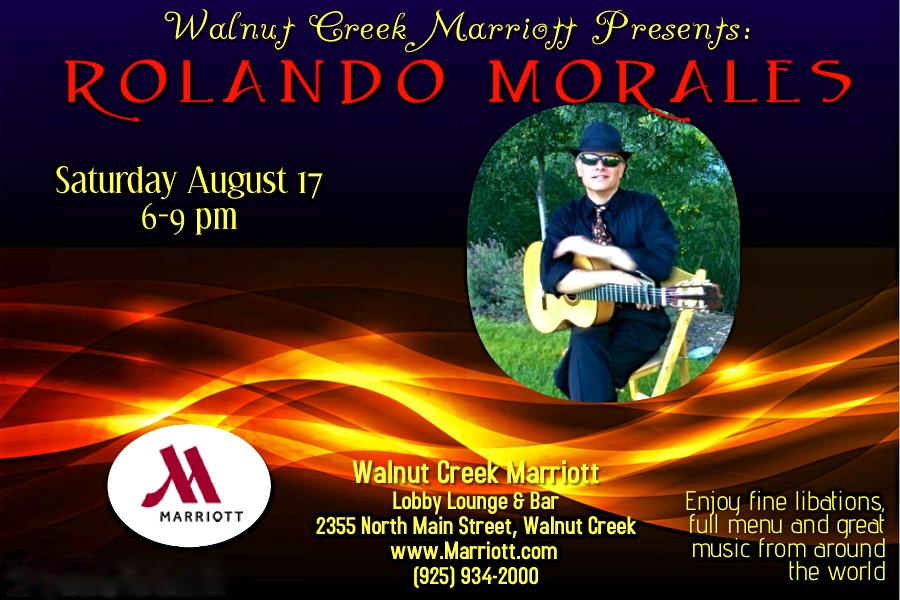 Saturday Aug 17, Walnut Creek Marriott, Lobby Lounge & Bar, 2355 North Main Street, Walnut Creek, 6-9pm. Rolandofinally returns to this popular East Bay hotel and gathering spot in the newly renovated lounge in the shadow of Mount Diablo, where you can enjoy your favorite cocktail, fine wines and a lovely full menu. Enjoy a sophisticated environment with an international clientele and great acoustics, perfect for Rolando's vast repertoire on solo guitar and voice and your wonderful night out. Reservations: (925) 934-2000, https://www.marriott.com/hotels/travel/oakwc-walnut-creek-marriott/.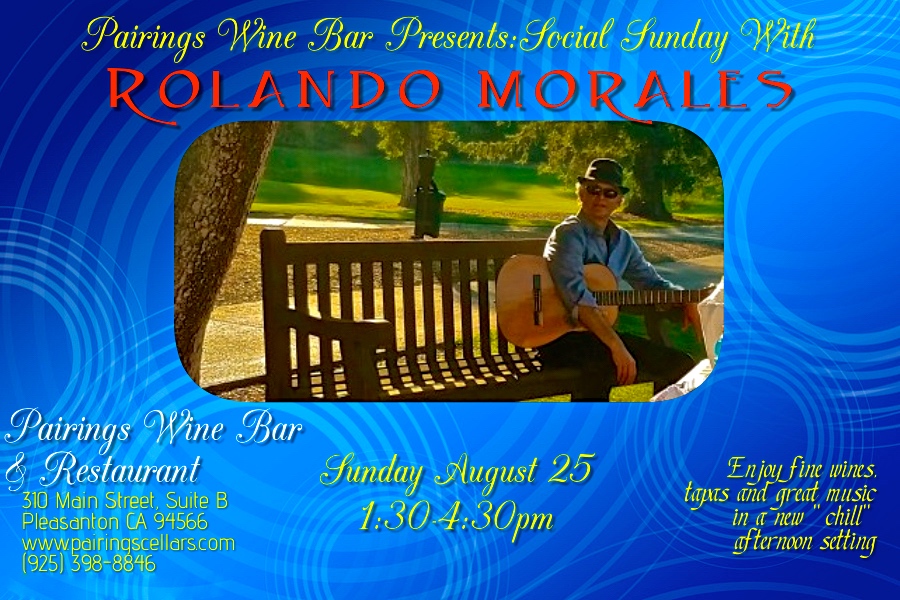 Sunday Aug 25, Pairings Wine Bar and Restaurant, 310 Main Street, Pleasanton CA 94566, 1:30-4:30pm. After almost a year away, Rolando finally returns to this exciting social hotspot in downtown Pleasanton. They're introducing a new "Social Sunday", which will be a wine sipping, live music "chill" event. Rolando will perform a mellower side of his repertoire on solo guitar and voice to help ease you into your Sunday. Free! www.pairingscellars.com, (925) 398-8846.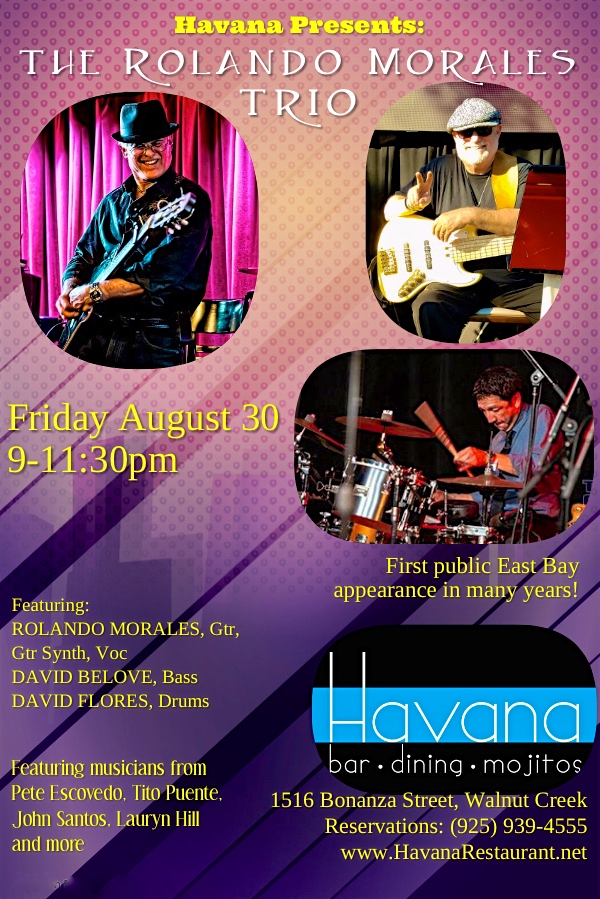 Friday Aug 30, Havana Cuban Cuisine, 1516 Bonanza St., Walnut Creek, approx 9-11:30pm. The Rolando Morales Trioreturns to the East Bay! This version of the exciting trio makes its debut at this fine Cuban restaurant and live music venue, featuring for the first time at this venue, the exciting drummer from John Santos and Lauryn Hill, the powerful David Flores;the rock-solid bassist from Pete Escovedo and Tito Puente, David Belove; and on guitar, guitar synth and voice, Rolando Morales. This is a rare treat, first time publicly in the East Bay in many years. Make your reservations early. It'll fill up! www.havanarestaurant.net, (925) 939-4555.
CD SALES
If you would like to order a CD, read on. If you'd like to order our CD "Rolando Y Qué?!", you can pick it up at my website, the gigs or by mail. They're $15.00 at the gigs, or $17.00 by mail to cover postage and handling. TO ORDER THE NEWEST CD "ROLANDO, Y QUÉ?!" by mail: Send a check or money order payable to Rolando Morales for $17.00 for the CD and postage to Rolando Morales, 9028 Burr Street, Oakland, CA 94605. and I'll send it to you. Let me know if you'd like it signed.
TO ORDER THE ORIGINAL "PASSPORT: 10th ANNIVERSARY EDITION" CD by mail, send $17.00 to the same address as above. Be sure to include your return address.
BOTH CDs ARE AVAILABLE FOR PURCHASE AT WWW.ROLANDOMORALES.COM
All other shows are private. Why not hire Rolando for your own private event? He's available for corporate shows, weddings, parties, concerts and festivals. The Rolando Morales Group is available as sextet, quintet, quartet, trio and duo depending on your entertainment needs and budget.
To subscribe to Rolando's weekly newsletter contact us.
RioVida Networks Public Relations