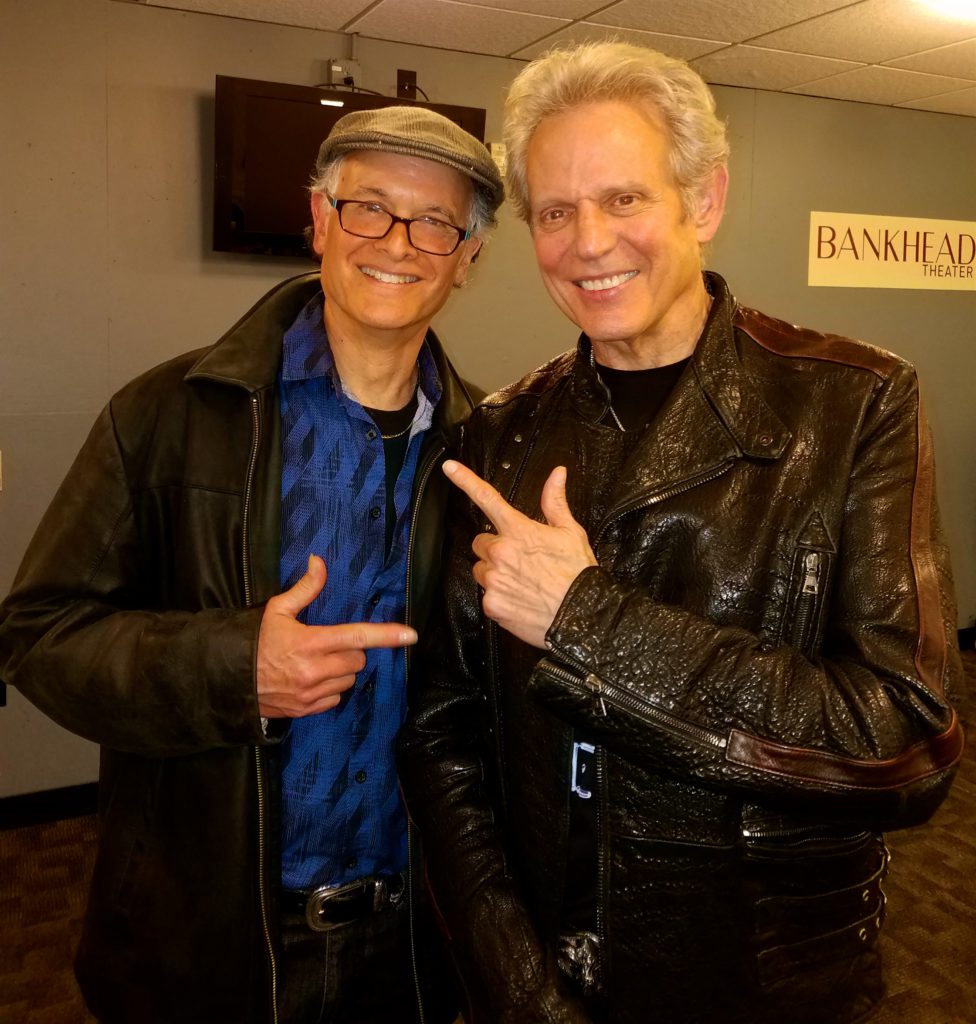 March 21, 2019

¡Hola, Mi Gente!
I've been putting another private event together for a buddy who used to play bass decades ago with original members of a little band called The Eagles. One of his band mates at the time, lead guitarist Don Felder, composed and played on many of their early hits including "Hotel California." He's a 4-time Grammy winner and inductee of the Rock and Roll Hall of Fame.
My buddy invited me to see Don's show last Monday night in Livermore. He's still got it. Rockin', crooning and owning the stage. His solid band (and they sang 5-part harmonies) play with such legends as Kenny Rogers, Dave Gilmour (Pink Floyd), Joni Mitchell and even White Snake, so they brought a spectrum of talents to the table.
I really enjoyed hanging with him afterwards back stage. We connected and he shared lots of stories and enthusiasm. Special night. Sounds like he may swing by our private party, along with some other Eagles…
In the mean time, I have a fun new Quintet public show happening this Saturday night, March 23rd. My buddy, drummer Pepe Jacobo, invited me to co-lead a band at Nick's on Grand in South San Francisco from 6-9pm. He provides himself on drums and his Latin percussionist Mike Ramirez. I secured my keyboardist Bob Crawford who plays with Pete Escovedo and many more; as well as master bassist Dewayne Pate who played with Arturo Sandoval and so many more. Throw myself into the mix on guitar and voice, and we've got something fun to share with you! All details are below in the Calendar. It's a rare San Francisco Peninsula appearance, so don't miss this! www.nicksongrand.com, (650) 989-8452.
There's more happening next week, including Barone's in Pleasanton and the Walnut Creek Marriott Lobby Lounge, and even a little recording session. Details below.
Ciao and see you at the show!
Rolando
PUBLIC PERFORMANCES FOR MARCH 2019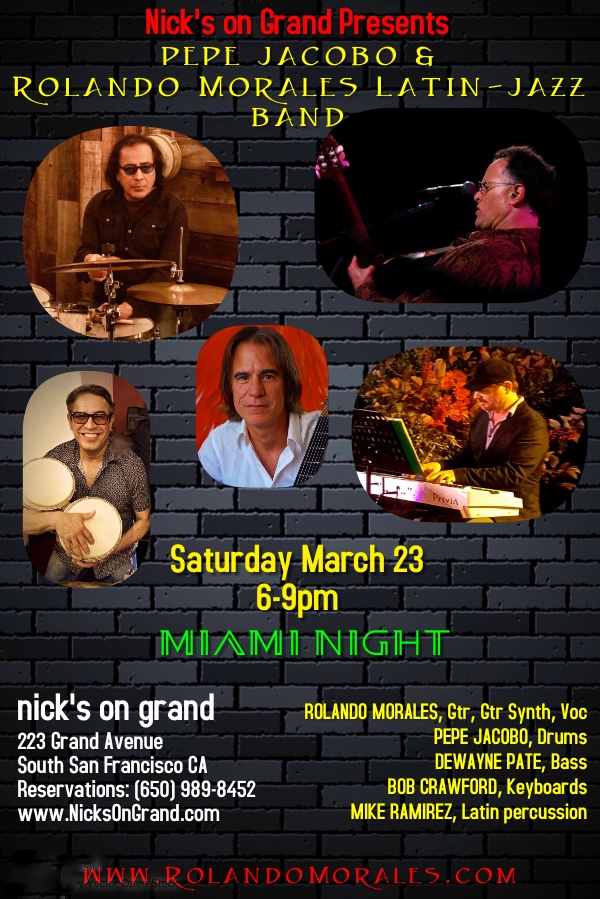 Nick's on Grand will feature Pepe Jacobo & Rolando Morales' Latin-Jazz Band
Saturday March 23, Nick's on Grand Presents: "Miami Night with Pepe Jacobo & Rolando Morales," 223 Grand Ave., South San Francisco, 6-9pm. International guitarist-vocalist Rolando Morales joins forces with drummer Pepe Jacobo, a talented old friend from the past, to co-lead a Latin musical adventure at Nick's for their "Miami Night." Featured will be the superb bassist from Arturo Sandoval, Dewayne Pate; Latin percussionist from Los Tigres del Norte, Mike Ramirez; keyboardist from Pete Escovedo, Bob Crawford; guitarist-vocalist Rolando Morales; and exciting drummer Pepe Jacobo. Don't miss it! www.nicksongrand.com, (650) 989-8452.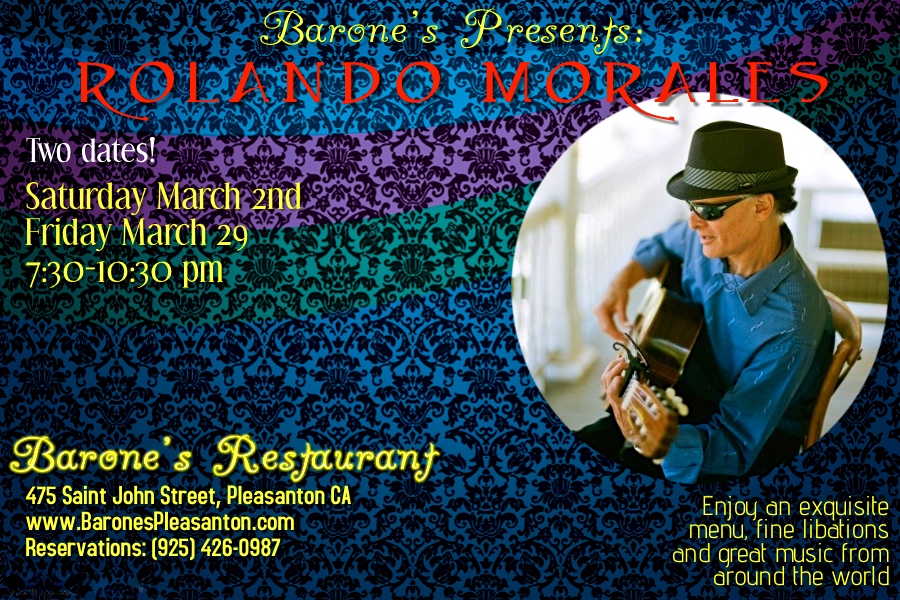 Friday March 29, Barone's Restaurant, 475 St. John St., Pleasanton CA, approx 7:30-10:30pm. Rolando returns to one of Pleasanton's premiere dining establishments. Enjoy exquisite meals and service, libations and Rolando's vast repertoire in the Cocktail Lounge. Reserve at www.baronespleasanton.com, (925) 426-0987.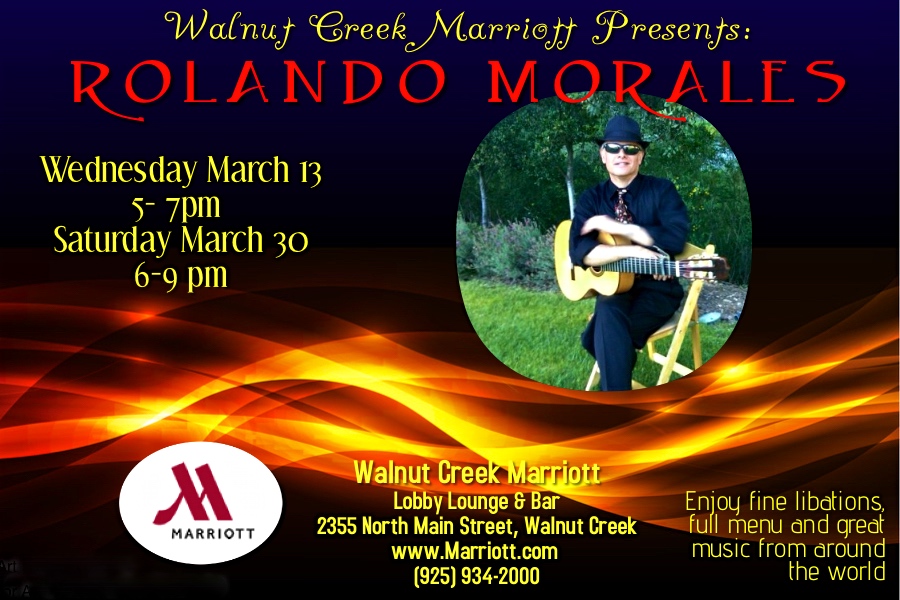 Saturday March 30, Walnut Creek Marriott, Lobby Lounge & Bar, 2355 North Main Street, Walnut Creek, 6-9pm. Rolando returns to this redesigned East Bay hotel and gathering spot in the newly renovated lounge in the shadow of Mount Diablo, where you can enjoy your favorite cocktail, fine wines and a lovely full menu. Enjoy a sophisticated environment with an international clientele and great acoustics, perfect for Rolando's vast repertoire on solo guitar and voice and your wonderful night out. Reservations: (925) 934-2000, https://www.marriott.com/hotels/travel/oakwc-walnut-creek-marriott/.
CD SALES
If you would like to order a CD, read on. If you'd like to order our CD "Rolando Y Qué?!", you can pick it up at my website, the gigs or by mail. They're $15.00 at the gigs, or $17.00 by mail to cover postage and handling. TO ORDER THE NEWEST CD "ROLANDO, Y QUÉ?!" by mail: Send a check or money order payable to Rolando Morales for $17.00 for the CD and postage to Rolando Morales, 9028 Burr Street, Oakland, CA 94605. and I'll send it to you. Let me know if you'd like .it signed.
TO ORDER THE ORIGINAL "PASSPORT: 10th ANNIVERSARY EDITION" CD by mail, send $17.00 to the same address as above. Be sure to include your return address.
BOTH CDs ARE AVAILABLE FOR PURCHASE AT WWW.ROLANDOMORALES.COM
All other shows are private. Why not hire Rolando for your own private event? He's available for corporate shows, weddings, parties, concerts and festivals. The Rolando Morales Group is available as sextet, quintet, quartet, trio and duo depending on your entertainment needs and budget.
This email was sent to you for Rolando Morales: RMG, 9028 Burr Street, Oakland, CA 94605
Subscribe to Rolando's Weekly Newsletter
RioVida Networks Public Relations
This email message may contain an advertisement or solicitation.