Kalervo and Niina Karlsson Mesmerize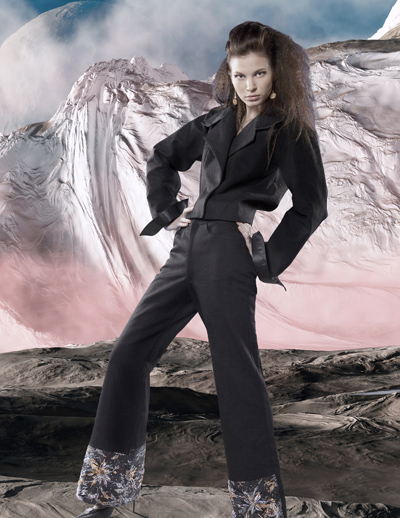 The Karlsson Concept husband and wife team succeeds again with their design. They bring back the quality of yesteryear and combine it with an edge for the modern world. Crisp, futuristic it combines features of classic styles that are chic and elegant.
Their pant suits are were designed for private parties who wanted to combine comfort, versatility with show stopping elegance. The beadwork, designed and hand-crafted by Niina, brings the design from the simple to the divine.  The custom beadwork swirls energetically – while adding a rather balanced, nearly zen note, to the outfits.
In 2010, Niina Karlsson launched her latest venture, Fikorus Jewelry. Check out her latest jewelry designs at www.fikorus.com.
The Model in Super-novatar serie is:   Anna Parviainen from Paparazzi.fi models as usual.                 Hair:                                                        Jenni Rokkila TS-Salon
Make up, Style and Design :                  Karlsson Concept,  Niina Karlsson
Photography:                                          OKKO OINONEN
www.okkooinonen.com