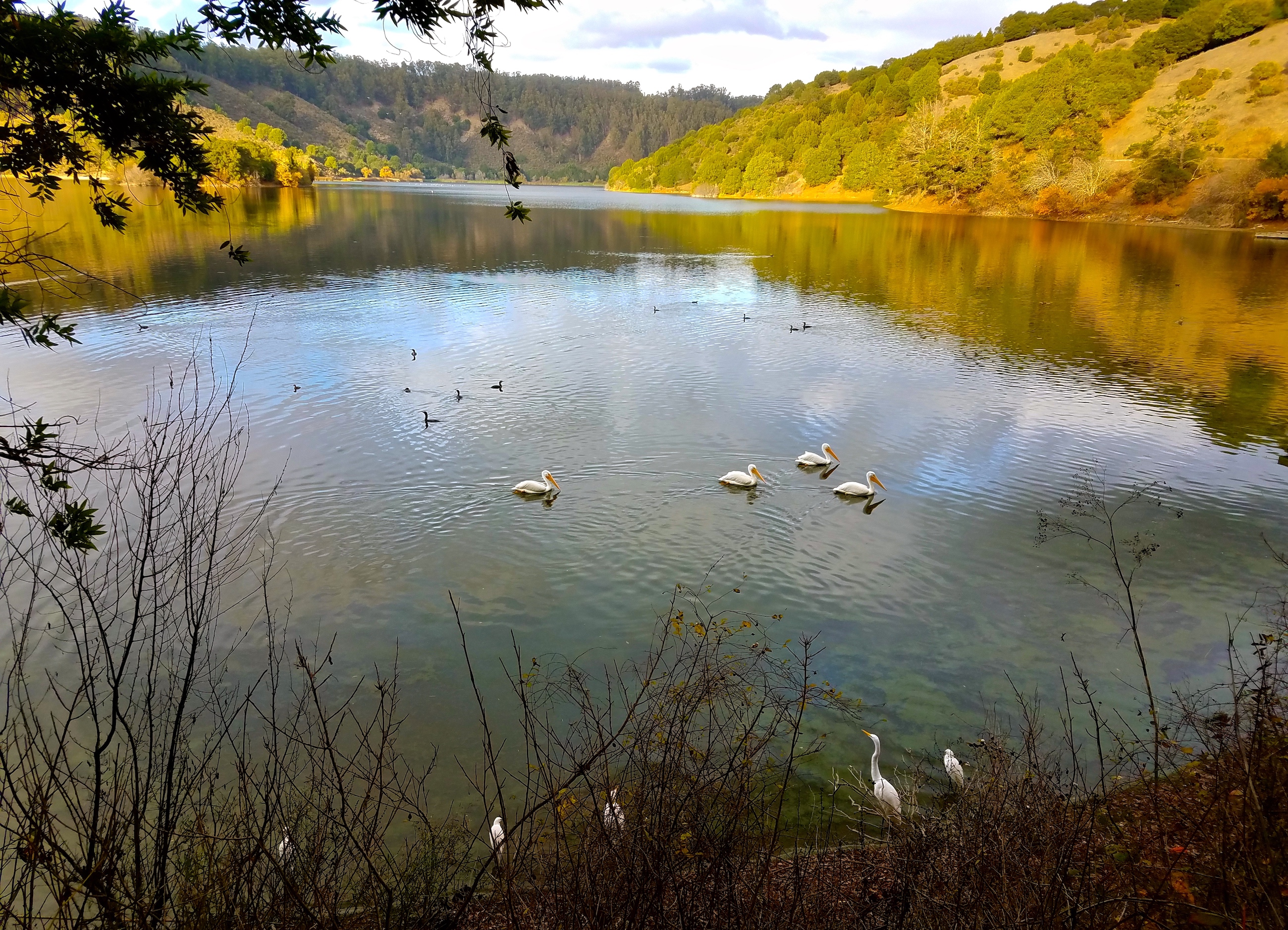 After-gig hike last week before the sun fell
December 18, 2018
¡Hola, Mi Gente!
I finished that challenging 3-week run of 1 to 2 gigs per day. And lived to tell. I even threw in that public gig last Saturday with my rock guitarist buddy from Santana, Carlos Hernandez. We hit it hard at Havana and threw in a bunch of rocking tunes we'd never done before for a packed house. What a blast.
In the midst of playing and commuting day and night in the urban jungle, I had one rare late afternoon off. A brief reprieve. I unloaded my gear, got into my house, changed into some sweats and drove to Chabot about 4:30 and forced my tired body to hit a trail. It was hard to get going, but after coming into my first view of the water and hills, I felt so much better! It was like another world. Peaceful and grounding. And cold and dark! I did the last half of my hike in the night under the slivered moon and beneath the sound of owls hooting in the trees. Magic.
Now my schedule slows to a manageable level. The only public show I'm doing this week happens this Friday December 21 when I return to Maria, Maria in Danville for the last time this year, indoors from 6-9pm.
And remember I'm also at Havana after Christmas on Saturday December 29 with the Paraguayan violinist Carlos Reyes, who has played with Arturo Sandoval and Steve Miller. This is your last chance this year to catch us in public (though we've been everywhere in private). Details for both shows below. Hard to believe that these are the last public shows of the year! See you there!
Ciao,
Rolando
PUBLIC PERFORMANCES FOR DECEMBER 2018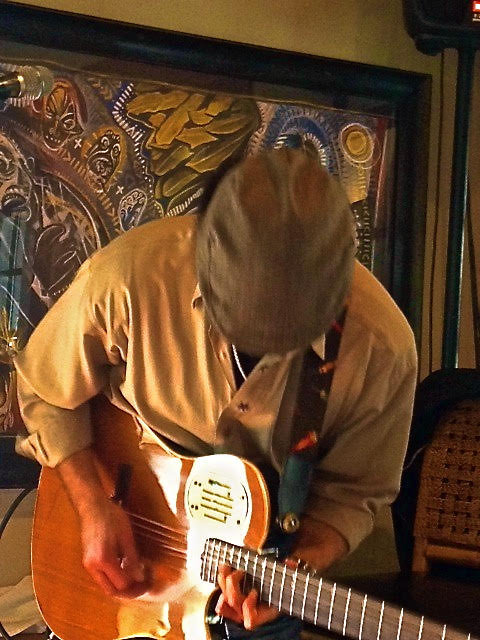 Rolando plays at Maria, Maria in Danville this Friday Dec 21
Friday Dec 21, Maria, Maria Cantina, 710 Camino Ramon Road, Danville CA, approx 6-9pm. Rolando returns to Carlos Santana's Danville restaurant. Enjoy Rolando on solo guitar and voice with his diverse repertoire performing either in the restaurant or out on the patio by the fire pits, depending on the weather. www.mariamariarestaurants.com, (925) 820-2366.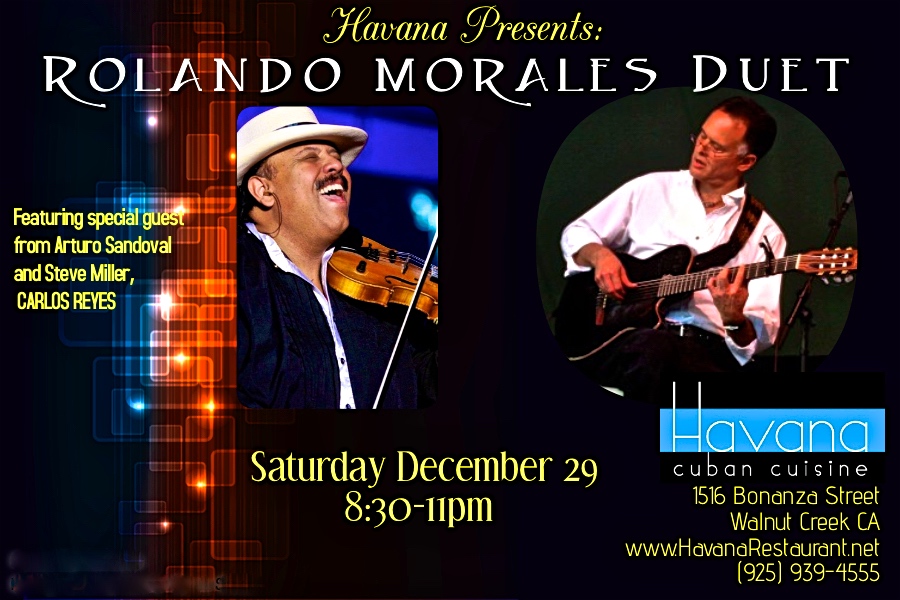 Saturday Dec 29, Havana Cuban Cuisine, 1516 Bonanza St., Walnut Creek, approx 8:30-11pm. Rolando returns for his last public appearance of the year at this fine Cuban restaurant and live music venue. Tonight Rolando welcomes for a rare Havana appearance, the thrilling violinist-bassist from Paraguay, the great Carlos Reyes. Hehas played with Grammy winner Arturo Sandoval, Steve Miller and the Doobie Brothers, among others.And on guitar, voice and his pedal board of magic, Rolando Morales. Together, they create fire, a huge sound and unique energy you do not want to miss! www.havanarestaurant.net, (925) 939-4555.
CD SALES
If you would like to order a CD, read on. If you'd like to order our CD "Rolando Y Qué?!", you can pick it up at my website, the gigs or by mail. They're $15.00 at the gigs, or $17.00 by mail to cover postage and handling. TO ORDER THE NEWEST CD "ROLANDO, Y QUÉ?!" by mail: Send a check or money order payable to Rolando Morales for $17.00 for the CD and postage to Rolando Morales, 9028 Burr Street, Oakland, CA 94605. and I'll send it to you. Let me know if you'd like .it signed.
TO ORDER THE ORIGINAL "PASSPORT: 10th ANNIVERSARY EDITION" CD by mail, send $17.00 to the same address as above. Be sure to include your return address.
BOTH CDs ARE AVAILABLE FOR PURCHASE AT WWW.ROLANDOMORALES.COM
All other shows are private. Why not hire Rolando for your own private event? He's available for corporate shows, weddings, parties, concerts and festivals. The Rolando Morales group is available as sextet, quintet, quartet, trio and duo depending on your entertainment needs and budget.
This email was sent to you for Rolando Morales: RMG, 9028 Burr Street, Oakland, CA 94605
Unsubscribe
RioVida Networks Public Relations
This email message may contain an advertisement or solicitation.