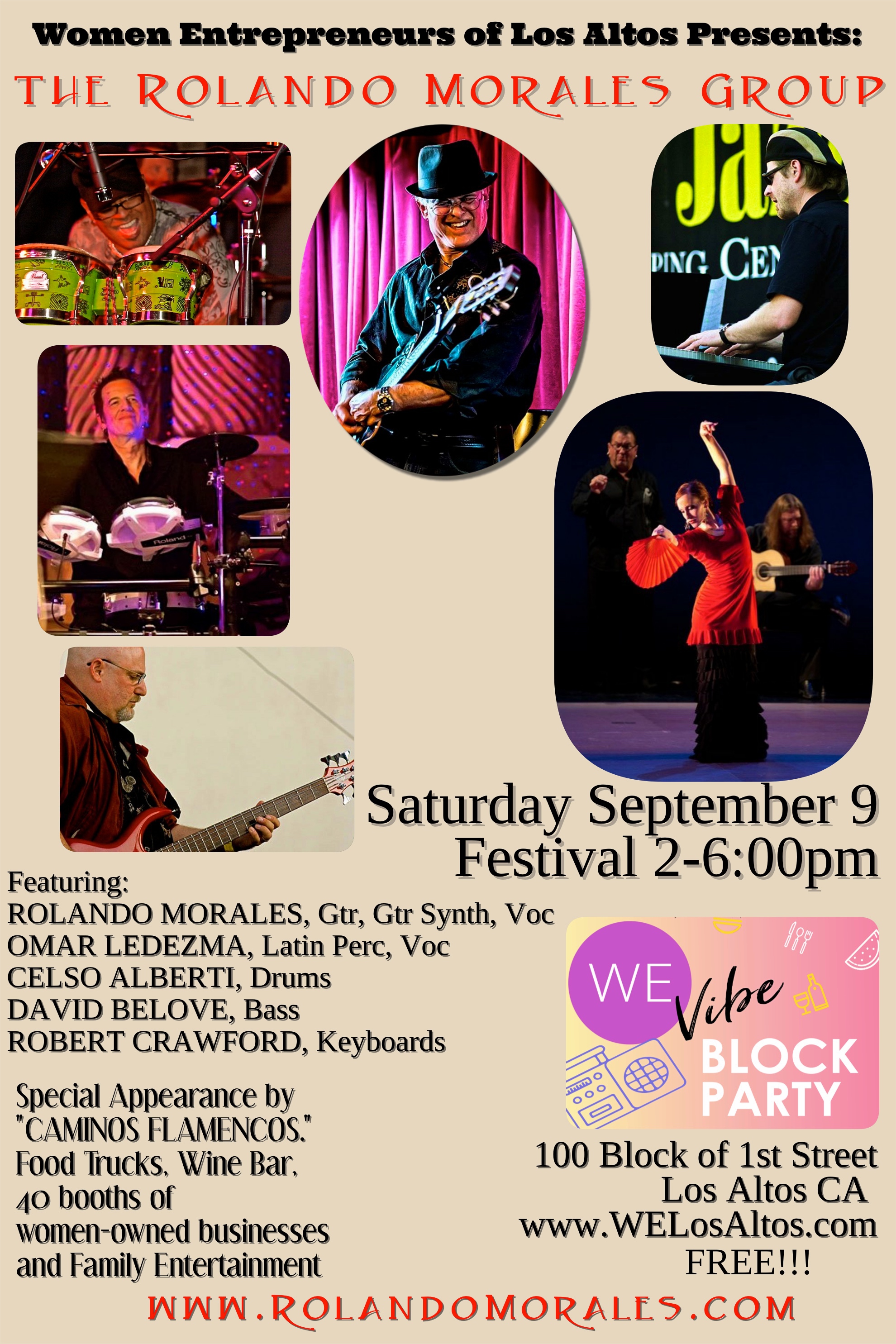 ¡Hola, Mi Gente!
I've been working day and night putting tech and everything else together for some big private and public shows throughout the Bay Area and beyond.  Thursday we're doing a big private show up in St. Helena.  Then a couple days up near Lake Tahoe for more private shows.  Then all the way down again to Woodside for yet another private event.  It's good to be in demand!  I put on four new tires on my car to ensure a safer week.
I broke up the intense prep work with a couple short but majestic hikes through the Oakland Hills near my house.  It's nice to see Oakland continue to reveal her surprises.  Redwoods, eucalyptus, lakes…  Am I in the Sierras?  Naw, it's just Oakland.
The public shows won't begin until next week when I do my first Friday night Danville show at Maria, Maria in almost half a year on September 8.
But the noteworthy show is a great little festival happening on September 9, 2-6pm.  My friends at the Women Entrepreneurs of Los Altos invited my band to play for the WE Vibe Block Party on the 100 Block of First Street in Los Altos.  I'll be there with my All-Star Quintet putting on two shows.  We'll also have my favorite flamenco troop "Caminos Flamencos" putting on a passionate show.  Details.
Other highlights this month include my duet on Mexican Independence Day, 16 de Septiembre with my Latin percussionist-vocalist and Sista-From-Anotha-Mista, Estaire Godinez at the Pairings Cellars in Pleasanton.  This will be the first time I do a duet at this venue and you know we'll light it up.
I'll also be doing a special duet on Saturday September 23 at The Vine at Bridges with the great violinist Carlos Reyes.  This will be the first time we're able to do this together here in 2 years, so don't miss it!  Details below.
Last, be informed that I'm debuting on Fridays September 22 AND 29 at Havana in Walnut Creek, a fine Cuban restaurant, bar and now, Live Music venue.  I've only done private off-site work for them in the past, and this will mark the first public in-house appearances in our history.  Swing by!  Details below.
And speaking of Walnut Creek, Maria, Maria has abruptly ended their Sunday afternoon shows about 5 weeks earlier than usual.  This year's strange weather, alternating between unusually cold and windy to intolerably hot has kept patrons off the patio, hurting their sales, so I'll just do occasional weekends at both their restaurants depending on our schedules.  No more Sundays this season.  So now you know.
See you at the show!
Ciao,
Rolando