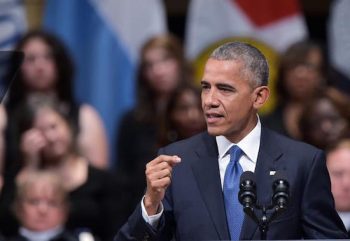 "True peace is not merely the absence of tension; it is the presence of justice."
                Martin Luther King, Jr., Stride Towards Freedom, 1958
Hola, Mi Gente!
It's been a tough week for our country. So much tragedy and violence, needlessly inflicted. We feel burdened with pain and anger. We're reminded of how little some things have changed over the last six decades. How do we as a nation move forward?
I thought President Obama delivered a beautiful, powerful speech today at the memorial for the five fallen officers in Dallas. Playing the role yet again of Consoler in Chief, he helped the nation cope with the violence which has traumatized our country, while at the same time, eloquently compelling us to admit to the real racial oppression that people of color experience daily. He urged us to listen to one another, to find the similarities that unite us and to empathize with and acknowledge the real pain each side experiences.
I was encouraged to hear him say that "we will need to act on the truths that we know. And that's not easy, it makes us uncomfortable. But we're going to have to be honest with each other and ourselves." That's the way forward.
At all my performances, I have been including special songs to ease our hearts and souls in these trying times. Even at last Saturday's Sausalito Seahorse performance, our world class band played a rendition of Marvin Gaye's "What's Goin' On?" to an appreciative audience. Big thanks to Carlos Reyes, Estaire Godinez, Celso Alberti and David Belove for their talents, and to all of you who packed the Seahorse again.
This Thursday I'm doing a special show at The Vine at Bridges in Danville on Thursday July 14 with my talented buddy from Uruguay, Edgardo Cambón. I've been away from there for a few months, and they'll have the 2016 Danville Hot Summer Nights Hot Rod and Classic Car Show happening right outside, so it's definitely worth coming out for. Details.
I'm also returning to Wente Vineyards this Saturday July 16 from 1-5pm on solo guitar and voice. Details.
I'm also excited to be part of the Grand Opening of a new Wine Bar, Pairings Cellars on Main Street in downtown Pleasanton. We'll be kicking off our appearances there next week Saturday night, July 23 with a great trio featuring the percussionist/vocalist from Prince, Estaire Godinez; the great bassist from Pete Escovedo, David Belove; and I'll be there on guitar, guitar synth and voice. Details.
There's so much more in store. Just check out the calendar, make your reservations and I'll see you at the show!
Ciao,
Rolando