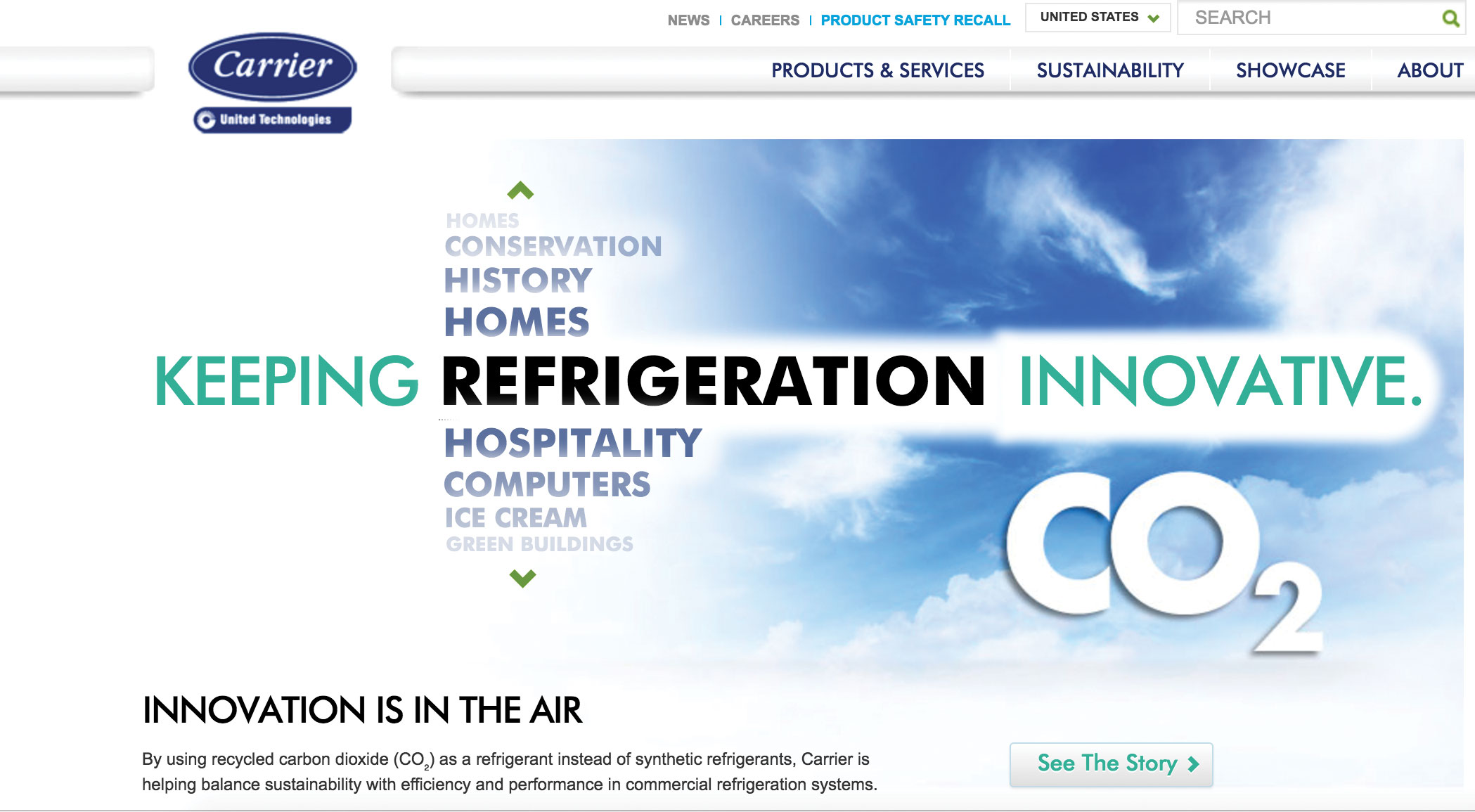 Built on Willis Carrier's invention of modern air conditioning in 1902, Carrier is the world leader in heating, air-conditioning and refrigeration solutions. Their corporate websites informs us:  "We create comfortable and productive environments, regardless of the climate. We safeguard the global food supply by preserving the quality and freshness of food and beverages. We ensure health and well-being by enabling the proper transport and delivery of vital medical supplies under exacting conditions. We provide solutions, services and education to lead the green building movement."   Carriers Corporation is one of the United Technologies companies which employs 197,200 Employees, brings in an adjusted net sales volume of $56.5B*, pays out $6.3* an adjusted diluted earnings per common share from continuing operations $3.9B. UTC's Total R&D investment includes company- and customer-funded around the world. The US government and other governments around the world are included in these pre-sales earnings.
From what we can tell the company is doing great work in India for instance.  They are working hard on assisting companies reduce their food waste, which is a worldwide issue indeed.  Food Waste is a major issue in a world where so many people go hungry every day, and it is also known to be a major contributor to Green House Gases.  Pence and Trump who don't believe in protecting the environment, are planning to donate even more money to United Technologies, Carriers Corporation.
Let's celebrate the positive when we can.
We know that United Technologies has "supported" to create a study that will allow Carriers Corporation sell their products in India.  BIO Intelligence Service for the Global Food Cold Chain Council ("GFCCC") with support from United Technologies ("UTC"). This Report presents an assessment of the potential of the cold chain sector to reduce GHG emissions through food loss and waste reduction.  The report educates:
"In monetary terms, the most recent global food loss estimate is a staggering $1 trillion in retail value, or about twice the gross domestic product of Norway 2 , equivalent to the Gross Domestic Product of Switzerland. Further, such loss aggravates food insecurity and malnutrition in a context of growing population and increasing food demand3 . And finally, this food wastage represents a missed opportunity to mitigate environmental impacts and use of resources from food chains. The carbon footprint of food produced and not eaten is estimated to be 3.3 Gtonnes of CO2 equivalent: food loss and waste would rank as the third top GHG emitter after USA and China if it were a country. This amount is more than twice the total GHG emissions of all USA road transportation in 2010."
United Technologies, and by extension Carrier, seemingly is doing a great job reducing food waste in India.  Full Report
How is support of this international conglomerate "Making America Great Again?
Every day at United Technologies, nearly 200,000 people across the globe help move the world forward.  In Europe they are quite competitive in the aerospace industry and in environmentally refrigeration units.
United Technologies and their brands Otis, Pratt & Whitney, UTC Aerospace Systems and UTC Climate, Controls & Security have recently initiated a $1.5 billion multiyear restructuring plan to improve our competitiveness in the global market.  In 2015 they returned approximately $12 billion to shareholders in dividends and share buyback, including a $6 billion accelerated share repurchase program. In February 2016, Carrier announced it would close its Indianapolis factory due to ongoing cost and pricing pressures and to take advantage of and Carrier's existing infrastructure and a strong supplier base in Mexico. They also initiated a $1.5 billion multiyear restructuring plan to improve competitiveness in the global market.  They already operate out of Belgium, Canada, China, Israel, New Zealand, Poland, Singapore, Taiwan, Turkey, UK aside of their seven corporate offices in the US.  The UTC companies conduct operations in more than 160 locations in 26 countries. Most of the manufacturing and parts businesses are outside the US already. Location
In the letter to the shareholders UTC President and CEO elaborates on his commitment to partake in the Middle Class growth in China, India and the Middle East.  He is particularly interested in aviation as the middle class in Asia will nearly double the air travel industry in terms of carriers. Letter  Aside of making air travel in Asia great again, UTC is a major supplier and repair contractor for the US Military.  The company has enthusiastically agreed to a commitment to reduce greenhouse gases and is in the process of moving their core business to the aviation industry. Otis is still and will stay involved with elevators and escalators.
Announcement of Carriers plant shut down in February 2016.
In July Carrier and the United Steelworkers (USW) came to a generous agreement that the any of the 1,400 people who may be loosing their jobs, as they closed down old technology manufacturing lines.  They would get a severance package and support with a scholarship fund to get retrained.   It seems the company is planning to get out of the HVAC business as they have had lot's of trouble with leaky freon. The CDC explains that the colorless, odorless gases released when freon leaks cause problems to skin, heart, central nervous system, cardiovascular system.  The symptoms include: irritation skin, throat, drowsiness, dermatitis; central nervous system depression; In Animals: cardiac arrhythmias, narcosis.
Consumer Affairs is full of costumer reviews who are not at all pleased with the damage caused by Carrier products, i.e.:  "I have two top of the line Carrier Furnaces. Both have been serviced annually. Both crapped out requiring major repairs after 6 years. Both were sold with 10 year parts warranties as they were high-end models. Now however, Carrier refuses to honor the warranty – even for parts. They claim a legal technicality buried in tiny fine print. Customer service was not responsive in any way. Both for reliability reasons and because of their unwillingness to honor their warranty, I would join the chorus of voices suggesting to avoid Carrier."  And another: "I replaced 13 year old Trane units that performed flawlessly for two Carrier Inverter units top of the line for top efficiency with the promise of quiet and reliable and an overall install cost of 50K. In year two one unit's outdoor inverter caught fire and was backorder for nearly a month. While they paid for the part I had to pay $1200 of labor not covered and was without AC for a month. Then the second unit failed who was installed a year later with some freeze thermostat malfunction and a bill of 1400. Again labor not covered and a month delay on getting parts. So all the energy savings and huge investment barely pay for the repair bills. Clearly Carrier does not stand behind its products and I would never buy their units again. Additionally seeing the pictures of how the unit was burned to a crisp was very troubling and when the dealer said it happens sometimes, I lost faith in Carrier. The people who invented air conditioning forgot that customers have choices. Our family will never buy Carrier again."
According to a July 2016 article Carrier was planning to eliminate 2,378 jobs as well as 1,400 jobs during a plant closure. "The decision to cut 2,100 manufacturing jobs across the state was financial, according to a statement from Carrier, which will begin eliminating its Indianapolis workforce in 2017 and continue the layoffs through 2019."  Full Article
According the recent reports there will be 1,000 jobs "saved" in 2017. What exactly does that mean?  Does they mean they will be laid off in 2018 and 2019 as was already planned anyway.  Or, will the jobs be saved for good and the long term? Neither the Trump/Pence team, nor Carrier have been very precise in their reports.  If indeed manufacturing jobs would be saved for good at the current payment level that would be a major win for the Trump team.  Service sector jobs pay an average of $39,338 a year, compared with $59,029 in manufacturing.  Or it may be a misinformation campaign. The provide millions of free dollars to a multi-billion dollar company that moves forward anyway with the lay-offs as negotiated with the Steel Workers Union in July 2016.  And, unless the quality of the furnaces improves and/or they are redesigned, it may just be a PR stunt for both the company and the new governmental administration, who are counting on the short memory of the public and the media alike.  Perhaps the company may be doing it primarily to hold on to those Boing contracts. This is an exciting story to watch unfold. So far it sounds more like a PR stunt.
KTLA reported: "United Technologies collects about $5.6 billion in annual revenue from U.S. government contracts, according to company filings, which is equal to about 10 percent of its overall revenue. The government also pays for nearly $1.5 billion of the company's annual research and development spending." full story
All that said, the retraining programs that United Technologies offers their ex-employees are exemplary.  Carrier offers their own private HVAC "University."  They donate money to their ex-employees (tax write-off) who are able to sign up online with their non profit company (low to no taxes) for a fee and instead of having the multi-billion dollar company pay for training, they charge the soon to be or already laid-off employees. Now if they could update the curricula to more modern and usable jobs that would be great. A well managed multi-billion dollar operation now receives even more money for keeping out-dated jobs that create unpopular products that leak toxic gases.  (Consumer Affairs)
Their government sponsored (see paragraph above) commitment to move into new technologies that are environmentally friendly should not go unnoticed.  Even though they help Europe, Singapore, India and China more than the US.  We are going to stay tuned and report on how the Trump / Pence team will "Make America Great Again."  They get an A for media relations so far.  Hope real jobs will follow in a verifiable way soon.