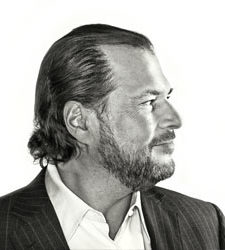 Marc Benioff is chairman and CEO of Salesforce, in a $106 Billion dollar industry, as businesses are expected to spend $106 billion on SaaS in 2016. He became a millionaire at age 25 and his ideas and followthrough have turned him into a billionaire.
Benioff created the 1-1-1 model of philanthropy, which leverages the resources of Salesforce to improve communities around the world: donating 1% of Salesforce's product, 1% of its equity and 1% of employees' time to help nonprofits achieve their missions. Today, more than 700 companies have adopted the 1-1-1 model through the Pledge 1% movement. Benioff and his wife, Lynne, have focused their personal philanthropy on children's health, including building UCSF Benioff Children's Hospitals in San Francisco and Oakland, as well as on public education, homelessness and other social issues. Marc and Lynne Benioff have made an extraordinary $100 million gift to UCSF Benioff Children's Hospital, which is officially renamed the UCSF Benioff Children's Hospital. See full press release and on Philanthropies.
In his book "Behind the Cloud," Marc Benioff explains that every company needs to integrate the Hawaiian Spirit of Mahalo.  The spirit of gratitude and praise.  He remembered that when he used to work for Apple, as a programmer on the MacIntosh, what made him happiest were the fact that he could have fresh fruit smoothies.  So when he started Salesforce he provide fresh and healthy foods in the kitchen, a fully paid gym membership and after every product release he ordered massages for all his technical team as a big thank you, free yoga lessons with a renowned teacher and discount tickets on Hawaiian Airlines.
In order to inspire the team and create the all important team spirt, he created a peer reward system.  People could nominate their peers and the winners would receive $500 bonus checks for various recognition categories.  The most unusual award system were life size posters of distinguished employees for everyone so see and recognize.  One thing that always bothered him that in most industries sales people were "coin-operated." They were rewarded exclusively with money.  At Salesforce everyone who met their sales quota would receive a 3 day fun filled experience in Hawaii with a friend or their partner.  It surely worked as between 45 to 65% of the sales people met the quota and received their trips.  In most sales organizations only the top 20% of the sales team is rewarded. By setting the bar within reach, the morale in the company soared creating a positive experience for the Salesforce team and their customers.
A pioneer of cloud computing, Benioff founded the company in 1999 with a vision to create a new kind of enterprise software company, with a new technology model based in the cloud, a new pay-as-you-go business model and a new integrated corporate philanthropy model.  Salesforce has been named one of the World's Most Innovative Companies five years in a row by Forbes Magazine, one of Fortune's World's Most Admired Companies in the software industry and a Fortune Best Company to Work For. 
Benioff has been widely recognized for his visionary leadership and pioneering innovations. He has been named one of the 50 World's Greatest Leaders by Fortune, Businessperson of the Year by Fortune readers, one of the Best CEOs in the World by Barron's and received The Economist's Innovation Award. Benioff is also a member of the World Economic Forum Board of Trustees.
Benioff believes that businesses are the greatest platforms for change in the world. He has embraced World Economic Forum founder Klaus Schwab's multi stakeholder approach to leadership, serving not only shareholders but all stakeholders–including customers, employees, partners, communities and the environment–to make the world a better place. Benioff is also inspiring fellow business leaders to do the same. He led a group of CEOs and business leaders in opposing state legislation that discriminated against LGBTQ communities, and instituted a company-wide salary assessment at Salesforce to ensure men and women were being paid equally for comparable work.
Benioff is a 35-year veteran of the software industry. Prior to launching Salesforce, he spent 13 years at Oracle Corporation. He founded his first company, Liberty Software, which created video games, at the age of 15. He also worked as an assembly language programmer in Apple Computer's Macintosh Division. Benioff received a B.S. in Business Administration in 1986 and an honorary degree of Doctor of Humane Letters in 2014 from the University of Southern California.
He is the author of three books, including the national best seller, Behind the Cloud.
He runs a most transparent company.  Enjoy his Keynote speech to his employees at the DX conference. Watch Marc Benioff, Chairman & CEO of Salesforce kick off the TrailheaDX 2016 Keynote. He interviews special guest Corinne Warnshuis, Executive Director, GDI about the organization's partnership with Salesforce. Recorded live on June 7, 2016.
Learn more on www.salesforce.com