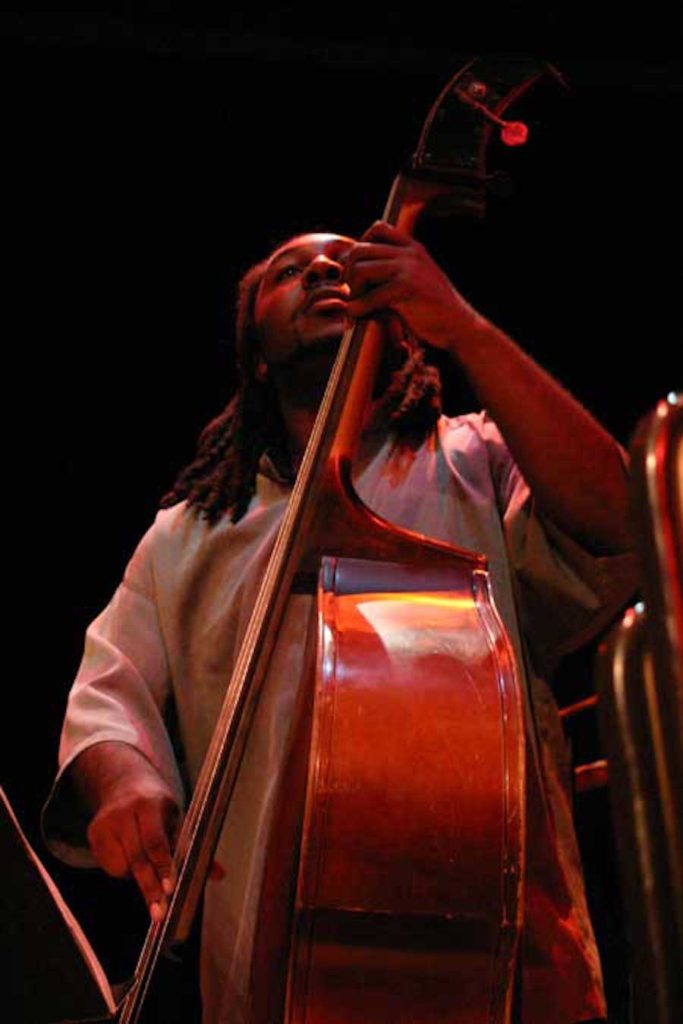 The UC Jazz Fall 2008 Fundraiser will be held on Monday, October 27, 2008 at Yoshi's Oakland. Please order tickets now – thank you for your support! 
UC Jazz Ensembles to perform at
Yoshi's in Oakland
Monday, October 27, 2008
A Fundraiser and Night of Jazz in honor of Robert Cole, Director of Cal Performances and Student Musical Activities with optional Pre-Concert Dinner and Silent Auction
Enjoy a lovely dinner, silent auction and or a marvelous concert.
Please make your concert reservations now!
8 pm General Admission is $25
8 pm Student is $10

10 pm General Admission is $15
10 pm Student is $10
Let's join and save the music program together. With your assistance we can keep this musical tradition alive despite the economic conditions and perhaps especially because of the economic condition. A thriving culture, celebration of music has long brought joy and a wonderful quality of life to our State. We need musicians of fine quality and people who enjoy and appreciate great music. Please support our effort to keep the UC Jazz Ensembles program going. Funding for this fine music program has been truly needed.
To RSVP for the Dinner and Shows package and for more information about opportunities for sponsorship, program ads, auction donations and contributions in honor of Robert Cole and UC Jazz in general, please go to ucjazz.berkeley.edu or call (510) 643-2662.
Learn about last year's fundraiser – Click
Join us to honor Robert Cole
In his words: While every new season is a challenge and an opportunity, the 2008/09 Season takes on particular meaning for me as it is the last in my 23-year tenure as Director of Cal Performances. Therefore, I hope you'll agree that it is a special one indeed, and unlike any other in our history! It is a season that has been specifically designed to please you in ways both large and small, including the return of many of the great artists that have been associated with Cal Performances over the years, the introduction of exciting new talents in their Bay Area debuts, and the inclusion of specially requested works on the programs of our Chamber Series and more.
Learn more about Robert Cole MORE 
Ted Moore, Director of UC Jazz Ensembles
Mr. Moore is Director of UC Jazz Ensembles at UC Berkeley. Aside from his administrative duties, he offers his skills as the Percussion Director of UC Jazz Ensembles Advanced Combo II and the Improv Workshop.
A graduate of the Eastman School of Music, Ted Moore has toured the world with Paul Winter, Marian McPartland, Stan Getz, Joe Williams, Eric Gale, Jack Wilkins, Gene Bertonzini, Joey DeFrancesco, and many others. For several years, he lived in Rio de Janeiro, Brazil, performing timpani and percussion with the Brazilian Symphony Orchestra, as well as touring and recording with one of Brazil's leading saxophonists, Victor Assis Brasil. Mr. Moore has composed original scores for several films and television series, including the NOVA science series on PBS. MORE
Thank you all for your support of UC Jazz Ensembles!
Event and Sponsorship Information
Member Support Services Find out about the UC Jazz Club membership benefits, and how you may wish to contribute and interact with other volunteer and member companies.
Event and Sponsorship Information
Edie Okamoto
eokamoto@riovida.net For more information about donations please contact

Carol Suveda
carols@sma.berkeley.edu For more information about UC Jazz please contact

Ted Moore
tmoore@ucjazz.berkeley.edu
Sign-up or stop UC Jazz Newsletter subscription by contacting us at info@riovida.net
About the UC Jazz Ensembes 
The UC Jazz Club was founded by the students of UC Jazz Ensembles and its faculty. Our goal is to share our fine tradition of Jazz with our members and the community at large.
UC Jazz Ensembles have been teaching students since 1966. We hope our members will enjoy our monthly newsletter, our performances and most importantly we hope you will support our effort to expand our popular program.
We invite donors and volunteers to continue to support our growing program and to join us now.
The UC Jazz Club offers several unique sponsorship opportunities which will support us in our goal to remodel the UC Jazz studios.
With your support we will also maintain and grow our current resources in the studios. This includes the purchase and maintenance of our equipment, expanding and renovating our practice areas, adding to our jazz library and ultimately making recordings of our big band and ensembles live performances.
Our goal is to uphold the UC Jazz tradition which has enchanted the world. We have taught students how to carry on this wonderful musical tradition with great success. Jazz has become mainstream and is becoming increasingly popular.
Please contact Ted Moore, director of UC Jazz Ensembles to learn about the program. You may also contact RioVida Networks for assistance to set up interviews with the faculty, students and fund-raising committee.