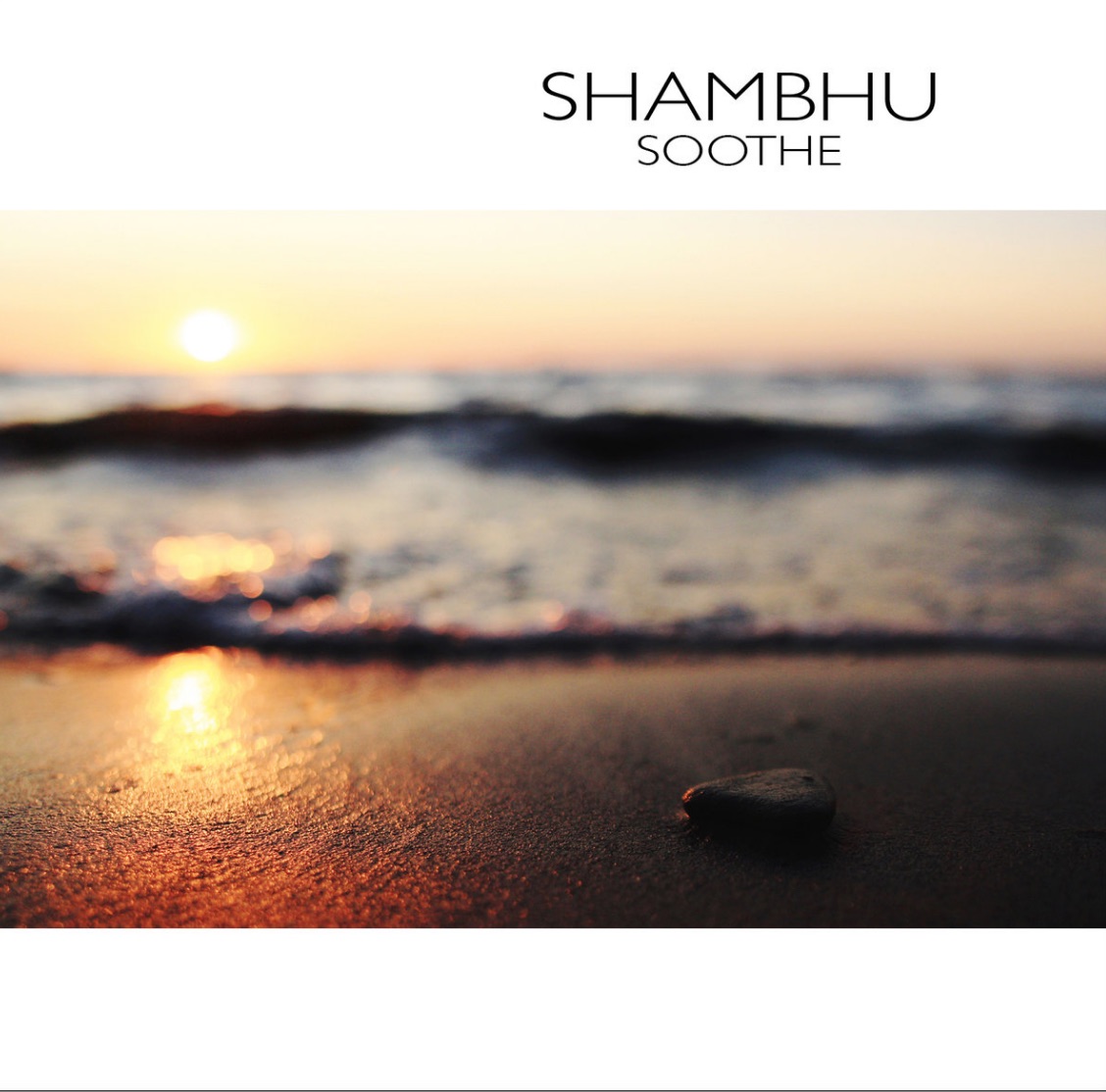 In today's modern world, people are feeling more disconnected and stressed than ever. Shambhu transforms the stillness and silence of meditation into calming sounds. An acclaimed guitarist and composer, Shambhu delivers a deeply soulful and self-reflective experience with his third studio album, Soothe, was released on  February 1, 2017.
Shambhu recorded his new CD, "SOOTHE," at Magic Cottage Studios (Lagunitas, CA) with producer Todd Boston. Artists featured on the CD include Shambhu on acoustic and electric guitars, Michael Manring on bass, Jeff Haynes on percussion, Frank Martin on piano, Paul McCandless on reeds, Premik Russell Tubbs on soprano sax and wind synth, George Brooks on soprano sax, Ravichandra Kulur on bansuri flute, Kristin Hoffmann on vocals, and Gurumurthy V on tabla.
As noted album reviewer, John Apice, states in his stellar review: "At first, unfamiliar ears will find this particular tune of Shambhu's too dreamy. Upon closer listen it will reveal subtle instrumental nuances that weave equally beautifully as Reverberi, Morricone, and Kaemphert had — through every measure. This at least, is my interpretation and where I believe the greatness of Shambhu could possibly lie. If it becomes true, he would occupy quite a respectable space beside these musicians. "Time Travel," has a sprightlier guitar — similar in nature to Pat Metheny — and the horns are smooth as silk. The strum of the acoustic guitars is Kaemphert in nature. But overall, the style is brilliantly developed by Shambhu – who plays acoustic and electric guitars, adds voice, tosses in a 6-string ukulele, e-sitar and e-pads."
John Apice goes on to say: "The title track "Soothe," opens with pristine and pensive acoustic guitar. At times this kind of music is similar to passages performed by The Moody Blues at their height. However, Shambhu is not just offering a sample, but an entire piece with female vocals just under the surface, soaring benevolently. The tone is similar to acoustic guitar master Leo Kottke and is intricately beautiful in the same way as many of his classic instrumentals."  Full Article
Shambhu invites you into his "Soothe" sound scapes of perfect harmony. He provides an energetic field that is conducive for a deep meeting with your Self, a space and a time conducive to integrate your ID with your Higher Self. His spiritual music of Soothe, his knowledge of meditation, and expertise in harmonizing energies allows you to shed the stresses of every day life. Join him on this spiritual journey to get in tune again with Gaia Nature and your own Nature from a spiritual sense. Feel as mellow as though you were sitting on the beach in Maui, right in the heart of NYC or where ever you are burdened with a hectic schedule.
As a successful business man Shambhu (Neil) Vineberg knows all about the pressures of dealing with time, traffic, presentations, deadlines, family commitment, investments, health and changes in politics and trends. To stay calm and balanced Shambhu began at a very young age to learn how to meditate. He now will share his ability to harmonize his energy body with you to allow you to benefit from his many years of studying and practicing the spiritual teachings of the Sri Chinmoy, Jack Kornfield, and many more.
The Shambhu Harmonics allows you to breathe deep, let go of everyday stressors, smoothe out the wrinkles of the many challenges you face and allows you guilt free "me time" guiding you back to you centered self. Come join us and experience the harmony that is created when like-minded people join together and focus on peace and harmony. Give your heart and mind a tune-up on a cell level.  The next Shambhu Harmonics event will be held in San Diego on May 23rd at the Pilgrimage Yoga.  You may also enjoy his upcoming concerts at a variety of San Diego wineries.
To buy the CD visit Amazon, Itunes or your favorite store. It is also available on Spotify, or purchase it right on Shambhu's store.