"Michael Tchong's Latest Book, "Ubertrends — How Trends And Innovation Are Transforming Our Future Released"

Las Vegas, March 22, 2019 — Michael Tchong, a renowned speaker, trend forecaster, and startup entrepreneur launches his third book, entitled "Ubertrends — How Trends and Innovation Are Transforming Our Future." "Ubertrends" tracks civilization's leading edges that are vaulting us into a radically transformed future.
As author Michael Tchong explains in his book, "Ubertrends form in the eye of the storm. As the forces collide with the future, they shapeshift society. When channeled with innovations, Ubertrends unleash a torrent of tsunamis."
Aimed at business executives, startup entrepreneurs, venture capitalists, financial analysts, as well as anyone who needs a stronger grasp on a developing future. Published by Ubercool Innovation, "Ubertrends" succinctly analyzes and illustrates some of the biggest waves cascading through society today.
It traces these Ubertrends back to seemingly inauspicious historical incidents that play a much better-understood role in the formation of today's culture.
These waves are responsible for a host of effects rippling through society. Ubertrends is a well-illustrated compendium, featuring some 273 images, that will help readers connect the dots, providing more context to how the future is unfolding.
For example, did you know that our busy lifestyles are the result of an Ubertrend that has roots in developments that took place in Massachusetts in 1946?
This Ubertrend, Time Compression — The Acceleration of Life, is the hurricane force behind the success of both FedEx and Starbucks, while propelling a whole host of other trends, from energy drinks to yoga.
Unlike most trends, Ubertrends change population values, which contributes to permanently altered consumer behavior.
The eight Ubertrend and innovation forces are:
Casual Living — The Evaporation of Decorum
Digital Lifestyle — Marriage of Man and Machine
Generation X-tasy — Been There, Done That
Fountain of Youth — Rejuvenating Body, Spirit and Environment
Time Compression — The Acceleration of Life
Unwired — Untethered and Unfettered
Voyeurgasm — I Like to Watch
WAF — Ascent of Woman
Innovation — Reinventing Business and Life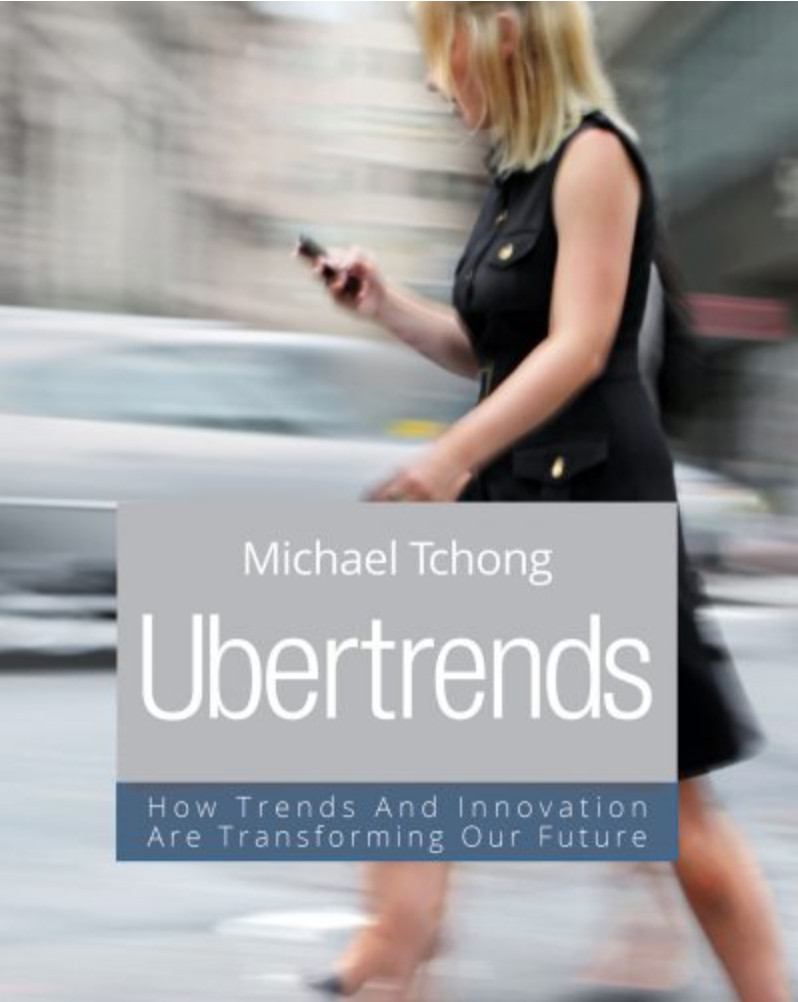 "We live in an age that requires constant innovation," says Michael Tchong. So gaining tactical market insights is more critical than ever. To shed light on the forces driving disruption, readers are taken on a spellbinding, roller-coaster ride through the "landscape of now." "Ubertrends" shows how a multiplicity of phenomena, primarily technology trends, is reshaping society in often remarkable ways.
Visit Ubertrends.com and download a free 20-page Ubertrends preview. Michael's speaking site, MichaelTchong.com as well as his blog, Ubercool.com, are other resources for those interested in staying on top of current consumer and innovation trends.
About Ubercool Innovation
Ubercool Innovation LLC is a thought leader innovation incubator founded by author, entrepreneur, adjunct professor, motivational speaker and trend forecaster Michael Tchong. Ubercool Innovation is a "do tank" — it doesn't merely talk innovation, it practices what it preaches. Michael addresses audiences globally with insights on emerging trends and innovations. He is a four-time entrepreneur and the founder of ICONOCAST, CyberAtlas, Atelier Systems and MacWEEK. For more information, call 800-WAY-COOL (international: 415-335-7615) or visit https://ubercool.com.