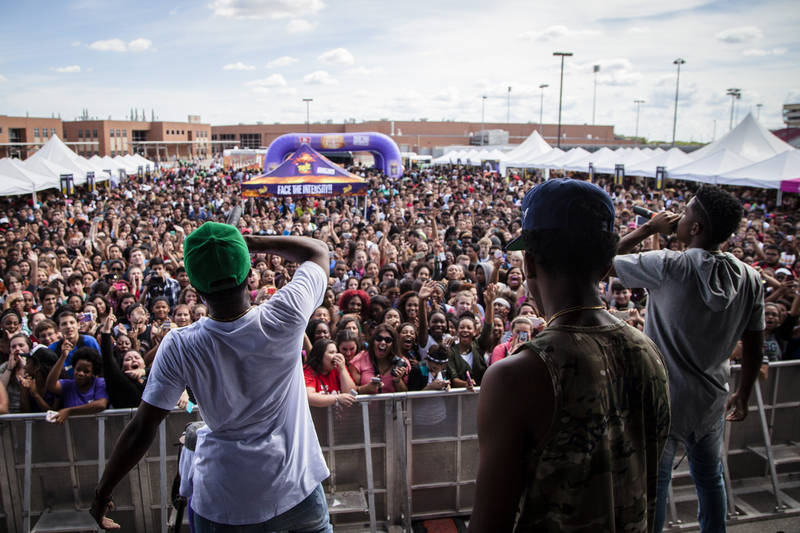 High School Nation Donating Millions to Arts and Music Budgets as Schools See Huge Shortfall
Recording Studios to be Built in Every School
CAMARILLO, CA–(Marketwired – Apr 12, 2017) – High School Nation, the country's largest secondary school touring music festival, will top the $1.5 million mark in donations to high school arts and music programs this year when it kicks off its 2017 60-city Festival Tour. The goal of High School Nation is to promote the arts and music programs in high schools across the country, and this year the Festival will expand its donation program to include the establishment of recording studios in each of the schools where it appears.
"We believe that building recording studios will be a major step forward in high school music programs," says Jimmy Cantillon, CEO and co-founder of High School Nation. "High school teachers and principals are very excited about this addition to our program. It's a huge undertaking but we have companies in the industry who see the value and want to participate in any way they can."
During the Festival Tour, High School Nation will take over football stadiums on each of the campuses and present a two-hour concert and events that will celebrate the arts in public schools. In addition to music programs, the Festival supports journalism, film, fine and performing arts, fashion, photography, and stage production.
Corporate sponsorships for the Festivals are being provided by over a dozen companies including Sparkling Ice, Guitar Center, Crayola, and Mars. PepsiCo, Microsoft, and Sony have all participated in the tours. As part of the Festival, students will visit interactive zones to interact with products and educational programs including the truth Zone, the Full Sail University Media Zone, the Hollister Style Zone, Guitar Center Music Zone, and the Crayola Sidewalk Chalk Zone.
The Festival Tour kicks off next week and will feature platinum selling rock band Plain White T's. "We're stoked to be headlining the High School Nation 2017 spring tour," said band member Tom Higgenson. "We love the idea of playing our music and at the same time being able to help High School Nation donate to public school music programs. We believe it is a very important time to be assisting music programs as much as possible." The band originally formed in 1997 by high school friends Higgenson and Dave Tirio.
"We are excited to be joining the High School Nation tour for the second year," say Nina Morrison, vice president PR and community relations, of Talking Rain Beverage Company, the makers of Sparkling Ice. "The arts are a very important pillar of the high school experience and we're honored to be able to help support the various programs."
In addition to the above, one of this year's leading sponsors is Truth Initiative, a national public health organization that is inspiring tobacco-free lives and building a culture where all youth and young adults reject tobacco through the proven-effective and nationally recognized truth® public education campaign. "Young people are using their creativity, through arts and music, to change the world and that's why being part of High School Nation is so important to truth. The teen smoking rate is down to a historic low of 6 percent and this tour is an opportunity for us to give teens the tools they need join us in getting the rate to zero, because we believe they are the generation that can end smoking for good," says Eric Ashe, Chief Marketing Officer, Truth Initiative.
"We are extremely thrilled to partner with High School Nation with its mission to make the musical instruments easily accessible to students," says Brian Berman, Vice President of Marketing at Guitar Center. "Ensuring people have a creative outlet to express themselves in the form of music is very important to us at Guitar Center. High School Nation is doing a great job of providing opportunities for children across the U.S. to experience the invaluable gift of learning and playing a musical instrument."
"Consumers naturally associate Crayola tools with coloring; it made sense for us to embrace that association essentially with kids of all ages, including teens and tweens, and be there for them," says Kimberly Rompilla, Director of Platform Marketing at Crayola. "We have been involved in new product introductions and new initiatives with High School Nation and this Spring, we are excited to provide a colorful twist to teen outdoor activities, helping kids to express themselves throughout the season."
The tours also feature a number of young, emerging performers brought in by record labels that see the benefits in being a part of this movement. RCA, Capital, Warner Bros. Records, and DreamWorks, are among the half dozen labels that have participated in the success of the Festival Tours.
"At the center of our Festivals are performances by some of the music industry's hottest young rising stars," Cantillon adds. "It's one of the only opportunities for record labels and consumer products companies to come together to entertain, engage, and give back." High school students, who spend over $260 billion per year on consumer products, are a significant audience for both the music industry and corporate sponsors.
About High School Nation:
High School Nation keeps music and arts programs alive for students across the country with donations, equipment and facilities.
Our Festival and Concert Tours are the largest events in the nation donating recording studios, musical equipment and funding for schools through on-campus sponsored live music concerts, and hands on activities. To date we have provided nearly $2 million to more than 200 schools and 600,000 students across the country.
Our culture is built around the development of innovative activities with significant and lifelong impact on teens. Through HSN, teens gain the chance to make music and the arts a significant part of their personal and, in some cases, future professional lives. Schools receive much needed funding to continue their educational programs, recording artists gain exposure to their biggest fans and brands make favorable and trusted impressions on a huge, underserved group of young consumers.