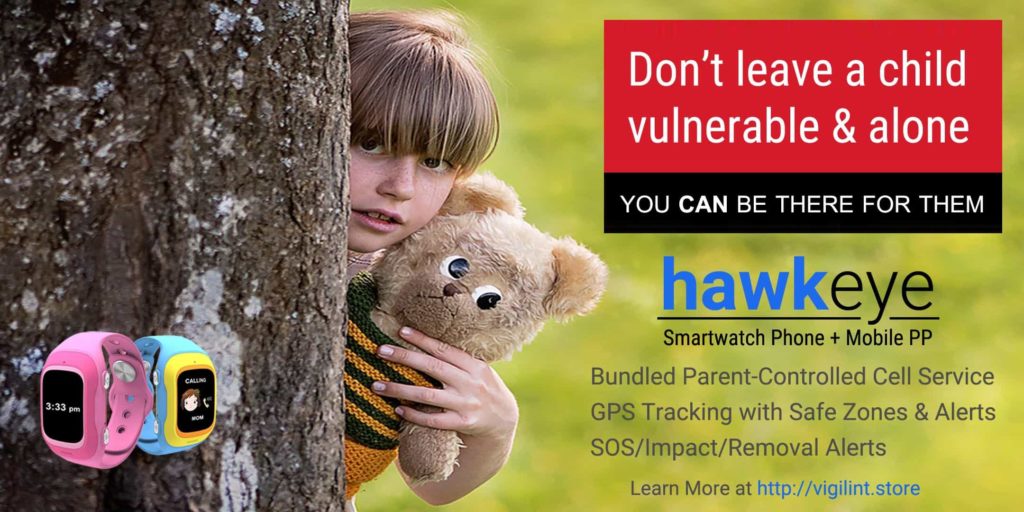 Vigilint Biosensors and Paso Verde School District in Sacramento, California work together to increase school safety and raise child self-esteem.
San Jose, California –  April 29, 2018 – Vigilint Biosensors, leading supplier of Family Assistant Parental Services through smartwatches, is expanding its joint program with school districts with the addition of the Paso Verde School in Sacramento, CA to provide kid smart watch phones and software to parents and their children.
Tonja Jarrell, Principal of Paso Verde School, in California's capital city: "Partnering with Vigilint Biosensors provides a valuable resource to our school community. We work with families and the community to offer solutions that increase school safety, allows our staff and scholars to focus on teaching and make our students feel safe enough to learn thereby increasing their outcomes."
Reduced school safety and child self-esteem costs real dollars. The Sacramento Bee regularly reports about the high cost of bullying to the emotional welfare of students.  It costs California $267 Million each year. A recent study conducted by Stephen Russell, a professor of child development at the University of Texas, Austin, and published by School Psychology Quarterly, found that 10.4 percent of students statewide reported missing at least one school day in the last month because they felt unsafe. Roughly half of the students also said they experienced bullying because of race, ethnicity, religion, gender, sexual orientation or disability.
"Vigilint Family Assistant Services provide parents with life-altering insights collected from the kid's smartwatch that can save a child from bullying and informs parents of a child's location even when communications are jammed during shootings, " said Kris Narayan, Chairman of Vigilint™ Biosensors. Mr. Narayan continued, "I am grateful Vigilint can get our smartwatches to the children, parents and schools that want them."
Vigilint Biosensors is committed to provide Parents and Children with tools that protect and raise self-esteem via products that inform and communicate at all times.  Parents are able to talk with their children about their lives in the moment. With the hawkeye kid smart watch phone and the Vigilint Family Assistant cloud services, parents provide their kids guidance on how to better communicate with others.  During times of bullying their kids can allow parents to listen in and provide guidance in real-time.  These valuable tools leave children feeling empowered and protected.  Kids are able to share their feelings which lowers the chance of anxiety, depression and feelings of helplessness. They know both their parents care and are with them at all times. It helps fathers and working mothers to be more engaged with their young kids. The fitness tracker allows parents to encourage their children to engage in physical fitness activities during recess.
The Vigilint Biosensors Non-Profit Educational Support Programs generously offers a $20 donation to participating school districts when a parent purchases hawkeye kid smart watch phone plus the monthly Parental Assistant Service Subscription, allowing parents to better connect with their kids and support their school. A Win-Win. Through the program, Vigilint is also providing hawkeye kid smart watch phones to schools for auction with proceeds going to support STEM and safety programs. Vigilint Biosensors is currently expanding this program to school districts throughout the United States.
About Paso Verde
PVS is committed to developing resilient students by providing quality instruction and challenging learning experiences in a safe and nurturing environment, which will foster life-long learning and responsible citizenship. We are honored to partner with our families, and community to provide an academic experience to our students that Is relevant, rigorous, and based on trusting relationships. Parents have an opportunity to work as an integral part of the PVS community by coming to their child's classroom, communicating with their child's teacher, volunteering and attending school events and fundraisers, joining our Parent-Teacher Association (PTA) and Boosters, working with the School Site Council (SSC), and the English Learner Advisory Committee (ELAC).
About Vigilint Biosensors
Hawkeye Smart Watches from Vigilint Biosensors supply fun and safe solutions to families with younger children providing: communications and learning for children with peace of mind for parents. The combination of the best location technologies (GPS, GNSS, A-GPS and sensors) will easily locate your child, anytime and anywhere. Visit http://vigilint.store/hawkeye/
Vigilint Biosensors is dedicated to improving the quality of care that parents and senior caregivers provide through a complete 360o intelligent family care assistant, that connects family members together via wearable devices like hawkeye. Vigilint Biosensors provides the family/caregivers with a cloud infrastructure of devices and software services, which strive to improve time management and improve non-intrusive care for kids, seniors, and other loved ones in need thereby reducing stress for all types of caregivers. This is achieved through the most modern application of Artificial Intelligence and Machine Learning technologies to life data that provide alerts, if and when needed.  "When those we care about are well, we can relax and focus on our day." www.vigilintbiosensors.com
Learn more about us and our dedicated team: Click on Vigilint Biosensors or contact as us at
Vigilint Biosensors
20315 McKean Rd
San Jose, CA 95120
info@vigilint.store
To join the Safe-Kid Program or Education Program, please contact Kris Narayan at kris.narayan@vigilintbio.com or call him at +1 408 497 1197. We donate part of the Hawkeye Smartwatches sales back to the school for STEM, Sports, Music or other programs.
To get an introductions and appointments with the appropriate contact persons or press materials and white paper links contact
Edie Okamoto at +1 510 693-0166 or edie.okamoto@meet3chords.com