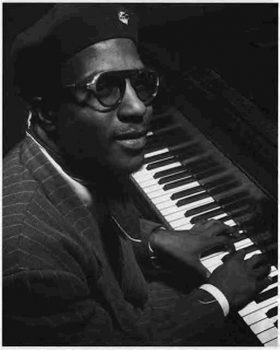 Monk had a unique improvisational style and made numerous contributions to the standard jazz repertoire (including his classic works Round Midnight and Blue Monk). He is often regarded as a founder of bebop, although his playing style evolved away from the form.
"Everyone is influenced by everybody but you bring it down home the way you feel it."

Thelonious Monk
Round Midnight
His compositions and improvisations are full of dissonant harmonies and angular melodic twists, and are impossible to separate from Monk's unorthodox approach to the piano, which combined a highly percussive attack with abrupt, dramatic use of silences and hesitations. Round Midnight is a 1944 jazz standard by jazz musician Thelonious Monk. It is thought that Monk originally composed it sometime between 1940 and 1941, however Harry Colomby claims that Monk may have written an early version around 1936 (at the age of 19) with the title Grand Finale. This song has also been performed by many artists such as Bobby McFerrin, Chick Corea and Hermeto Pascoal.
Blue Monk
Bebop or bop is a form of jazz characterized by fast tempos and improvisation based on harmonic structure rather than melody. It was developed in the early and mid-1940s. It first surfaced in musicians' argot some time during the first two years of the Second World War. Hard bop later developed from bebop combined with blues and gospel music. Melodically the predominating contour of improvised bebop is that it tends to ascend in arpeggios and descend in scale steps. While a stereotype, an examination of Charlie Parker solos will show that this in fact is a key quality of the music. Ascending arpeggios are frequently of diminished seventh chords, which function as 7b9 chords of various types. Typical scales used in bebop include the bebop major, minor and dominant (see below), the harmonic minor and the chromatic. The half-whole diminished scale is also occasionally used, and in the music of Thelonious Monk especially, the whole tone scale.
Charlie Parker, Well You Needn't
He was born on October 10, 1917 in Rocky Mount, North Carolina, the son of Thelonious and Barbara Monk, two years after a sister named Marian. A younger brother, Thomas, was born a couple of years later. His parents moved to New York when young Thelonious was five years of age. A year or so later he was picking out tunes on the family piano. Monk started playing the piano at the age of nine; although he had some formal training and eavesdropped on his sister's piano lessons, he was essentially self-taught. By the time he was 12 he was accompanying his mother at the local Baptist church as well as playing at "rent parties", those informal gatherings where tenants who were behind with their payments to the landlord would hold a party in the hope that visitors would contribute to the debt clearance!
Thelonious Monk started his first job touring as an accompanist to an evangelist. He was inspired by the Harlem stride pianists (James P. Johnson was a neighbor) and vestiges of that idiom can be heard in his later unaccompanied solos. However, when he was playing in the house band of Minton's Playhouse during 1940-1943, Monk was searching for his own individual style. Private recordings from the period find him sometimes resembling Teddy Wilson but starting to use more advanced rhythms and harmonies.
He worked with Lucky Millinder a bit in 1942 and was with the Cootie Williams Orchestra briefly in 1944 (Williams recorded Monk's "Epistrophy" in 1942 and in 1944 was the first to record "'Round Midnight"), but it was when he became Coleman Hawkins' regular pianist that Monk was initially noticed. He cut a few titles with Hawkins (his recording debut) and, although some of Hawkins' fans complained about the eccentric pianist, the veteran tenor could sense the pianist's greatness.
Fortunately, Alfred Lion of Blue Note believed in him and recorded Monk extensively during 1947-1948 and 1951-1952. He also recorded for Prestige during 1952-1954, had a solo set for Vogue in 1954 during a visit to Paris, and appeared on a Verve date with Bird and Diz.
In 1955, he signed with Riverside and producer Orrin Keepnews persuaded him to record an album of Duke Ellington tunes and one of standards so his music would appear to be more accessible to the average jazz fan. In 1956 came the classic Brilliant Corners album, but it was the following year when the situation permanently changed. Monk was booked into the Five Spot for a long engagement and he used a quartet that featured tenor saxophonist John Coltrane. Finally, the critics and then the jazz public recognized Thelonious Monk's greatness during this important gig. He came to Europe to play at the Paris Jazz Fair and played in the audiences at the Salle Pleyel and the Club St. Germain, joining in the loud applause for this true jazz original. Towards the end of the Fifties, with riverside records setting up all manner of interesting studio sessions, he formed his own quartet, first with tenor saxist John Coltrane, then Johnny Griffin and, in 1959, Charlie Rouse. It was Rouse who probably had more experience of Monk's music than any other horn player, for Charlie remained with Thelonious from 1959 until 1970. In the autumn of 1967 Monk's quartet was booked to take part in a touring extravaganza under the title "Jazz Expo '67"; along with men such as Dave Brubeck, Herbie Mann etc. It was decided to enlarge Thelonious's working group of Charlie Rouse, Larry Gales and Ben Riley with the addition of some additional frontline players and the so-called Nonet made its appearance in the Odeon Hammersmith, in London, just a week before the Salle Pleyel date presented here.
Thelonious Monk, who was criticized by observers who failed to listen to his music on its own terms, suffered through a decade of neglect before he was suddenly acclaimed as a genius; his music had not changed one bit in the interim. In fact, one of the more remarkable aspects of Monk's music was that it was fully formed by 1947 and he saw no need to alter his playing or compositional style in the slightest during the next 25 years. After his death it seemed as if everyone was doing Thelonious Monk tributes. There were so many versions of Round Midnight that it was practically a pop hit! He played with the Giants of Jazz during 1971-1972, but then retired in 1973. He passed away on February 17, 1982.
By Ranie Smith