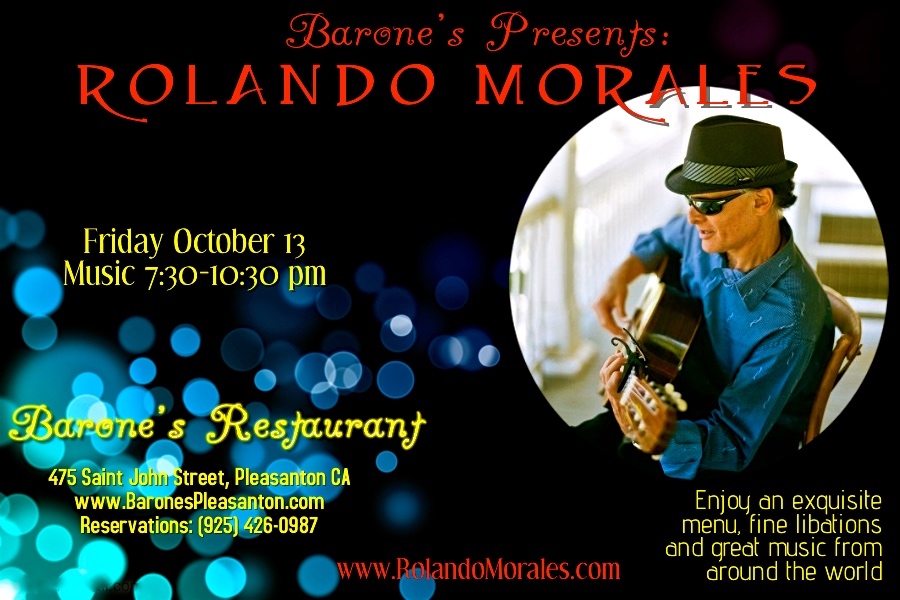 October 10, 2017
¡Hola, Mi Gente!
Is everyone gagging on the thick, toxic fumes?  Feeling a little sick?  And the fires are bad, too, huh?
It's been hard keeping up with the the daily barrage of events.  The floods, the hurricanes, the earthquakes, the saber rattling, more sexual oppression, insults launched from the White House and Congress…  And now the fires in our back yard.  Everyone's on overload.
My private gigs have slowed down a bit which affords a moment to breathe, even if it was smoky this morning…
If you need an escape from the madness this weekend, join me at Barone's Restaurant in Pleasanton this Friday Oct 13 and leave your superstitions at the door.  We don't have time for that nonsense.  DO bring your appetite, as the menu here is amazing.  And I'll be there in the intimate bar on solo guitar and voice.  Details below.
Then on Saturday night October 14, I'll host the long-awaited return of my dear, talented friend Janice Maxie-Reid to The Vine at Bridges in Danville.  She is the superb keyboardist-vocalist with the 4-octave range who has performed with none other than Stevie Wonder.  We always light it up when we play here together.  The last time was about 3 or 4 months ago, so don't miss it!  Details below.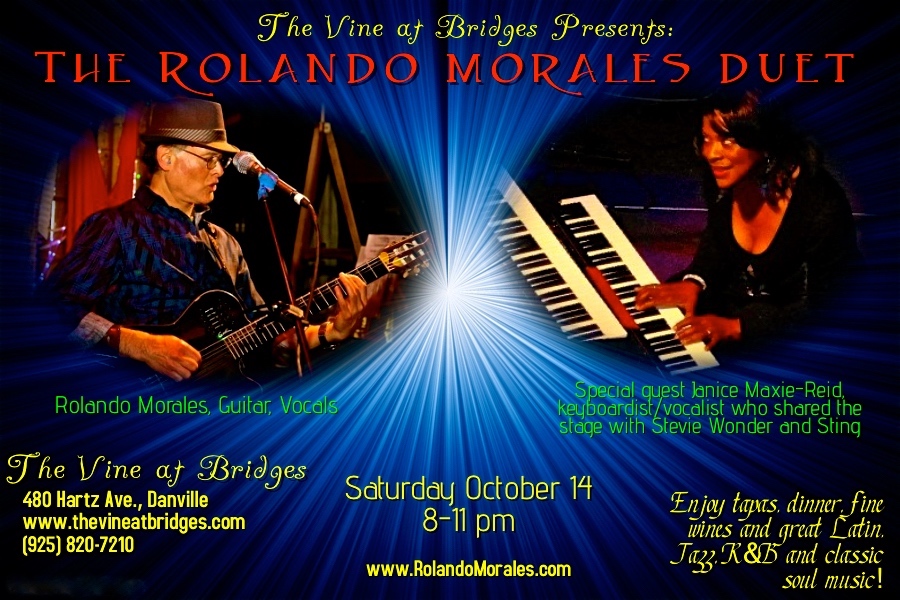 And remember that next week Saturday October 21st, my band returns to The Sausalito Seahorse.  Not only will we have a stellar band including the great Carlos Reyes on violin and Paraguayan harp, Danilo Paíz on percussion and vocals, Dave Flores on drums, and Yours Truly on guitar and guitar synth and vocals; We'll also feature a very, very special surprise guest on bass.  We can't really advertise him due to contractual restrictions.  Let's just say we're all so excited to be able to play with him again and look forward to seeing him on stage again with Tower of Power.  So his picture in the poster is a big Question Marc.  I wonder if he's arriving in a VW?  Make your reservations at the Seahorse at (415) 331-2899.
Check out below what's also happening with my return to Havana in Walnut Creek, Maria, Maria in Danville, and Alameda's own C'era Una Volta.  Details and dates are below.
Come out and say hi and let me know you're okay.
Ciao,
Rolando
PUBLIC PERFORMANCES FOR OCTOBER 2017 
Friday Oct 13, Barone's Restaurant, 475 St. John St., Pleasanton CA, approx 7:30-10:30pm.  After two months away, Rolando returns to one of Pleasanton's premier dining establishments.  Enjoy exquisite meals and service, libations and Rolando's vast repertoire in the Cocktail Lounge for a great night out.   See www.baronespleasanton.com, (925) 426-0987.
Saturday Oct 14, Vine at Bridges, 480 Hartz Avenue, Danville, approx 8-11pm. The Rolando Morales Duet returns to this cool winery and nightspot.  Enjoy a wonderful selection of wines, superb dinners and tapas while grooving to this powerful duet.  Tonight Rolando welcomes the enchanting keyboardist-vocalist Janice Maxie-Reid.  She has shared the stage with Stevie Wonder and Sting, so you know she's doing something right!  And on guitar, voice and his pedal board of magic, the passionate Rolando Morales.  There'll be lots of soul and classic R&B mixed into this Latin caldo, so don't miss it!  www.thevineatbridges.com, (925) 820-7210.
Friday Oct 20, Havana Cuban Cuisine, 1516 Bonanza St., Walnut Creek, approx 8:30-11pm. Rolando returns after his hit debut last month to this fine Cuban restaurant and live music venue.  Great Cuban cuisine, ceiling fans swirling lazily and Rolando's vast Latin repertoire and beyond on solo guitar and voice.   www.havanarestaurant.net,   (925) 939-4555.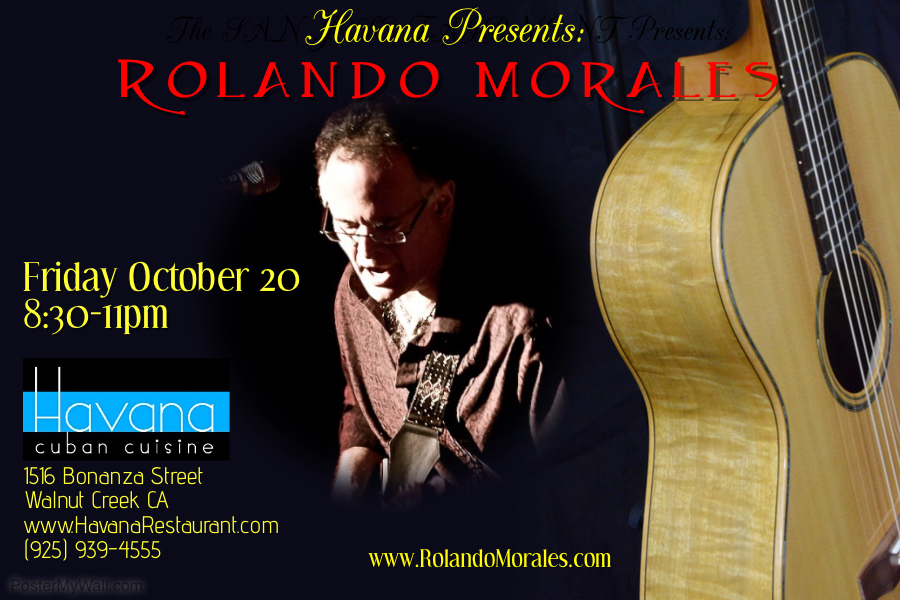 Saturday Oct 21, "An Evening with Rolando Morales and Carlos Reyes," Sausalito Seahorse, 305 Harbor Drive, Sausalito, approx 8:30-11:30pm.  After two months away, these two passionate musicians finally return to The Seahorse to put on their unique show at this fun waterfront restaurant and club.  The great Paraguayanviolinist/harpist Carlos Reyes and passionate guitarist / vocalist Rolando Morales will play a short set in duet to close out the dinner hour, followed by a concert and dancing to the World Class Rolando Morales Group featuring a very special surprise guest bassist from Tower of Power to be announced at the show;  from Lauryn Hill, the exciting drummer Dave Flores; from Dizzy Gillespie and Ruben Blades, the powerful Nicaraguan Latin percussionist/vocalist Danilo Paíz; from Paraguay, the thrilling violinist and harpist from Arturo Sandoval and Steve Miller, Carlos Reyes; and the powerful Rolando Morales leading the journey on guitar, guitar synthesizer and vocals.   Don't miss it!   $15.  Make your  reservations at (415) 331-2899, www.sausalitoseahorse.com.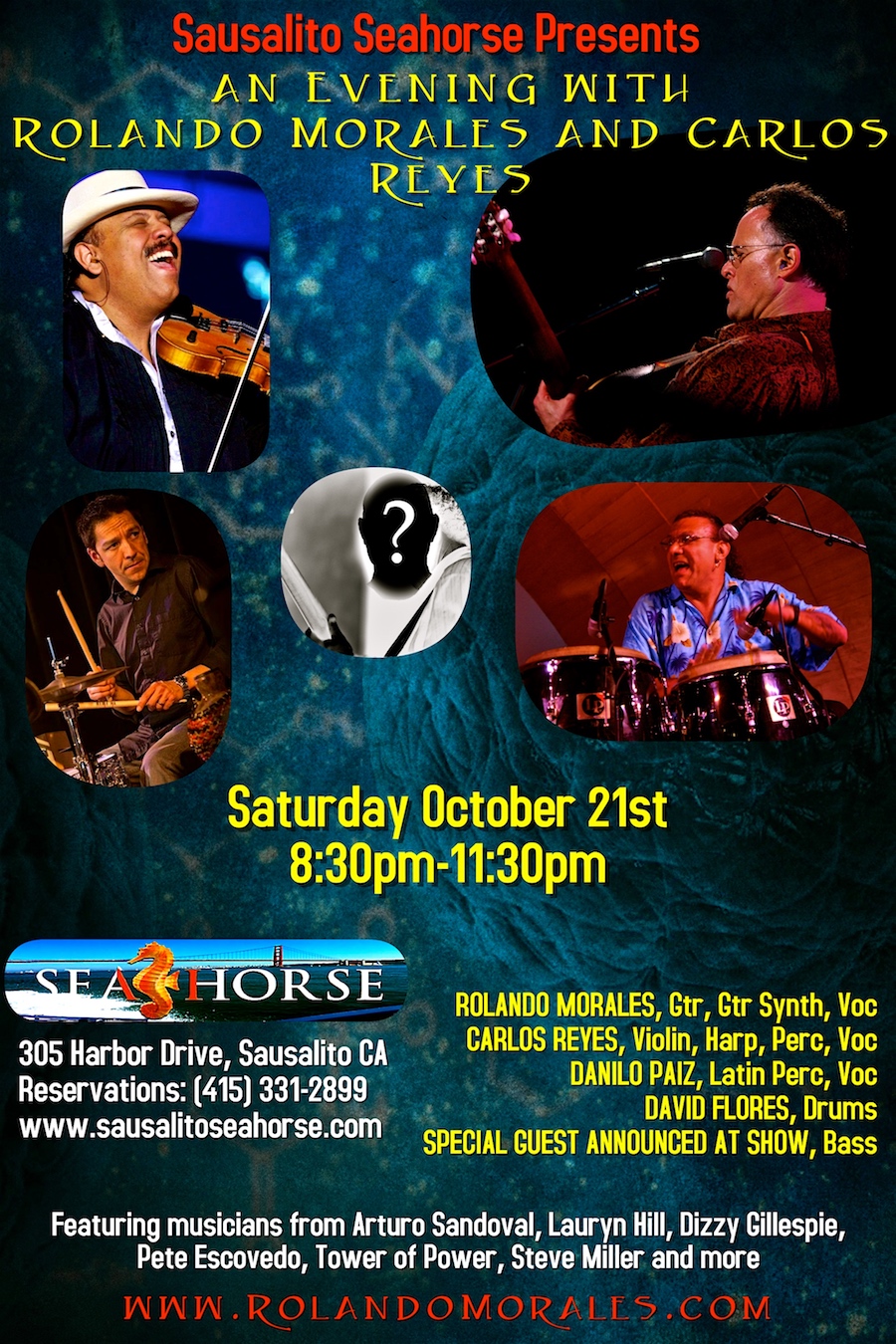 Friday Oct 27, Maria, Maria Cantina, 710 Camino Ramon Road, Danville CA, approx 6-9pm.  After a month away, Rolando returns for a Friday night show at Carlos Santana's Danville restaurant.  Enjoy Rolando on solo guitar and voice with his diverse repertoire performing out on the patio by the fire pits.  See if he has any special guests sitting in…  (925) 820-2366,  www.mariamariarestaurants.com.
Saturday Oct 28, C'era Una Volta, 1332 Park Street, Alameda, CA 94501, 7-9:30 pm.  After a month away, Rolando returns to this fine Tuscan-style restaurant that welcomes you like family to embrace the spirit of Italy.  Rolando will take you on a musical tour of the Americas and beyond on solo guitar and voice in this intimate room. This is a great match and a rare opportunity to catch Rolando in Alameda!  www.ceraunavolta.us/ (510) 769-4828.
And don't miss this exciting November 2017 Quintet performance: 
Thursday Nov 2,2017: YOSHI'S PRESENTS "CARLOS REYES and the ELECTRICK SYMPHONY" at Yoshi's, 510 Embarcadero West in Oakland.  Featuring an All-Star band including Santana's lead vocalist Tony Lindsay, Rolando Morales, Janice Maxie-Reid and more.  Reservations at (510) 238-9200, www.Yoshis.com.