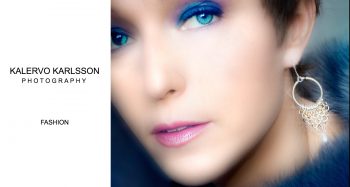 Kalervo Karlsson dazzles fashion world with his stunning photography.
Kalervo is a photographer, visual artist and a designer.  He creates Karlsson Portraits. His portraits are Elegantly Glamorous. Sophisticated. Gorgeous.
His gorgeous wife Niina as seen in the picture above is a designer, visual artist and a make-up artist, fashion designer and world renown jewelry artists. (www.fikorus.com)
As a team they create these artistic Karlsson portraits (www.kalervokarlsson.com) together.
They are creating an unforgettable experience in making the Dream come True Portrait of you.
Styling
Make-Up and for hair the bring in expert hair stylists.
Photography
Photoshopping
Want to include your favorite pet in the family portrait?  Nor problem. They have experience in creating portraits of people with their beloved pets and you may be a bit jealous because your pet will fall in love with them, for a day :).
Explore how you can leave the legacy of your own Karlsson-style Portrait to your heirs and luxuriate in the creative and enjoyable process of looking your best.
Explore an estimate for your "Day as a Princess" or a "Day as Queen" or "Day as a King" now!
Contact Kalervo and Niina Karlsson directly:
Kalervo Karlsson
Tel. 011 358 40 746 09 76
E-mail: kalervo.karlsson@gmail.com