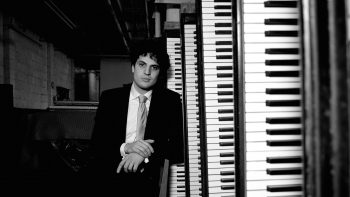 Ehud Asherie, "a master of swing and stride" (The New Yorker), is a jazz pianist who integrates the venerable New York piano tradition into his inventive style. Born in Israel in 1979, Asherie lived in Italy for six years before his family moved to New York.
Though he began playing piano as a child, his passion for jazz came later—with a Thelonious Monk cassette tape—and his first visit to Smalls Jazz club in Greenwich Village. Largely self-taught, or rather, "old-schooled," Asherie learned the ropes at Smalls, spending the wee small hours of his early teens becoming a fixture of the late-night jam sessions.
Mentored by the late Frank Hewitt, Asherie began to develop "his virtuosity and his ear for clean, crisp lines" (The Star-Ledger). From Smalls to the Rainbow Room, from Lincoln Center to The Village Vanguard, Asherie has since worked with a broad range of musicians including:
Eric Alexander, Roy Ayers, Peter Bernstein, Jesse Davis, Bobby Durham, Vince Giordano, Wycliffe Gordon, Scott Hamilton, Ryan Kisor, Jane Monheit, Catherine Russell, Ken Peplowski and Clark Terry.
Beyond his dedication to jazz music, Ehud Asherie has also developed a passion for traditional Brazilian music. His appreciation and profound knowledge of the music, language and culture are the foundation of Asherie's project entitled Bina & Ehud, a duo formed in 2003, with Brazilian guitarist, Bina Coquet.
Asherie has toured clubs and festivals around the world, including South America, Europe and Asia. Asherie's playing can be heard on countless recordings, including the 2010 Grammy Award winning soundtrack of HBO's 'Boardwalk Empire'. He recently released his twelfth album as leader entitled Shuffle Along (Blue Heron Records), a solo
piano performance.
Published on Feb 21, 2015
Provided to YouTube by The Orchard Enterprises
Perry Tannenbaum in Jazz Times praises Ehud Asherie
"After three releases on Posi-Tone leading small combos from the piano, 31-year-old Israeli native Ehud Asherie switches over to Hammond organ for his latest quartet outing, Organic. Fats Waller and Count Basie come readily to mind as jazz immortals who doubled on the two instruments. While their piano styles were more individualized than Asherie's at this stage of his career, their doubling is reduced to dabbling when compared to Asherie's imposing proficiency at the organ, which instantly catapults him to the front ranks of current B3 practitioners and invites comparisons with the greats of the past."  See full article
Thank you Tom O'Neil for introducing this to www.riovida.net.  We hope to learn about the rest of your favorites.