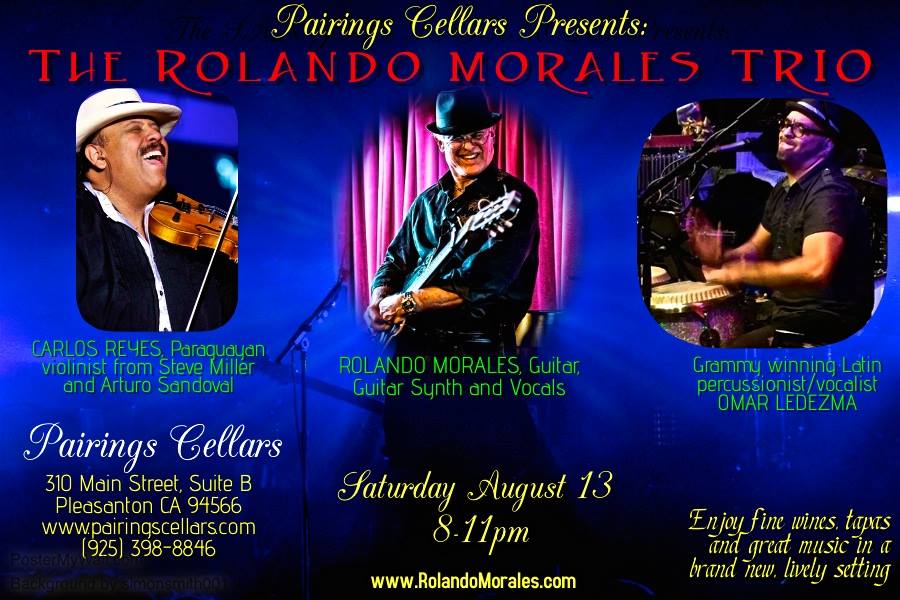 Three World-Class Musicians appear on local stage
Rolando Morales has performed throughout Spain, England, Italy, Ireland, Mexico, and Hawaii. In Los Angeles, he largely played electric guitars. Just out of college, he played with a 9 piece casual band comprised of members who backed such stars as Michael Jackson, Diana Ross, Marvin Gaye, and Poncho Sanchez.  He regularly plays with world-class musicians who work with luminaries as Airto, Flora Purim, Steve Winwood, Tower of Power, Spearhead, Ruben Blades, Carlos Santana, Pete Escovedo, and performed with Dizzy Gillespie and many others. Rolando Morales studied law and graduated.  He decided for Music his first love and we all thank him.
Carlos Reyes learned to play many different instruments including Guitar, Bass, Mandolin, Keyboards, as well as mastering the use of a variety of electronic devices and special effects. He made his debut on harp with the Oakland Symphony and his debut on the violin with the Oakland Youth Symphony at just fourteen years of age. He has worked in the professional recording industry for commercials, solo artist and instrumental background music for the acclaimed children's shows "Sesame Street" and "Villa Alegre" when he was still in his teens. He has backed such artist as Chuck Mangione, Bill Evans, Clark Terry, Pat Travers, MC Hammer, Craig Chaquico, The Crusaders, The Rippingtons, Roy Rogers to Charlie Daniels, Wynona Judd, Clint Black, Willie Nelson, John Handy, The Doobie Brothers, Rocker Steve Miller and many more.
From Caracas, Venezuela, GRAMMY Award Winner Omar Ledezma Jr. has been playing professionally since the age of 13. At the age of 17, he found him performing in every corner of his native country. National musical acclaim rested light on the shoulders of Ledezma as 1995 found him a graduate of one of the most prestigious Law Schools in Caracas, Venezuela. In 1998 Omar packed one bag and one drum to begin his move to Boston, Massachusetts after making a passionate commitment to study at Berklee College of Music, Boston and then New York City held many challenges and provided many opportunities. Moving to the Bay Area in 2005, Omar has committed himself not to "bring the music back" or "take the music forward" but thrive upon embracing "the existing".
Three men, three world class talents we are so spoiled in the Bay Area