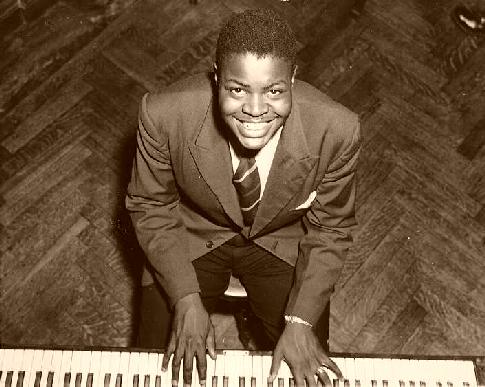 "The music field was the first to break down racial barriers, because in order to play together, you have to love the people you are playing with, and if you have any racial inhibitions, you wouldn't be able to do that." ~ Oscar Peterson
Internationally renowned jazz pianist Oscar Peterson was called the "Maharaja of the keyboard" by Duke Ellington, "O.P." by his friends, and was a member of jazz royalty. He released over 200 recordings, won seven Grammy Awards, and received other numerous awards and honors over the course of his career. He is considered to have been one of the greatest pianists of all time, who played thousands of live concerts to audiences worldwide in a career lasting more than 65 years.
Oscar Peterson was born on August 15, 1925 in Montreal, Canada. His father, Daniel Peterson, a porter with Canadian Pacific Railways, lived in Canada since 1917. He met Oscars' mother, Kathleen Olivia John, in Montreal, where she was domestic worker. They had five children.
Daniel Peterson was an avid musician and insisted that all five of his children studied music. Oscar began playing the trumpet at the age of five. He got tuberculosis and spent 14 months in the hospital. His lungs became quite damaged so he could no longer play the trumpet. So he chose to play the piano. Their father, who learned to play piano on his own while in the Merchant Marine Academy, taught his children all he could until they achieved a certain proficiency. During his high school years, Oscar studied with an accomplished classical pianist, Hungarian Paul de Marky, a student of Istvan Thomán who was himself a pupil of Franz Liszt. Oscar Peterson's training was predominantly based on classical piano, with inspirations from the Well Tempered Clavier, the Goldberg Variations, and the The Art of Fugue, as these piano pieces are essential for every serious pianist. Meanwhile Oscar Peterson was captivated by traditional jazz and learned several ragtime songs, especially the boogie-woogie. At that time Peterson was called "the Brown Bomber of the Boogie-Woogie." Paul de Marky encouraged Oscar to believe that he had something special to give to the music world. At age nine Peterson played piano with control that impressed professional musicians. For many years his piano studies included four to six hours of practice daily.
Art Tatum a very famous pianist during that era was introduced to Oscar by his father who played Art Tatum's Tiger Rag record for him. Oscar was so intimidated by what he heard that he didn't touch the piano for a month. At 14 years of age, Oscar's older sister Daisy Sweeney a notable classical piano teacher scheduled an audition for a CBC (Canadian Broadcasting Corporation) national amateur contest. Oscar won the competition. This opened the doors to performances on a weekly broadcast show, on a Montreal radio station, called Fifteen Minutes' Piano Rambling and later performances on a national CBC broadcast called The Happy Gang. He regularly played with the Montreal High School Victory Serenaders which included trumpeter Maynard Ferguson. Oscar Peterson had permission to play the baby grand piano during the lunch hours and in his words this was "the best way to have a bunch of girls come down. I became the guy."
Peterson expanded his classical piano training and broadened his range while mastering the core classical pianism from rigorous scales to such staples of every pianist's repertoire as preludes and fugues by Johann Sebastian Bach. He also worked on emulating Art Tatum's pianism and aesthetics. Peterson also absorbed Tatum's musical influences, notably from piano concertos by Sergei Rachmaninoff. Rachmaninoff's harmonizations, as well as direct quotations from his second piano concerto, are thrown here and there in many recordings by Peterson, including his work with the Ray Brown and Herb Ellis Trio, such as "When Your Lover Has Gone". Other artists who influenced Oscar during the early years were Teddy Williams, Nat (King) Cole, and James P. Johnson.
In 1944 Oscar married his year long girlfriend by the name of Lillie Fraser. In late 1947 Oscar led a trio at the Alberta Lounge in Montreal. Once a week a local radio station broadcast his show live from The Alberta. Norman Granz, the producer of Jazz at the Philharmonic, heard the broadcast on the Radio and was so impressed that he told the cab driver to take him to the studio. Oscar's life would change dramatically. Norman Granz took Oscar to New York to play as a surprise guest at the Carnegie Hall performance of his Jazz at the Philharmonic. Oscar came up from the audience that night and played a duet with bassist Ray Brown which thrilled the audience and critics alike. Thus began Oscar's lifelong relationship with Mr. Granz.
Soon after his appearance at Carnegie Hall Oscar was invited to join the Jazz at the Philharmonic. They toured North America. After a few years Oscar Peterson set up his own trio. Granz and Peterson developed a deep and lasting friendship. Is was much more than a managerial relationship; Peterson praised Granz for standing up for him and other black jazz musicians in the segregationist south of the 1950s and 1960s. For example, in the Canadian Broadcasting Company's two-part documentary video Music in the Key of Oscar, Peterson tells how Granz stood up to a gun-toting southern policeman who wanted to stop the trio from using "white-only" taxis. Oscar Peterson and his trio worked incredibly hard and were considered one of the best jazz trios in the world. While playing at a club in Washington DC, Oscar Peterson met his idol Art Tatum. They became close friends and played for each other on many occasions. Oscar was joined by several people in his trio, each group having a distinct feel and flavor. Oscar especially enjoyed playing with Ed Thigpen on drums. He describes this time as "…six years of unbelievable music." Eventually Oscar would regularly play with the greatest jazz artist of his era of Ella Fitzgerald, Dizzy Gillespie, Count Basie, Nat King Cole, Louis Armstrong, Duke Ellington, Roy Eldridge, Charlie Parker, Barney Kessel, Herb Ellis, Joe Pass, Ray Brown, Niels-Henning Ørsted Pedersen, Clark Terry, Coleman Hawkins, Ben Webster, Milt Jackson, Stéphane Grappelli, Anita O'Day, Fred Astaire, Irving Ashby, Herbie Hancock, Bennie Green, Keith Emerson, Stan Getz, Louis Hyes, Bobby Durham, Ray Price, Sam Jones, George Mraz, Martin Drew, David Young, Alvin Queen and Ulf Wakenius.
He was made an Officer of the Order of Canada in 1972, and promoted to Companion, its highest rank, in 1984. He is also a member of the Order of Ontario, a Chevalier of the Ordre du Québec, and an officer of the French Ordre des Arts et des Lettres.
His work has earned Oscar Peterson seven Grammy awards over the years and he was elected to the Canadian Music Hall of Fame in 1978. He also belongs to the Juno Awards Hall of Fame and the Canadian Jazz and Blues Hall of Fame. He has received the Roy Thomson Award (1987), a Toronto Arts Award for lifetime achievement (1991), the Governor General's Performing Arts Award (1992), the Glenn Gould Prize (1993), the award of the International Society for Performing Artists (1995), the Loyola Medal of Concordia University (1997), the Praemium Imperiale World Art Award (1999), the UNESCO Music Prize (2000), and the Toronto Musicians' Association Musician of the Year award (2001).
In 1993, Oscar suffered a serious stroke that weakened his left side and sidelined him for two years. However he has overcome this setback and started touring, recording and composing again. In 1997 he received a Grammy for Lifetime Achievement and an International Jazz Hall of Fame Award, proof that Oscar Peterson is still regarded as one of the greatest jazz musicians ever to play.
Oscar Peterson passed away on December 23, 2007 with his dog "Smedley" named after his dear friend Norman Granz by his side. He had seven children by four wives. Soon after Peterson's death, the University of Toronto Mississauga opened a major student residence in March 2008 as "Oscar Peterson Hall."