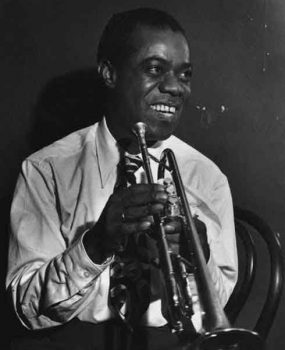 "What is harder than rock, or softer than water? Yet soft water hollows out hard rock. Persevere."

Louis "Satchmo" Armstrong
Louis Armstrong contracted several books about his life. He enjoyed collaborating with the lawyer, hobby journalist, and jazz historian Robert Gaffin from Belgium.
"Dear Pal Goffin," Louis Armstrong wrote to his Belgian acquaintance, the lawyer, hobby journalist, and jazz historian Robert Goffin, on July 19, 1944. "'Man—I've been trying to get in touch with you […]. Here's another hundred dollars toward the five hundred. […] So accept this hundred and I'll send the other before a 'Black Cat can 'Lick his 'Bu'hind' ….. haw haw haw…" (80).
Historical records show that actually Louis Armstrong wrote large parts of his own biographies. He then hired Robert Goffin, a white man, to claim them to make sure they could be published. Louis Armstrong realized that his biographies helped his popularity around the world after the heavily ghosted Swing That Music (1936).
Today we are still able to view many of the quotes in the original French version Louis Armstrong: Le Roi du Jazz (1947) and the English version Horn of Plenty. We are fortunate that large parts of Armstrong's hand-written manuscript survived. They cover the jazz musician's life between 1918 and 1931 and were initially published by Thomas Brothers as "The 'Goffin Notebooks'" in Louis Armstrong, in his Own Words (1999). Horn of Plenty includes most of the events covered in Armstrong's "Notebooks," it unfortunately was edited in a way that portrayed Louis Armstrong in a much more primitive way than his actual notes would indicated. Perhaps Griffin thought it was necessary to abide by the culture prejudices of the times.
Louis Armstrong 4 August, 1901 – July 6, 1971, nicknamed Satchmo and Pops, was an American jazz musician. Armstrong was a charismatic, innovative performer whose inspired improvised soloing was the main influence for a fundamental change in jazz, shifting its focus from collective melodic playing, often arranged in one way or another, to the solo player and improvised soloing. One of the most famous jazz musicians of the 20th century, he first achieved fame as a cornet player, later on switching to trumpet, but toward the end of his career he was best known as a vocalist and became one of the most influential jazz singers.
Armstrong was born into a very poor family in New Orleans, Louisiana. He spent his youth in poverty in a rough neighborhood of uptown New Orleans, as his father, William Armstrong (1881-1922), abandoned the family when Louis was an infant. His mother, Mary Albert Armstrong (1886–1942), then left him and his younger sister Beatrice Armstrong Collins (1903–1987) under the upbringing of his grandmother Josephine Armstrong.
He first learned to play the cornet (his first of which was bought with money loaned to him by the Karnofskys, a family of Russian Jewish immigrants, that hired Louis to work on their junk wagon.) in the band of the New Orleans Home for Colored Waifs, where he had been sent after (as police records show) firing his stepfather's pistol into the air at a New Year's Eve celebration. To express gratitude towards the Karnofskys, Armstrong wore a Star of David pendant for the rest of his life. He followed the city's frequent brass band parades and listened to older musicians every chance he got, learning from Bunk Johnson, Buddy Petit, Black Benny and above all Joe "King" Oliver, who acted as a mentor and almost a father figure to the young Armstrong. Armstrong later played in the brass bands and riverboats of New Orleans, and first started traveling with the well-regarded band of Fate Marable which toured on a steamboat up and down the Mississippi River; he described his time with Marable as "going to the University", since it gave him a much wider experience working with written arrangements. When Joe Oliver left town in 1919, Armstrong took Oliver's place in Kid Ory's band, regarded as the top hot jazz band in the city.
In 1922, Armstrong joined the exodus to Chicago, where he had been invited by Joe "King" Oliver to join his Creole Jazz Band. Oliver's band was the best and most influential hot jazz band in Chicago in the early 1920s, at a time when Chicago was the center of jazz. Armstrong made his first recordings, including taking some solos and breaks, while playing second cornet in Oliver's band in 1923.
He and Oliver parted in 1924 and Armstrong moved to New York City to play with the Fletcher Henderson Orchestra, the top African American band of the day. Armstrong switched to the trumpet to blend in better with the other musicians in his section
He returned to Chicago, in 1925, and began recording under his own name with his famous Hot Five and Hot Seven with such hits as Potato Head Blues, Muggles (a reference to Cannabis or marijuana, for which Armstrong had a lifelong fondness), and West End Blues, the music of which set the standard and the agenda for jazz for many years to come.
Armstrong had considerable success with vocal recordings, including versions of famous songs composed by his old friend Hoagy Carmichael, Armstrong's famous interpretation of Stardust became one of the most successful versions of this song ever recorded, showcasing Armstrong's unique vocal sound and style and his innovative approach to singing songs that had already become standards.
As with his trumpet playing, Armstrong's vocal innovations served as a foundation stone for the art of jazz vocal interpretation. The uniquely gritty colouration of his voice became a musical archetype that was much imitated and endlessly impersonated. His scat singing style was enriched by his matchless experience as a trumpet soloist, and his resonant, velvety lower-register tone and bubbling cadences on sides such as "Lazy River" exerted a huge influence on younger white singers such as Bing Crosby.
After spending many years on the road, he settled permanently in Queens New York in 1943 in contentment with his fourth wife, Lucille Armstrong played more than three hundred gigs a year Armstrong kept up his busy tour schedule until a few years before his death. While in his later years, he would sometimes play some of his numerous gigs by rote, but other times would enliven the most mundane gig with his vigorous playing, often to the astonishment of his band. He also toured Africa, Europe, and Asia under sponsorship of the US State Department with great success and become known as "Ambassador Satch". While failing health restricted his schedule in his last years, within those limitations he continued playing until the day he died.
Louis had many nicknames as a child, all of which referred to the size of his mouth: "Gatemouth," "Dippermouth," and "Satchelmouth." During a visit to Great Britain, Louis was met by Percy Brooks, the editor of Melody Maker magazine, who greeted him by saying, "Hello, Satchmo!" (He inadvertently contracted "Satchelmouth" into "Satchmo.") Louis loved the new name and adopted it for his own. It provides the title to Louis's second autobiography, is inscribed on at least two of Louis's trumpets, and is on Louis's stationery Friends and fellow musicians usually called him Pops, which is also how Armstrong usually addressed his friends and fellow musicians (except for Pops Foster, whom Armstrong always called "George".
Some musicians criticized Armstrong for playing in front of segregated audiences, and for not taking a strong enough stand in the American Civil Rights Movement (1955-1968) civil rights movement.
Armstrong, in fact, was a major financial supporter of Dr. Martin Luther King Jr. and other civil rights activists, but mostly preferred to work quietly behind the scenes, not mixing his politics with his work as an entertainer. The few exceptions made it more effective when he did speak out; Armstrong's criticism of President Eisenhower, calling him "two-faced" and "gutless" because of his inaction during the conflict over school desegregation in Little Rock, Arkansas in 1957 made national news. As a protest, Armstrong canceled a planned tour of the Soviet Union on behalf of the State Department saying "The way they're treating my people in the South, the government can go to hell" and that he could not represent his government abroad when it was in conflict with its own people.
He was an extremely generous man, who was said to have given away almost as much money as he kept for himself. Armstrong was also greatly concerned with his health and bodily functions. He made frequent use of laxatives as a means of controlling his weight, a practice he advocated both to personal acquaintances and in the diet plans he published under the title Lose Weight the Satchmo Way. Armstrong's laxative of preference in his younger days was Pluto Water, but he then became an enthusiastic convert when he discovered the herbal remedy Swiss Kriss; he would extol its virtues to anyone who would listen and pass out packets to everyone he encountered, including members of the British Royal Family. (Armstrong also appeared in humorous, albeit risqué, advertisements for Swiss Kriss; the ads bore a picture of him sitting on a toilet — as viewed through a keyhole — with the slogan "Satch says, 'Leave it all behind ya!'")
In his early years, Armstrong was best known for his virtuosity with the cornet and trumpet. The greatest trumpet playing of his early years can be heard on his Hot Five and Hot Seven records. The improvisations which he made on these records of New Orleans jazz standards and popular songs of the day, to the present time stack up brilliantly alongside those of any other later jazz performer. The older generation of New Orleans jazz musicians often referred to their improvisations as "variating the melody"; Armstrong's improvisations were daring and sophisticated for the time while often subtle and melodic. He often essentially re-composed pop-tunes he played, making them more interesting. Armstrong's playing is filled with joyous, inspired original melodies, creative leaps, and subtle relaxed or driving rhythms. The genius of these creative passages is matched by Armstrong's playing technique, honed by constant practice, which extended the range, tone and capabilities of the trumpet. In these records, Armstrong almost single-handedly created the role of the jazz soloist, taking what was essentially a collective folk music and turning it into an art form with tremendous possibilities for individual expression.
In 1964, Armstrong knocked the Beatles off the top of the Billboard Top 100 chart with Hello, Dolly (song)", which gave the 63-year-old performer a U.S. record as the oldest artist to have a #1 song.
Hello Dolly performed in Germany
In 1968, Armstrong scored one last popular hit in the United Kingdom with the highly sentimental pop song What a Wonderful World, which topped the British charts for a month; however, the single did not chart at all in America. The song gained greater currency in the popular consciousness when it was used in the 1987 movie Good Morning Vietnam, its subsequent re-release topping many charts around the world.
It's a Wonderful World
Louis Armstrong died of a heart attack on July 6 1971, at age 69, the night after playing a famous show at the Waldorf Astoria's Empire Room. He was residing in Corona, Queens, New York City, at the time of his passing. He was interred in Flushing Cemetery, Flushing, in Queens, New York City.
Today, the house where Louis Armstrong lived at the time of his death (and which was declared a National Historic Landmark in 1977) is a museum. The Louis Armstrong House & Archives, at 34-56 107th Street (between 34th and 35th Avenues) in Corona, Queens, presents concerts and educational programs, operates as an historic house museum and makes materials in its archives of writings, books, recordings and memorabilia available to the public for research. The museum is operated by the City University of New York's Queens College, following the dictates of Armstrong's will.
The influence of Armstrong on the development of jazz is virtually immeasurable. Yet, his irrepressible personality both as a performer, and as a public figure later in his career, was so strong that to some it sometimes overshadowed his contributions as a musician and singer.
As a virtuoso trumpet player, Armstrong had a unique tone and an extraordinary talent for melodic improvisation. Through his playing, the trumpet emerged as a solo instrument in jazz and is used widely today. He was a masterful accompanist and ensemble player in addition to his extraordinary skills as a soloist. With his innovations, he raised the bar musically for all who came after him.
Armstrong is considered by some to have essentially invented jazz singing. He had an extremely distinctive gravelly voice, which he deployed with great dexterity as an improviser, bending the lyrics and melody of a song for expressive purposes. He was also greatly skilled at scat singing, or wordless vocalizing. Billie Holiday and Frank Sinatra are just two singers who were greatly indebted to him. Holiday said that she always wanted Bessie Smith's 'big' sound and Armstrong's feeling in her singing.
On August 4, 2001, the centennial of Armstrong's birth, New Orleans' airport was renamed Louis Armstrong International Airport in his honor.