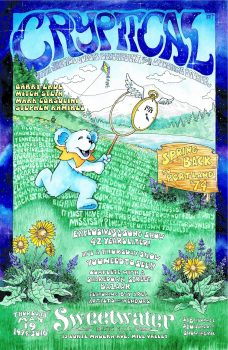 We hope you got enough sleep last night, 'cause tonight's CRYPTICAL show includes a whopping 32 Grateful Dead classics performed live for your listening and dancing pleasure. Tonight's lineup includes Barry Erde, Stephen Ramirez, Mitch Stein, Mark Corsolini and very special guests Dave Hebert (JGB) and Sunshine F Becker (Furthur).
We'll have a Shakedown Street Bazaar including some very talented local vendors, and will be offering some really great auction and raffle items to benefit the Rex Foundation.
The Grateful Dead's own Howard Danchik will be mixing the show, so bring your friends along as we bop on back to Portland in 1974 for an epic show that's sure to have you dancing into the wee hours!