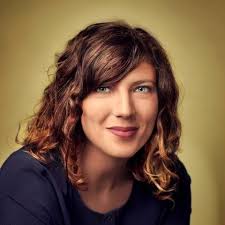 Celia Bullwinkel is perfect for these days as women awaken to the fact that we need to accept ourselves, whether or not men accept us for who we are or who they want us to be.
Such an honest and fun video for women… by Celia Bullwinkel
Sidewalk from Celia Bullwinkel on Vimeo.
Celia Bullwinkel is an accomplished animator
Celia Bullwinkel is an animator who lives and works in New York City. She has worked on feature films (Hedwig and the Angry Inch, Chicago 10, Hair High), TV shows (Little Bill, MTV's Friday, Ugly Americans, Wonder Pets), and far too many commercial projects.
"Alpha's Bet," her music video collaboration with visual artist Rammellzee, was exhibited in 2011 at the Museum of Contemporary Art, Los Angeles. She is a faculty member at the School of Visual Arts animation department, and teaches at the Fashion Institute of Technology's MFA Illustration program. Sidewalk is her first independent film. She collaborated with composer and jazz artist Joshua Moshier, who is a rising star in his own right.
Joshua Moshier as the composer for her new shortfilm was a great choice
Her collaboration with Josh has certainly given the animation a lot of "legs." 🙂
Josh has contributed his musical voice to a number of bands including trumpeter Marquis Hill's Blacktet and the Moshier-Lebrun Collective with saxophonist Mike Lebrun. His music has been profiled on NPR's JazzSet with Dee Dee Bridgewater and cited by the Chicago Tribune for "considerable lyric grace and compositional forethought." Josh premiered his extended work, The Studs Terkel Project at the Chicago Cultural Center, commissioned by Chamber Music America's New Works program and inspired by the writing of the oral historian Studs Terkel. Josh has also worked as a sideman with Milton Suggs, Larry Brown, John Moulder and Dara Tucker. With Mike Lebrun he has released Joy Not Jaded (OA2 Records) and The Local Colorists (Digital EP). Most recently, Josh led a quintet featuring Marquis Hill, John Wojciechowski, Dana Hall and Clark Sommers for a three-night run in Chicago.
Learn more about this delightful duo by visiting: Celia Bullwinkel and Joshua Moshier.