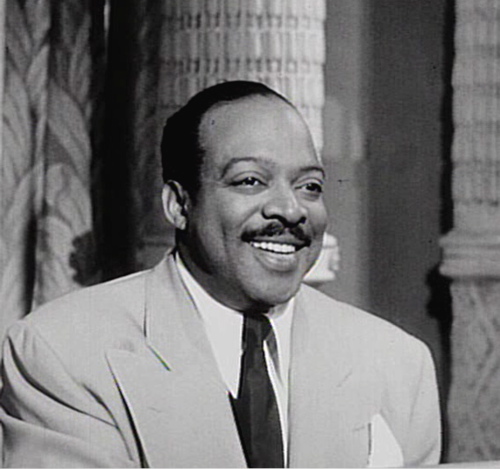 "If you play a tune and a person don't tap their feet, don't play the tune. "
Count Basie 

by Ranie Smith
Count Basie was regarded as one of the most important bandleaders of the swing era. He lived from August 21, 1904 to April 26, 1984. Basie led his popular Count Basie Orchestra for almost fifty years. Both of Basie's parents were musicians; his father, Harvie Basie, played the mellophone, and his mother, Lillian (Childs) Basie, was a pianist. She gave her son his earliest lessons. Basie also learned from Harlem stride pianists, particularly Fats Waller who taught him how to play organ.
In early 1929, Basie played with different bands, eventually settling into one led by Bennie Moten. Basie worked as a soloist before leading a band initially called the Barons of Rhythm. A few of Moten's former band members joined this nine-piece swing band, among them Walter Page (bass), Freddie Green (guitar), Jo Jones (drums), and Lester Young (tenor saxophone). Jimmy Rushing became the singer. The band gained a residency at the Reno Club in Kansas City and began broadcasting on the radio. An announcer dubbed the pianist "Count" Basie. Basie got his big break when one of his broadcasts was heard by journalist and record producer John Hammond. Hammond touted him to agents and record companies. As a result, the band left Kansas City in the fall of 1936 and took an engagement at the Grand Terrace in Chicago. The next date was in Buffalo, NY, then on to Roseland in New York City.
January 1937, Count Basie's Band made its recording debut on Decca Records. Meanwhile, the band's recording of "One O'Clock Jump" got its first chart entry in September 1937. The tune became the band's theme song and it was later inducted into the Grammy Hall of Fame.
Basie's music was characterized by his trademark "jumping" beat and the contrapuntal accents of his own piano. "Stop Beatin' Round the Mulberry Bush," with Rushing on vocals, became a Top Ten hit in the fall of 1938. Basie spent the first half of 1939 in Chicago, meanwhile switching from Decca to Columbia Records, then went to the West Coast in the fall. He spent the early '40s touring extensively, but after the U.S. entry into World War II in December 1941 and the onset of the recording ban in August 1942, his travel was restricted. In 1942 Basie moved to Queens, New York, to be with Catherine Morgan, a famous dancer from Cleveland. They got married in 1943. In his autobiography, "Good Morning Blues," Basie said he married the girl from Cleveland in 1943 in Seattle. Their honeymoon was a string of one-night band appearances. The Basie band was working in New York when Katy was about to have a baby. She returned to Cleveland and stayed with her parents. Katy and Bill "Count" Basie's only child, Diane Basie, was born in Cleveland. He rushed to Cleveland to be with his wife and daughter. Later, when they rejoined Basie in New York, he said he had vivid memories of seeing Katy getting off the plane from Cleveland carrying their baby. He said, "It was a special thrill bringing my family home from the airport that day, Old Base, his wife and daughter."
In 1943 while on the West Coast, he started to appear in five films, all released within a matter of months in 1943: Hit Parade of 1943, Reveille with Beverly, Stage Door Canteen, Top Man, and Crazy House. He also scored a series of Top Ten hits on the pop and R&B charts, including "I Didn't Know About You" (pop, winter 1945); "Red Bank Blues" (R&B, winter 1945); "Rusty Dusty Blues" (R&B, spring 1945); "Jimmy's Blues" (pop and R&B, summer/fall 1945); and "Blue Skies" (pop, summer 1946). Switching to RCA Victor Records, he topped the charts in February 1947 with "Open the Door, Richard!," followed by three more Top Ten pop hits in 1947: "Free Eats," "One O'Clock Boogie," and "I Ain't Mad at You (You Ain't Mad at Me)."
Joining ASCAP in 1943, his chief musical collaborators included Mack David, Jerry Livingston, James Rushing, Andy Gibson, Eddie Durham, and Lester Young. His songs and instrumentals also include "Good Morning Blues"; "Every Tub"; "John's Idea"; "Basie Boogie"; "Blue and Sentimental"; "Gone With the Wind"; "I Ain't Mad at You"; "Futile Frustration"; "Good Bait"; "Don't You Miss Your Baby?"; "Miss Thing" "Riff Interlude"; "Panassie Stomp: "Shorty George"; "Out the Window"; "Hollywood Jump: "Nobody Knows"; "Swinging at the Daisy Chain"; and "I Left My Baby". The big bands' decline in popularity in the late '40s hit Basie as it did his peers, and he broke up his orchestra at the end of the decade, opting to lead smaller units for the next couple of years.
In the 1950's, the big band era seemed to be near its end. Basie remained faithful to his beloved Kansas City Jazz style and helped keep the big band sound alive with his distinctive style of piano playing. In 1952, Count Basie increased his band back to the full Big Band sound with his 16-piece orchestra responding to the increased opportunities for touring. For example, he went overseas for the first time to play in Scandinavia in 1954, and thereafter international touring played a large part in his schedule. An important addition to the band in late 1954 was vocalist Joe Williams. The orchestra was re-established commercially by the 1955 album Count Basie Swings – Joe Williams Sings (released on Clef Records), particularly by the single "Every Day (I Have the Blues)," which reached the Top Five of the R&B charts and was later inducted into the Grammy Hall of Fame.
Another key recording of this period was an instrumental reading of "April in Paris" that made the pop Top 40 and the R&B Top Ten in early 1956; it also was enshrined in the Grammy Hall of Fame. These hits made what Albert Murray (co-author of Basie's autobiography, Good Morning Blues) called the "new testament" edition of the Basie band a major success .By the mid-1950s, Basie's band had become one of the pre-eminent backing big bands for some of the finest jazz vocalists of the time. Tony Bennett, Sammy Davis, Jr. and Frank Sinatra also recorded with Basie. In 1957 Basie released the live album At Newport. At the first Grammy Awards ceremony, Basie won the 1958 awards for Best Performance by a Dance Band and Best Jazz Performance, Group, for his Roulette Records LP Basie. Breakfast Dance and Barbecue was nominated in the dance band category for 1959.
Basie was nominated for best jazz performance for "Basie at Birdland" in 1961 and "The Legend" in 1962. Iin 1962, Basie switched to Frank Sinatra's Reprise Records. Sinatra-Basie reached the Top Five in early 1963. It was followed by "This Time by Basie!" Hits of the 50's and 60's, which reached the Top 20 and won the 1963 Grammy Award for Best Performance by an Orchestra for Dancing. Basie teamed with various vocalists for a series of chart albums including Ella Fitzgerald (Ella and Basie!, 1963); Sinatra again (the Top 20 album It Might as Well Be Swing, 1964); Sammy Davis, Jr. (Our Shining Hour, 1965); the Mills Brothers (The Board of Directors, 1968); and Jackie Wilson (Manufacturers of Soul, 1968), Broadway Basie's … Way (1966). Later Basie returned a pure jazz format. His album Standing Ovation earned a 1969 Grammy nomination for Best Instrumental Jazz Performance by a Large Group or Soloist with Large Group (Eight or More). The band had first recorded for Norman Granz on Clef, then moved to Roulette, where it spent its peak years of the late '50s and early '60s. When Granz returned to recording activity in 1972 with Pablo Records, it would also mean a final renaissance for Basie, whom Granz recorded magnificently in trio, small band formats as well as with the band. A series of pairings with Oscar Peterson produced some unusually invigorating Basie piano. Basie died April 24, 1984, of cancer, but the band continues playing on today. Count Basie is quote to have said: "All I wanted was to be big, to be in show business and to travel… and that's what I've been doing all my life."
Watch Count Basie on U-Tube
Count Basie in the film "Hit Parade", 1943
Ella Fitzgerald and Count Basie, 1979