Classical Revolution Orchestra (USA)
'Eroica' Beethoven Symphony No. 3 and the Music of David Bowie
Classical Revolution celebrates its 10th anniversary by presenting its first ever series of orchestra concerts. The performances focus on two of the most vastly influential figures in all of music: the symphonies of Beethoven and classical arrangements of compositions by David Bowie.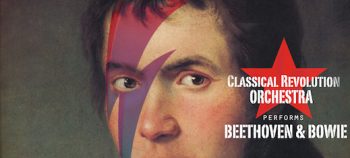 Since 2006 Classical Revolution has given more than 1,000 live concert performances in over 100 community and neighborhood venues across the Bay Area with the goal of expanding audiences and making classical music accessible.
Sunday May 29th, 7:00pm
Duration: 90 minutes with intermission.
Cowell Theater
Tickets: General Admission
$20 advance, $25 door
If you want to learn about Beethoven and Eroica watch a BBC show about Eroica here it is at your leisure on YouTube: