Russia shapes opinions in the West by sponsoring anti-government media content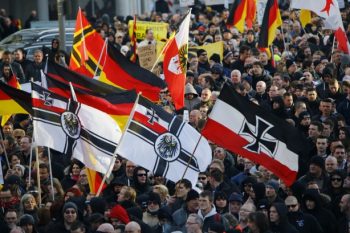 Supporters of anti-immigration right-wing movement PEGIDA take part in a demonstration march, in reaction to mass assaults on women on New Year's Eve, in Cologne, Germany, January 9, 2016. REUTERS/Wolfgang Rattay Full Article
The war for "hearts and minds" is in full force like never before.  The internet has liberated both the distribution and the reception of content.
In the East, Radio Free Europe in particular has spread Western News and Western concepts for many years to counter act the spread of Communism in the Border States of the Soviet Empire.  This created a cushion of discontent and mistrust against the Soviet Union and eventually its disintegration. The Soviet people dreamed of living in a "free world" and they wished especially to gain the Western style material comforts.  What they had not learned while growing up in an oppressive society is the concept of trust, sharing, caring, and the fact that you have to actually work and earn that material wealth.  Many were well versed in "working the system."  As a result the economies quickly became the personal playgrounds of oligarchs who were not at all interested in creating a strong middle class.  History shows that a strong middle class is a prerequisite of a free society.  It takes a lot of political will to support a strong middle class.  The oligarchs take and take and take and use the public without their knowledge.  This works primarily through misinformation.
For the past decades and especially since the inception of Cable TV and the Internet Russia has joined the information war.
Their press release reads:
RT's (Russia Today) Spanish channel and pan-Latin American network TeleSUR in Venezuela launched a new joint project on Monday, aimed at providing a different perspective to Western mainstream media. RT is already the leading news provider on YouTube. Last December, RT hit 2 billion views on the popular video hosting resource. Only a year earlier, RT International was the first news channel to achieve over 1 billion views.
Are you aware how impactful the spread of the Communist point of view is?
On a daily basis misguided news clips that are fantastically well produced and design to spread hate and discontent are not only shown on YouTube but are spread on facebook, twitter and other social media outlets.
When watched without analysis as to the source of the material it may look like a "normal" news report.  But when viewed through the lens of what the news provider in RT's case the Putin government and in TeleSUR's Case the Venezuelan Communist Party are trying to accomplish it is rather ominous.
We are now entering an era of true democracy of information.  Everyone has access to every point of view.  When someone shares information make sure you analyze the source of the information before you swallow it hook, line and sinker.  One of the best ways to know if the source of information is trust worthy is to check whether the owners and their countries providing it protect freedom of the press. If a country openly suppresses journalists you already know dictators and/or would be dictators are trying to get you to support their nefarious cause to suppress knowledge and public opinion. Their goal is to undermine and destabilize countries that offer freedom of speech.   Let your friends know when they are being brainwashed by horrid people without realizing it.  Promote critical and analytical thinking.  Russia does not love freedom of speech as it is reported that 56 Journalists were killed since 1992.  When they sponsor people like Abby Martin to do their bidding in the West – Buyer Beware, know the source.  More When watching her Russia / Venezuela sponsored content knowing it comes from Russia makes it sound entirely different.
Reuters reported recently that until a few years ago Germany had been left out of the misinformation war stemming from Russia.  Those days are gone and while Putin is railing and making fun of Germany's problems with Neo Nazi's the Russian government is actually sponsoring it.  Full Reuter's Article