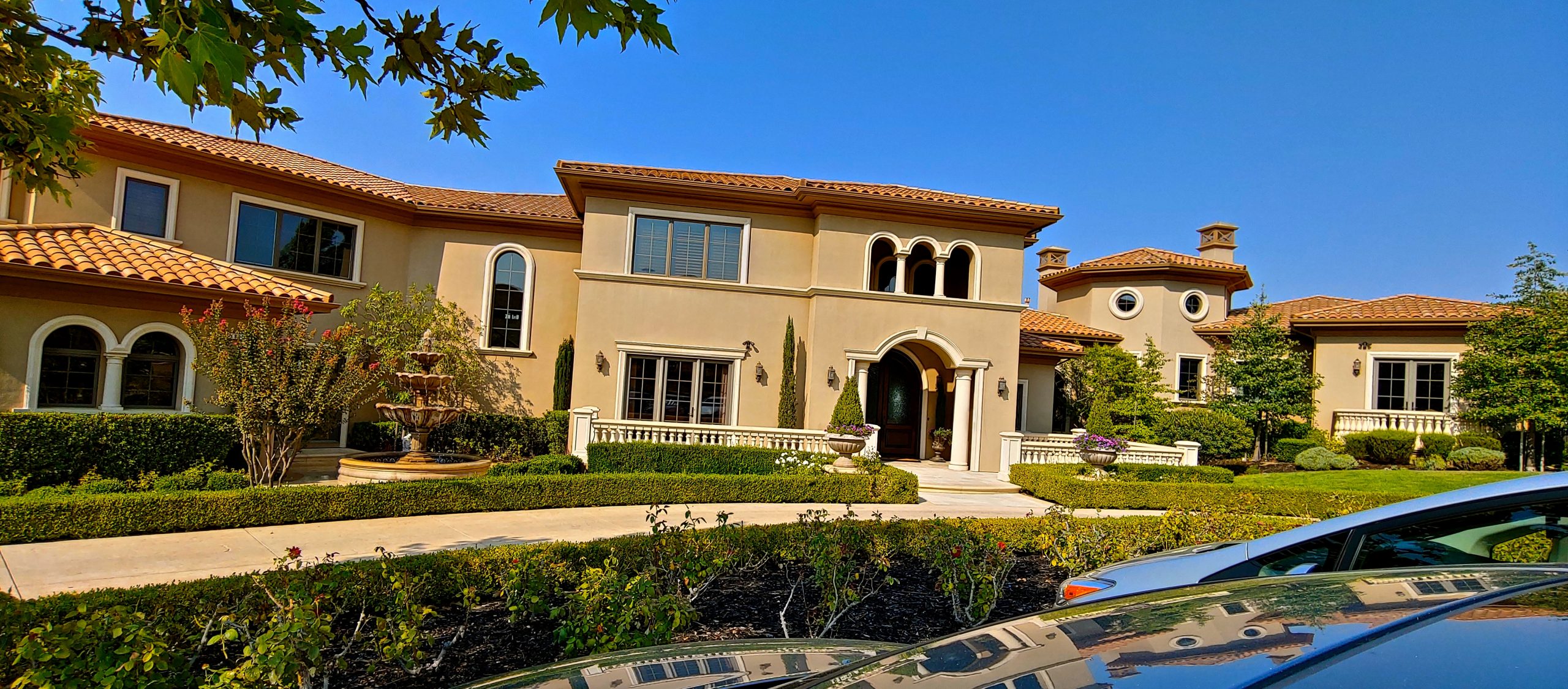 Arriving at the private event yesterday. I couldn't even get the whole house in the frame!
"Everybody has a plan until they get punched in the mouth."
~ Mike Tyson
September 4, 2020
¡Hola, mi Gente!
These last couple weeks had me down on the canvass.  For those of you who don't know or didn't see my Facebook posts, back on August 19, I got hit with a relentless case of vertigo. It hit me about three times in the last 12 or so years. Those episodes were severe, but short-lived. It would usually be over in minutes or a few hours.
But this one was different. This one's been with me for a few weeks now.  For two straight days and nights, it had me stumbling, falling, crawling and retching like a drunk. I was completely incapacitated. Couldn't eat, couldn't shower, couldn't move.
After two days, I was finally able to focus my eyes enough to see my phone screen. I called my doctor and they had me go to ER. My dear buddy Alfredo drove me. They ran a bunch of tests and a CAT scan to rule out stroke and other serious possibilities. They determined it was just a really bad case of vertigo. My ER physician told me he once had it for two straight months! That couldn't be me!
There is no cure for vertigo. I had to just continue doing the maneuvers I already knew (Epley and others) designed to move an errant crystal out of one of the vestibular canals in the inner ear and back into the canal in which it belongs. In the meantime, the crystal would keep sending false signals to my brain that my environment was moving.
The damned thing wouldn't leave me. I had to cancel out of two gigs (Barone's and my debut at Elevation). That was when I posted on Facebook that I couldn't make the gigs. I turned down some other offers as I was just too messed up.
I kept doing the maneuvers until last Thursday when one of them finally seemed to work. My symptoms began to diminish and I felt like I was getting my life back. I learned from talking to friends that my memory had holes in it from the last few days. I had no recollection of things I had said or done, or were said to me, or even where the conversations had happened. I'm still in a bit of a fog.
I recovered enough to do my first big day out of the house at Barone's last Saturday. I was a little shaky, but I did the drive, equipment set up and performance. It felt good to accomplish all that, especially in light of the fact that just days before, I could hardly walk.
I'm feeling about 80% now. I just did another private show last night which went great. Now, I'm officially ready for my re-do debut at Elevation LVK in Livermore, happening this Saturday night, September 5, 6:30-9:30pm. I'll be there on solo guitar and voice and you're all invited. Details below.
Here's the rest of the new September Calendar.  Swing by!
Ciao,
Rolando
NOTICE: 
Local venues are working closely with their City and State governments and following strict spacing and sanitizing requirements and guidelines on how to safely open and serve the public in newly created outdoor spaces.  After examining some of these venues for safety personally, Rolando has accepted offers to perform at a choice few venues detailed below.  (He wouldn't take the job if it wasn't done safely.)  If you are healthy, please feel free to come out to our public shows and enjoy life with us while supporting our local economy!
PUBLIC PERFORMANCES FOR SEPTEMBER 2020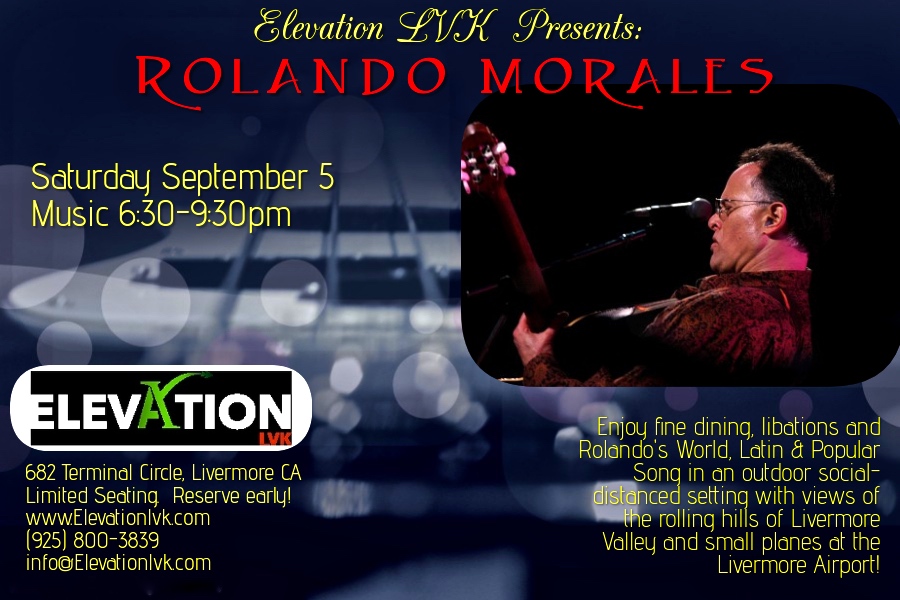 Saturday Sept 5, Elevation LVK, 682 Terminal Circle, Livermore CA 94551, 6:30-9:30pm. Rolando makes his debut at this unique, upscale full service restaurant located at the Livermore Airport in the terminal building overlooking the jet runway.  (Wait, what??!!)  It's true!  In this unexpected setting, they provide a true fine dining experience with seasonal recipes prepared with love and care, a full wine list, social distanced seating and more.  It will all happen outdoors with views of the rolling hills of Livermore Valley, with small planes and helicopters in the foreground.  Rolando Morales will provide the soundtrack on guitar, vocals and his pedal board of magic, weaving a spell of Latin, World and  popular song that will enhance your evening all the more.  Limited seating, so make your reservations early!  (925) 800-3839 or info@elevationlvk.com.  See www.elevationlvk.com.
Friday Sept 11, Barone's Restaurant, 475 St. John Street, Pleasanton CA, 7-10pm.  Rolando returns to one of Pleasanton's premiere dining establishments.  He'll be playing outdoors in the expansive Gardens at Barone's.  Rolando offers you his seal of approval on how safely they run this operation.
Their charming garden area is so big that in the time Before Covid, they used to pack in a couple thousand people there to party to dance bands.  Now, they're limiting attendance to around 35 well-spaced dinner tables and cabana areas, all well-distanced from the stage.  All servers and hosts wear masks and/or face shields.  And they'll all be providing their usual fine-dining service, menu and libations.  All under the trees and stars.  It's an enchanting and safe way to get out of quarantine!  Swing by and say hello to life.
Reserve for limited seating at 925.426.0987, info@baronespleasanton.com. See www.baronespleasanton.com
Saturday Sept 12, Barone's Restaurant, 475 St. John Street, Pleasanton CA, 7-10pm.  Rolando completes his back-to-back at one of Pleasanton's premiere dining establishments.  He'll be playing outdoors in the expansive Gardens at Barone's under the trees and stars.  It's a huge open space with tables and cabanas all safely distanced from one another.  All service, menu and libations are first-rate.  And Rolando's music adds to the magic.  Swing by and say hello to life.  Reserve for limited seating at (925) 426-0987, info@baronespleasanton.com.   See www.baronespleasanton.com.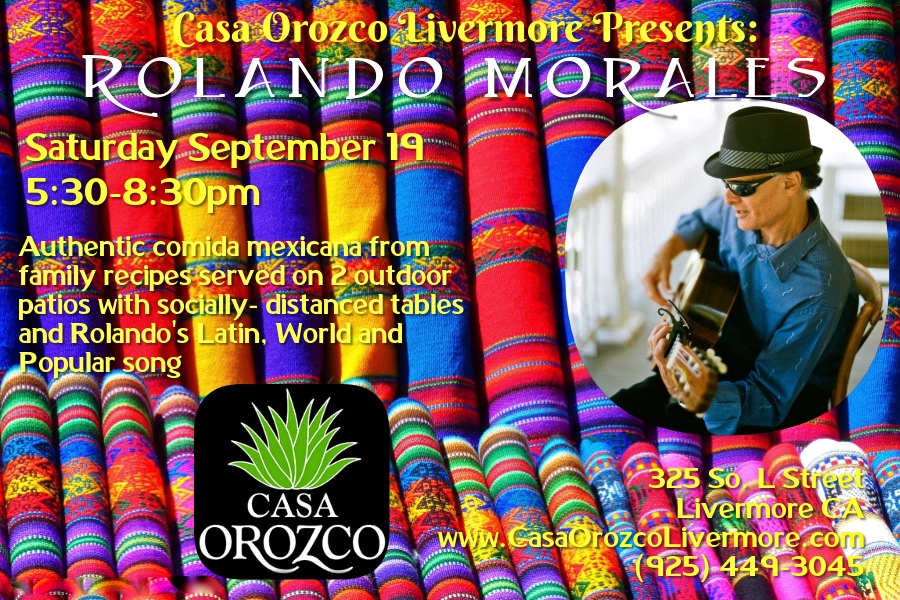 Saturday Sept 19, Casa Orozco, 325 South L St., Livermore, 6-9pm.  Rolando returns for only the 2nd time to this lively family-owned, award-winning restaurant.  For these unique times, the Orozco family has moved their service outdoors on two large patios under over-sized colorful umbrellas and socially-distanced tables.  Two generations of Orozco familia have expanded their authentic Mexican dishes all from Mama's recipes.  A premium assortment of tequilas awaits you, along with Rolando's diverse Latin and World artistry.  Join us for a fun, satisfying night out!  www.casaorozcolivermore.com., (925) 449-3045.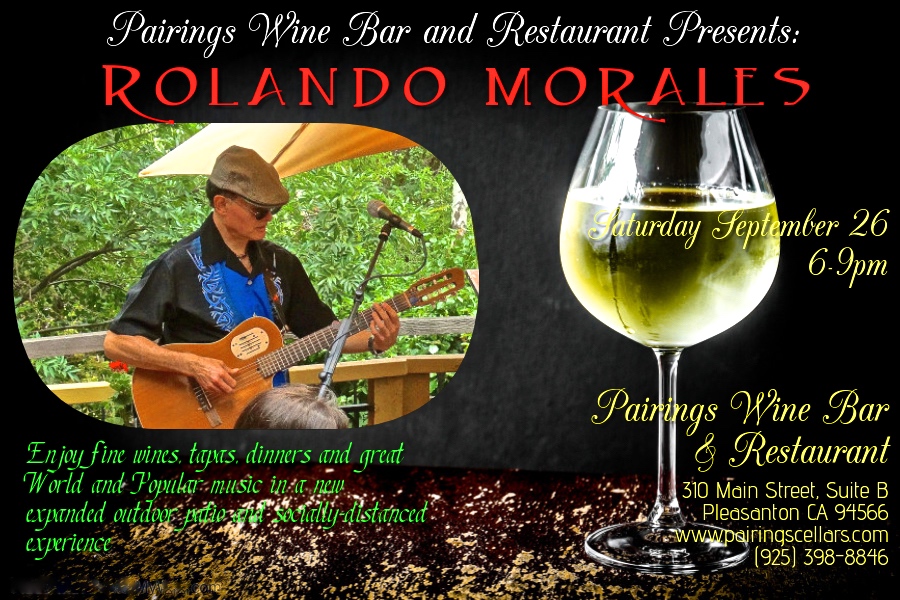 Saturday Sept 26, Pairings Wine Bar and Restaurant, 310 Main Street, Pleasanton CA 94566, 6-9pm.  Rolando finally returns to this newly re-opened social gathering place in downtown Pleasanton.  And you're all invited.  Each weekend, Main Street will be closed to car traffic to enable businesses to safely serve their customers outdoors. Pairings expanded their front patio seating with additional limited street seating under tents, with all tables and stage appropriately socially distanced. 100 different wines, wine flights, endless tapas, large plates and more.  Rolando will match the festive energy with his diverse repertoire on solo guitar and voice.  Join us!  www.pairingscellars.com, (925) 398-8846.
All other shows are private.
Rolando is available for YOUR private events, corporate events, weddings, parties, concerts and festivals, virtual or otherwise.  Be the Hero of your Block and get Rolando to play for your  own outdoor House Party!  Give him a call and he'll walk you through it.  (510) 282-7778
Let's be SAFE TOGETHER!!!