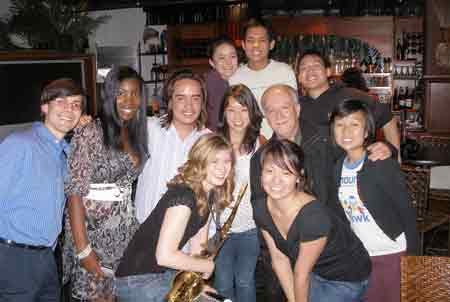 UC Jazz will have its Spring Concert on Friday April 23 at 7 pm at the Alumni House and we will have an online auction April 20-30, 2010
We need your donations for this silent auction. Please donate products, art work, DVDs, CDs, trips, restaurant coupons, cars, designer outfits, accessories or certificate to your retail outlet or a specific product. Your contributions will be valued and we will promote them to our loyal audience of about 6 000 readers. Please contact Carol Suveda about your donation and provide Edie Okamoto at eokamoto@riovida.net with your product photo and a press release.
Additionally your donation is tax deductible. Your participation will assure that the UC Jazz Ensembles will continue to thrive. The UC Jazz Ensembles are a student run organization since the late sixties. Since it is a student run organization – meaning that it provides engineering, information systems students, any student that is NOT enrolled in the accredited music program a chance to enjoy music. Therefore, as UC Berkeley along with many other educational institutions is facing ever deeper budget cuts, the UC Jazz Ensembles program is particularly affected.
Please contact Student Activities Director, Carole Suveda, to arrange pickup of your donations at (510) 643-2662.
or I have enclosed or will deliver the donation to UC Jazz Ensembles to 72 Cesar Chavez Center # 4280 * Berkeley, CA 94720-4280 or FAX (510) 643-9463
o I would like UC Jazz to create a gift certificate describing my donation.
o I have enclosed a business card or brochure to give to the winning bidder.
o I would like my donation picked up. Best time to call: ______________________P
The University of California is a non-profit organization; your donation is tax deductible. (Tax ID #94-6002123)
Click for a copy of this form for your records.
Please reply by no later than April 5th. Your assistance and contribution is much appreciated.
TED MOORE WATCH
On March 12, Ted's group, "Studio 104," will perform in concert at the Jazz School in Berkeley. This concert will feature UC Jazz faculty members Dann Zinn and Frank Martin, as well as Kai Eckhardt (formerly with John McLaughlin) on bass
Frank Martin Watch
From intense high energy fusion to Indian influenced improvisations, from dense and heavy darkish atmospheres to lyrical moods, Claude Pauly's new CD featuring bassist Kai Eckhardt (John McLaughlin, Garaj Mahal) , drummer Alan Hertz (Scott Henderson, Garaj Mahal) and keyboardist Frank Martin ( John McLaughlin, Richard Bona, Sting…) is a high density experience of the different landscapes of electric jazz fusion guitar playing and writing. But this isn't just another guitar album. This CD is drenched in what it's actually all about….music!. Fans of Allan Holdsworth, John McLaughlin, Scott Henderson, Greg Howe will absolutely dig this kick butt album . Much recommended.
Claude Pauly (guitars); Kai Eckhardt (bass); Alan Hertz (drums); Frank Martin (piano,keyboards). Download Sampler
Dann Zinn Watch
Dann Zinn will perform on Monday, Mar 8th, 2010 with Joe DeRose CD Release Party. Yoshi's Oakland, 8PM
Born in San Jose, California, Joe has been playing the drums since the age of five. He was first taught at home by his older brother Gino. He later became active playing in school bands and is an alumni of the Alum Rock Jazz Band (88). At age 14, Joe began playing professionally around the San Francisco bay area. He has had the honor of studying with such greats as Louie Bellson, Joe Porcaro, Freddie Grubber, Wally Schnalle, Bryant Mills, Karl Carter, John Ramsay, Rick Considine, Lewis Nash, Kenwood Denard, Mike Mangini and many others. In 1994, Joe followed his dream and moved to Boston to attend the Berklee College of Music. The Berklee experience was everything Joe could have imagined. He graduated in 1998, with a Bachelors in Performance, Magna Cum Laude. While living in Boston, Joe toured with R&B, Blues diva, Toni Lynn Washington. Now that Joe has moved back to San Jose he has most recently finished two European tours with Hip-Hop artist, Kofy Brown, and a northern California tour with Italian tenor, Pasquale Esposito. He also is a member of corporate party band Groove Nugget, Jazz trio, Jazzfunkshun, and leads his own Jazz-Fusion based group, Joe De Rose and Amici. Joe also in November 2006 had the honor of performing his debut drum clinic for San Jose Pro Drum opening for drum legend, Tommy Aldridge. Joe freelances all over the bay area with styles ranging from Funk, Hip-Hop, Reggae, Fusion, Rock, Latin to Jazz. In October of 2008, Joe completed a Japanese tour with jazz vocalist, Yoshiko Oda and The Hristo Vitchev quartet. They performed all over Japan including the Okazaki Jazz Festival.
GLENN RICHMAN WATCH
Jazzschool faculty member Glenn Richman will be appearing at Yoshi's SF with Cedar Walton, Slide Hampton, Jimmy Heath, Bobby Hutcherson and Eddie Marshall March 12-14, 2010.
Sign-up or stop UC Jazz Newsletter subscription by contacting us at info@riovida.net